Race Day at Leyda 3
Originally posted to El Cantar de la Lluvia on Sunday, April 01, 2007
Sunday 4th of February, Summer Championship at the
Autodromo Pacifico Sport
, in Leyda, San Antonio. This is the third article in a photographic series about the races. 40 pictures, little to say about them. Enjoy.
It was the first time that the Superbikes would race at Leyda. They'd certainly be a change from the mid-80s and early 90s 400cc bikes that usually race here. It would also be the first race of the
Copa Monomarca de la Honda Twister
.
What's this about the Honda Twister Cup? From
FMC.cl
:
An agreement has been reached to reserve 20 motorbikes for promotional purposes. After intense negotiations we are now able to offer the bikes at below-market-value, accompanied by the following benefits for the rider:


Competition fairing,

Free sporting insurance for one year,

Free sporting license for one year,
Free participation in the 2006 championship,
ARC Pro helmet,
Kevlar racing gloves,

Riding tutorials and classes,
Regulation exhaust,
50% discount on NewArt graphics,

50% discount on Maxima lubricants.


Optionally, we can provide a full leather suit at the greatly discounted price of $ 200.000 pesos.

The 0 km motorbike is offered at $ 1.300.000 pesos plus sales tax. Cash or four cheques at cost.

Cost of the equipment and all Championship expenses: $ 303.000 pesos.

Not bad, right? Quite tempting: be a race pilot, with your kit and bike, for the price of a crappy chinese bike. Not bad at all.
Thanks to Karlitos' usual string pulling, I was allowed into the racetrack area.
That day
Alex
came with me. He recongised one of the Twister Cup riders as someone from our School, one Tomás Kastegl, riding on 9.
That wasn't the only non-stranger racing that day: Martín Valderrama, a friend of Karlitos and brother of Freddy Valderrama. Martín was on number 36, Juliáns bike, who was watching from the pits because of a broken ankle.
Since these bikes have single-cylinder engines, the Honda Twister CBX 250 sounds just like an uncorked XR250R.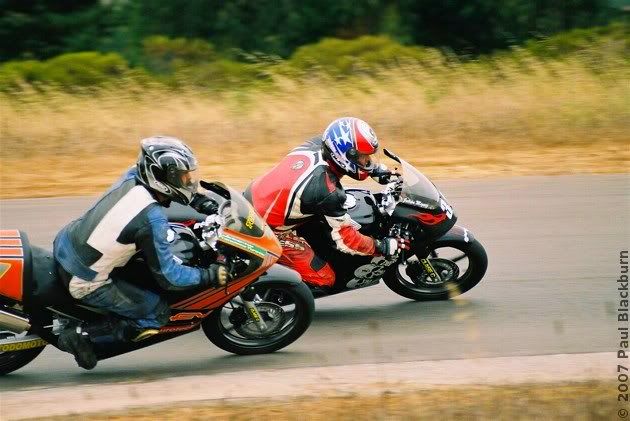 Number 9 was doing well, but...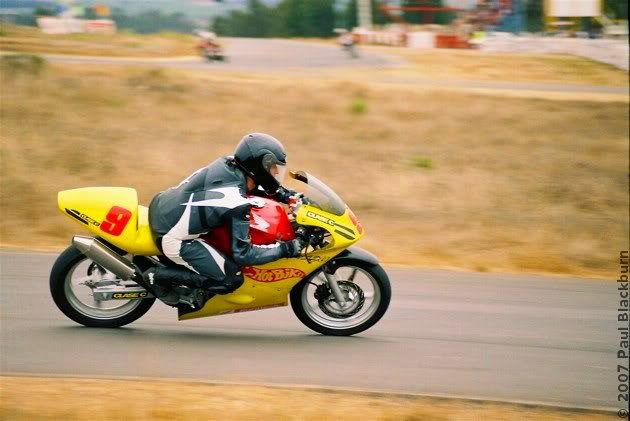 I wasn't able to photograph the exact moment when he lost control.
After the first set of laps for the Twisters, Tomás came up to me and asked me if I had a pic of his fall. I asked him what had happened, and he said his foot slipped off the peg. And I can well imagine it; he really hung off that bike, far more than in this pic.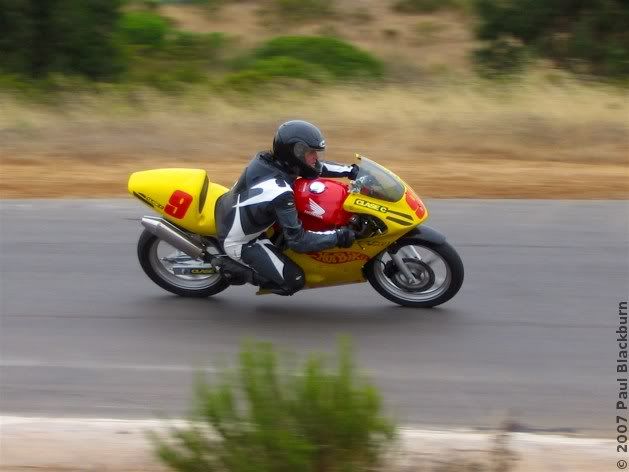 Others went down as well.
And then, the Superbikes! R6, R1, CBR1000, GSXR; a beautiful spectacle.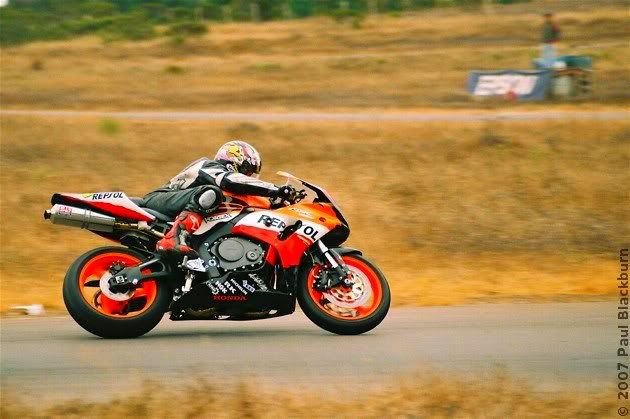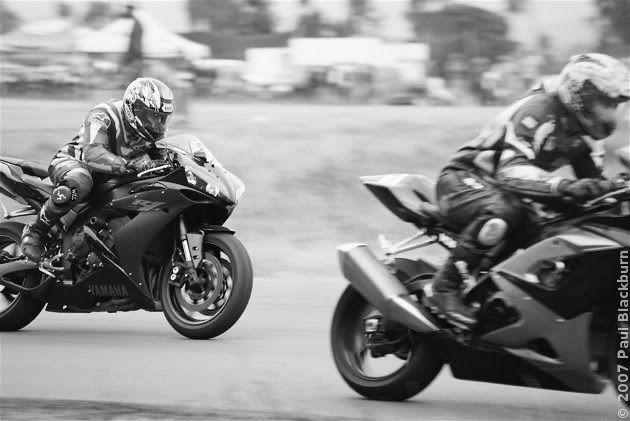 Two portraits as they pass.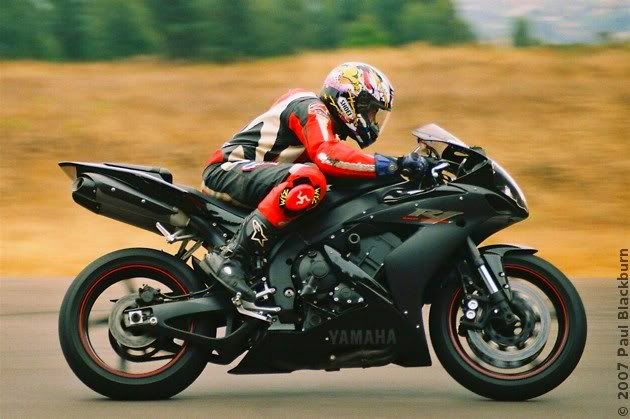 And they continue on their way.
And with that, the first set of laps was over for the Superbikes.
It was now the turn of the 400 cc bikes, Promotional and Expert categories.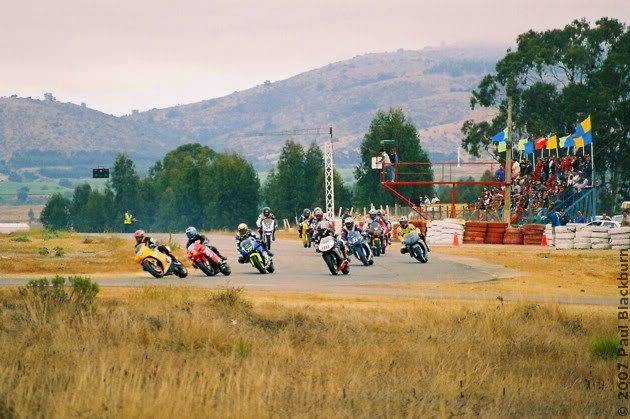 From the start Freddy Valderrama, number 2, did not let his fans and friends down.
When I publish the pics from Leyda 4 you'll see clearly how his cowling is completely worn away from leaning into the curve.
This would be the last race where we would see number 90, the two-stroke Aprilia, in its old colour scheme.
Master Karlitos.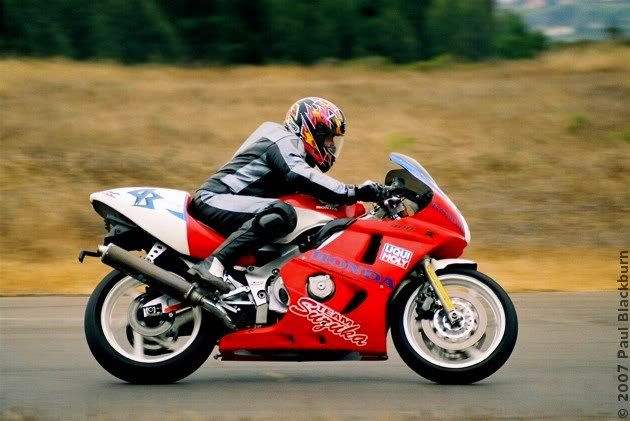 At one point there was contact between Juan Torres, Experts on 35, and Freddy Valderrama.
Luckily nothing happened. It isn't
the first time
that number 35 is involved in a tense situation in this chicane.
During the second set of laps, the Twisters raced alongside the 400 cc bikes.
Surprisingly, there wasn't much of a difference; both were well paired in the curves, and the 400's engine advantage was only apparent on the long straights. And with a wave from the 2006 Champion of the Promotional category,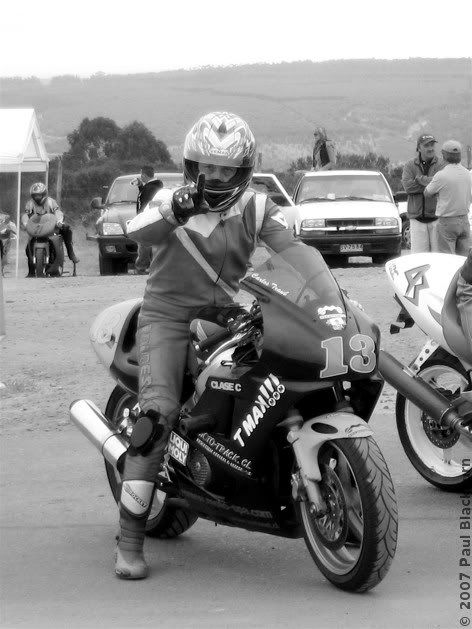 ... we say goodbye, but not before leaving you with a picture that snuck onto the end of the reel, when I took the film camera to the Cajón del Maipo.