Lagunillas 2
Originally posted to El Cantar de la Lluvia on Monday, March 26, 2007
Sunday 25th of March, the day of Adach.cl's great ride to the Cajón del Maipo, for an
asado
, a barbecue, and fun.
Only I didn't get there 'till thirty minutes before everyone buggered off home, since I was recovering from the previous night.
Francisco was there, that great Placilla adventurer, and many others. With him, and Rodrigo, we buzzed up to Lagunillas, while everyone else said goodbye and scattered back to Santiago.
Up we went, passing the motionless ski lifts, and when we got to the wire fence, we turned left.
We got much further than
last time
.
After passing a rather challenging climb, we decided to wait for Rodrigo. His bike, larger and heavier, would probably not be able to make the climb, and he had most likely decided not to attempt it.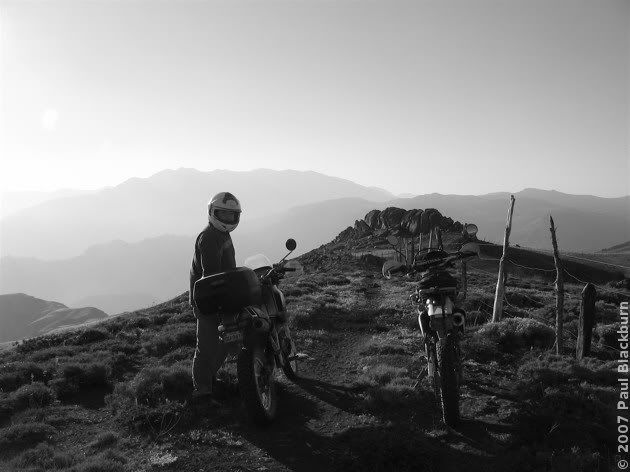 Since there was still a way to go, bordering the fence, I went back to find Rodrigo. This is how I found him.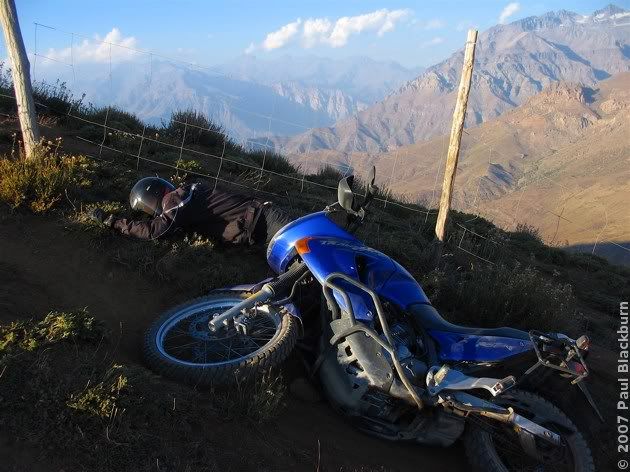 No, not really. I found him at the highest part of the climb, helmet on, hands held behind his back, pacing slowly, broadcasting that body language message of "I dropped my bike and I can't pick it up".
We took a few other "still life" pics, one with him hanging like an old rag from the wire fence. As I adjusted the settings on the camera, I barely heard him grumble from inside his closed helmet
hurry up, this wire is choking me
. Ah, we give it all for art sometimes.
And so it was, he had had a fall. Due to the altitude, his engine simply did not have enough power to take him up.
We turned the bike around very, very carefully, with Francisco's help, and he was able to come down again. Such was his happiness, that he did a short
reggaetón
dance with his bike. Ew.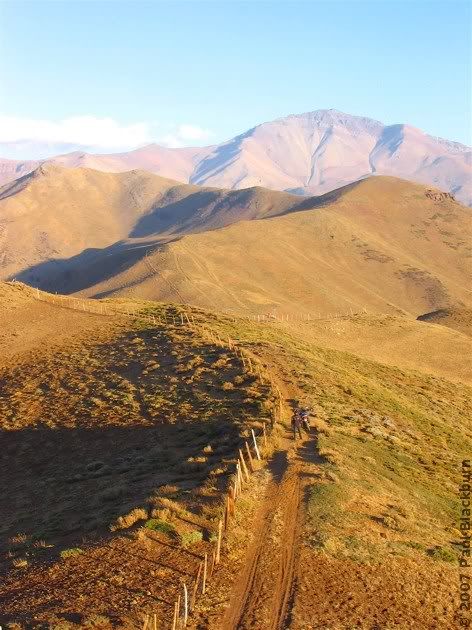 We carried on until we came to the end of the trail.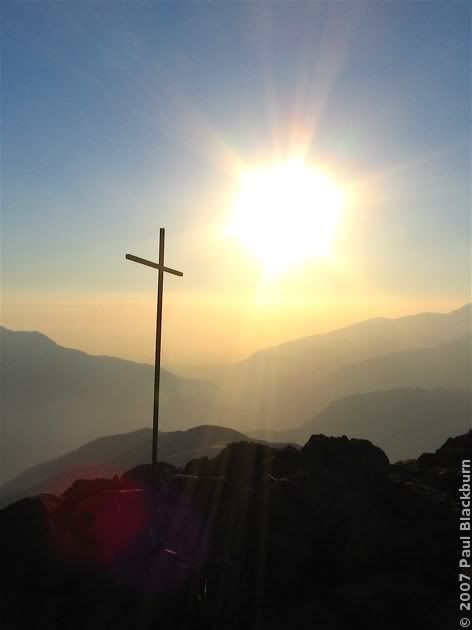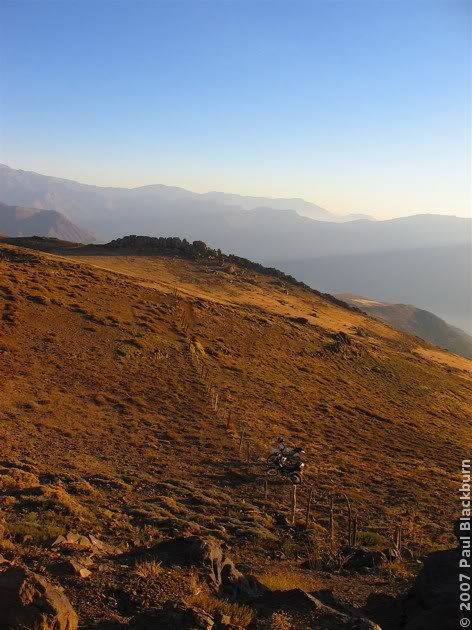 Rodrigo said that he'd stay down there playing around, trying to find another route, but when we came back to the ski lifts, he was gone.
We carried on in the other direction, still hugging the fence. Here, a long and loose climb.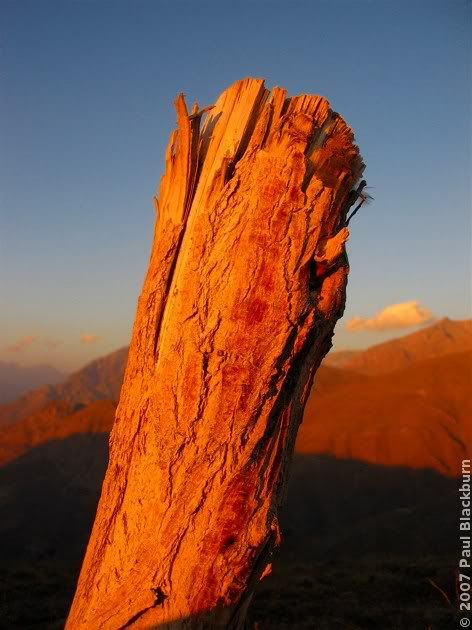 Last time
I reached a fence that was perpendicular to the one I was travelling along. There was a way to open it, but it was so tightly bound with wire that I assumed someone really wanted it closed. This time, the whole lot was just lying on the ground. I debated whether to close it after going through, but there might be a good reason to have left it open (cattle,
qué sé yo
).
Further on, the fence turned left, so we followed it. Going straight would have led us down a very steep drop.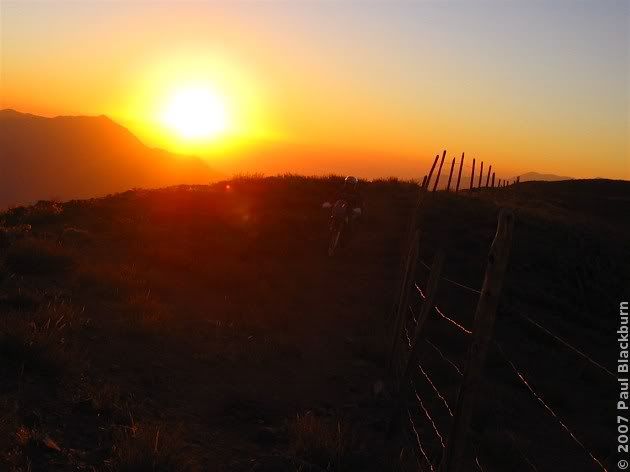 200 metres further on, it was the end of the road.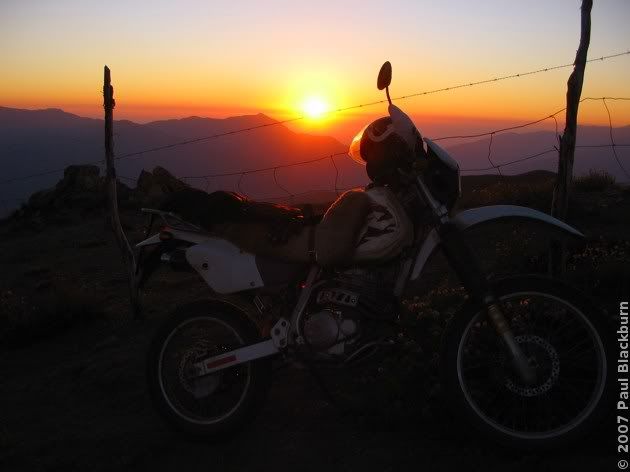 The sun's last rays.
That's where we came from. According to Google Earth, we were at 2630 metres above sea level. Such a fantastic activity for a hung-over Sunday.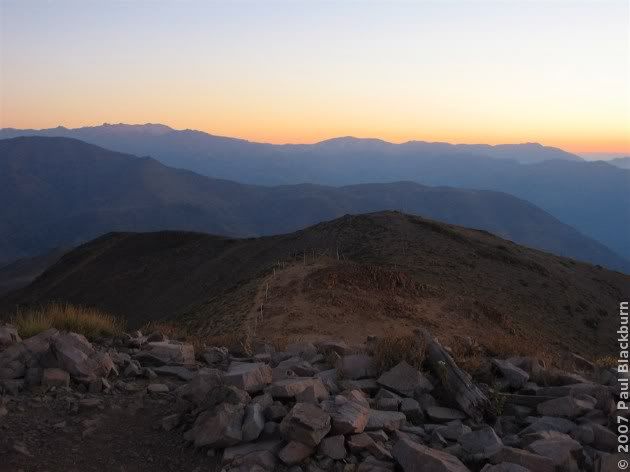 Here's a short video of the 360º view.
Labels: cajondelmaipo, rides