The Frozen Lagoons of the Santuario de la Naturaleza
Originally posted to El Cantar de la Lluvia on Tuesday, May 22, 2007
Years ago I went on an outing to the Santuario de la Naturaleza, Nature's Sanctuary, a large nature reserve encompassing gullies and valleys in the North-East foothills of Santiago. I went with a girl I had met recently. We thought the idea of a picnic sounded nice, so I took crisps, soft drinks and similar things, and she took care of the sandwiches. I would have preferred it if each brought their own food; I am usually quite finicky about this issue. We went in the car, I remember it was a nice day, though a bit cold.
I had just bought my first motorbike a few days ago and, a few days before the ride, the heavy leather jacket I'd wear for a year and a half, until I was knocked down by a floozie driving a Fiat Palio. I wore it with shyness and awkwardness, for the very same reasons that would make me very fond of it later on.
Out of the cooler came some sandwiches in whole sliced bread. Apparently they were veggie sandwiches. She had placed large, juicy slices of tomato in them. The bread was now damp and soggy, a disgusting mush in some places. Making an extreme effort, and filling my mouth with crisps to give it some texture, I managed to eat half a triangle.
That night, around 4 am, I woke up with the unpleasant certainty that I'd be puking my guts out in about thirty seconds. And so I did. I talked on the big white telephone until I was blue in the face. With white knuckles, I drove the porcelain truck. Was there no end to this?
It did end, half an hour later, when the stomach cramps started, pain that I wish for no one. Day broke. That morning, I sent the girl–studying to be a nurse–a message. Short and to the point, I told her what my symptoms were, and I asked if there was something I could take for the cramps.
That was my last communication with her. Just thinking about her existence churned–and to this day churns–my stomach.
Anyway; Chico, Run and I went up to the Santuario last Sunday. Our destination: the small lagoons some 50 km north, as the crow flies, in the middle of the
cordillera
itself. This was the route.
First, a view that includes part of Santiago.
And here'd the route itself. I drew it patiently by hand. You can download the Google Earth .kmz
here
.
José Antonio (Run) took his camera, and kindly let me include some of his pics here. You can see the rest of them on his
blog
.
We set off at 11 am from the YPF petrol station at the end of Av. Las Condes. Past the park ranger's hut at the entrance, and up a short dirt road on the left side of the gulley. On our right, the abandoned house used for paintball matches, and up we went, following Chico, on a road full of angular and loose stones. First stop, to adjust Chico's handlebar, and to
take the otter for a walk
, as a friend of mine likes to say.
I heard, over my engine's noise, that other bikes were coming up from behind. I was going slowly: the track was no more than a narrow goat path, and I didn't want to make a mistake so early on in the ride.
I went over to one side and let them pass. It was at least three large-displacement KTM thumpers. They were going at it hard, fast. Chico said they were most likely training.
We met them further on:
A while later, we reached the first rest stop.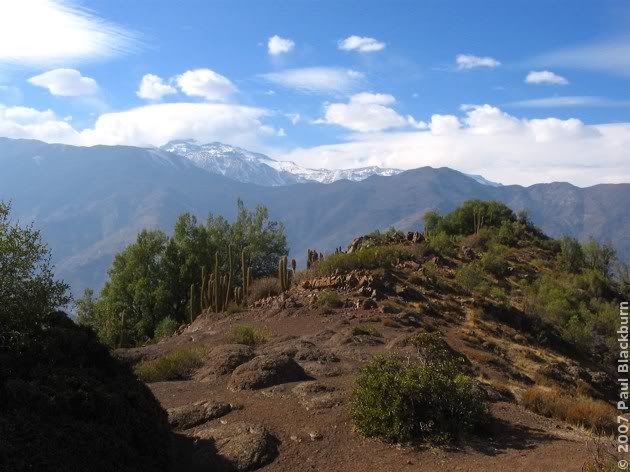 And there we met up with two other bikes, father and son. After some pictures and stretching our legs, the KTMs roared past again: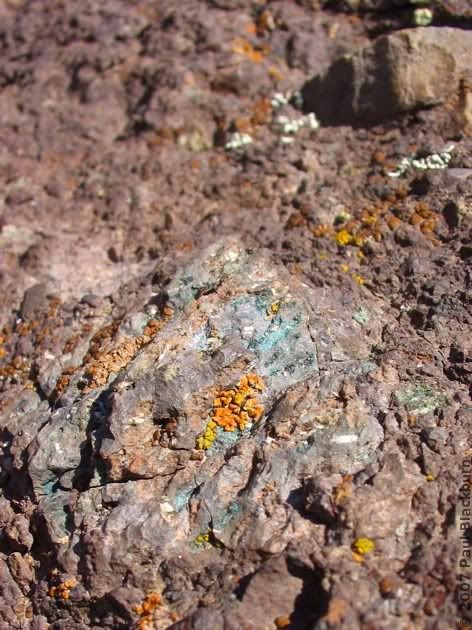 From time to time the sun shone through brightly, and sometimes it hid behind a layer of high clouds.


I would have preferred a completely clear day, but oh well, so it goes.

And on we went, riding on narrow and very narrow trails, their surface either compacted dirt or loose angular stones.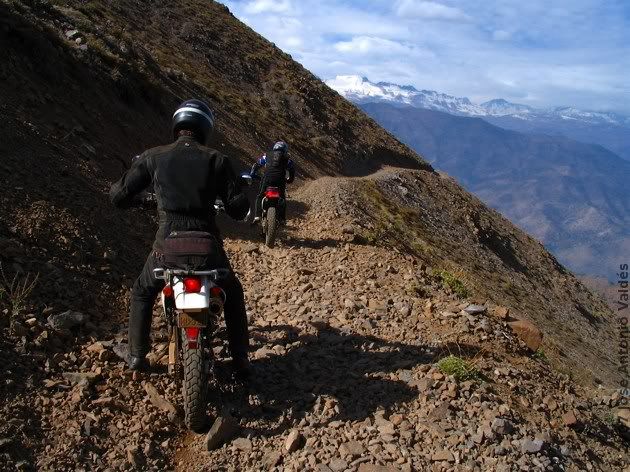 The trail was long, very long. It followed the eternal folds and curves of the hillsides. Can you see it in the distance?

Sometimes Chico would go on ahead, and we'd catch up a few seconds later.

Despite having climbed a lot, we were still in the midst of the haze and damp seen at lower altitudes.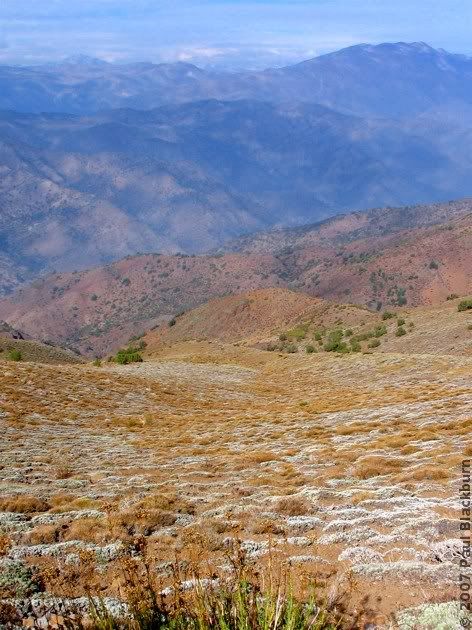 Eventually the show started, with some patches here and there; nothing serious at first.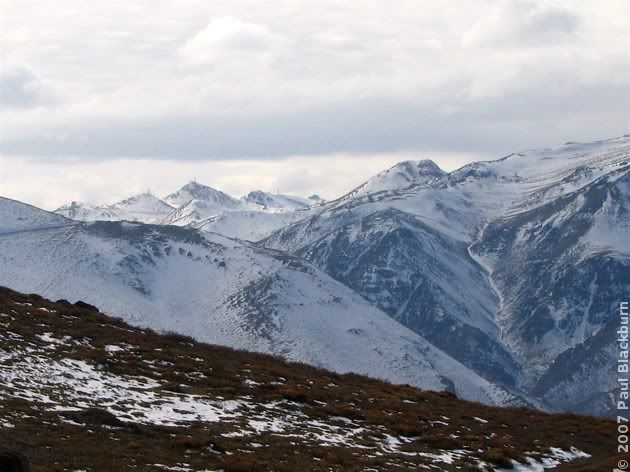 We broke off from the road, following an easy trail over the hilltops.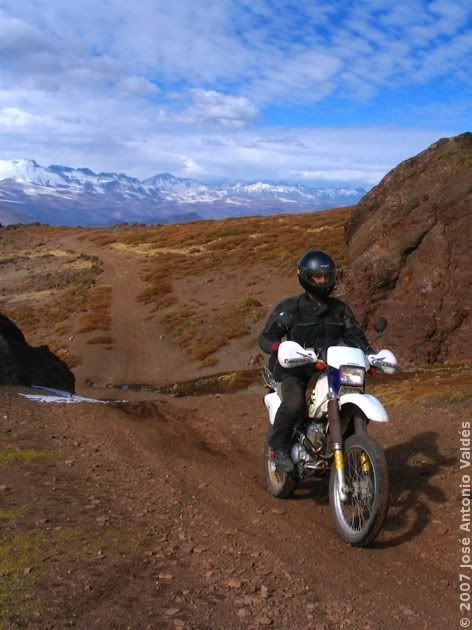 The only difficulty was a small climb. Up went Chico, then me, and then Run, who had to do a second (faster) attempt. Finally, the father and son.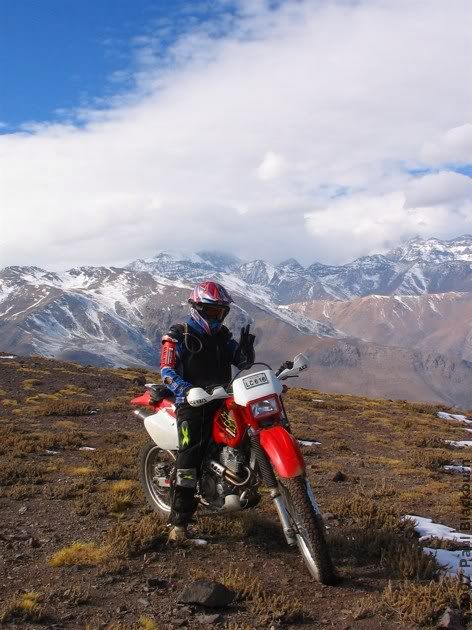 The track became narrow, with snow at either side. It was not a good place to be rolling on street tyres, particularly since we had the hillside on our right, but we passed without a hitch.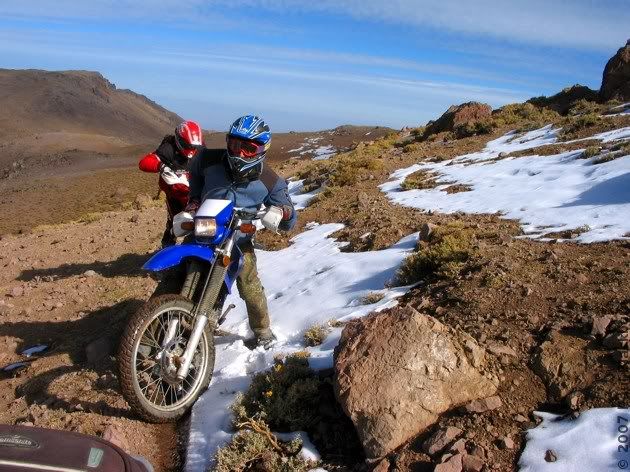 At the end of the trail, we came upon a large flat area, and then found a wide dirt road. A dirt road? Up here?
And, on a nearby hilltop, this antenna station.
You could see roads going down to the Valle Central. Over there, in the distance, is Colina, lost in the haze and smog.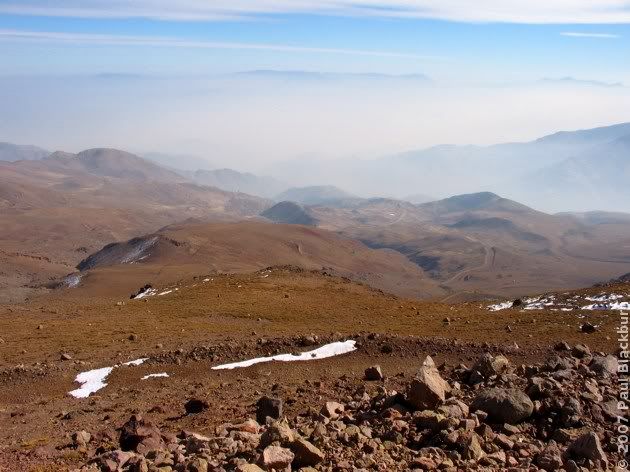 Instead of taking the main road, we took a secondary one. The sign was there to announce the blast times, but it was blank.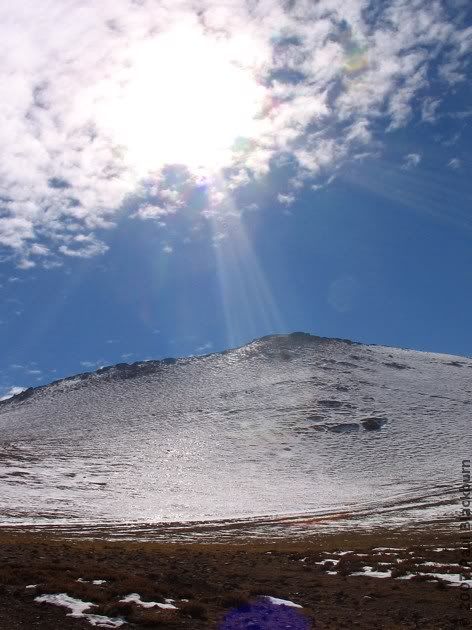 And now the snow encroached the trail. See that dot riding up the road?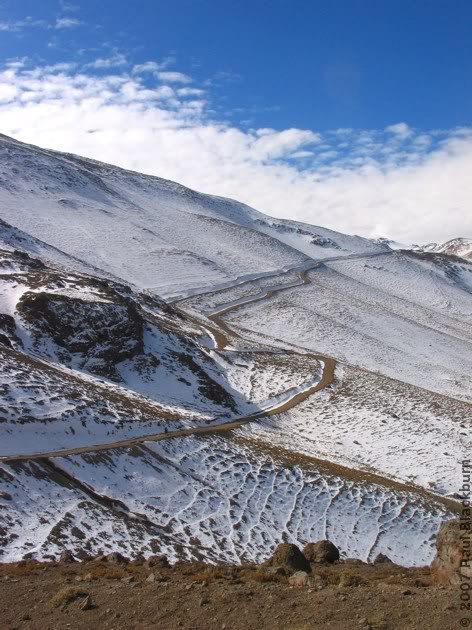 That dot is Chico.
Waiting for Run.
It was cold, and at times white wind blew across the trail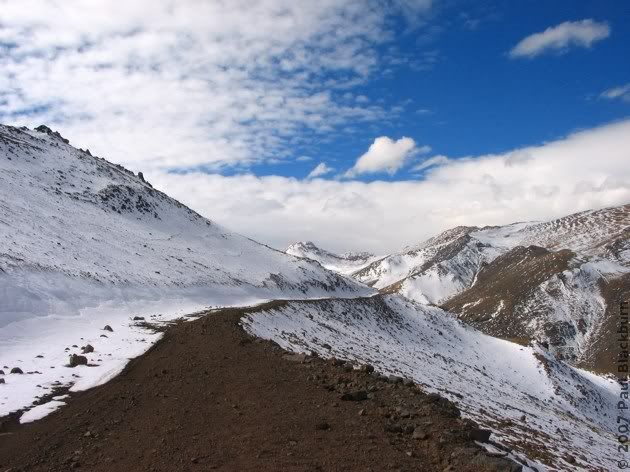 There's Run.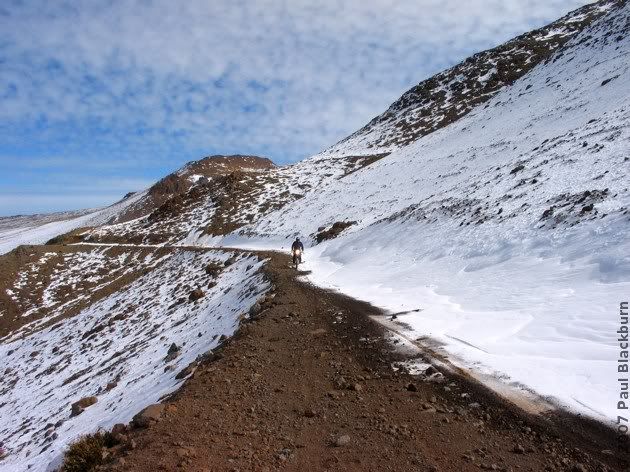 Beautiful textures of rocks and snow.
The sections of trail covered by snow became more and more frequent. We were able to cross them thanks to a trail of compacted snow. Perhaps it was the KTMs a few days ago.
Despite all of Chico's experience, nothing could make up for his short height and a tall XR. In snow, there is no alternative: it is absolutely necessary to use your feet constantly to keep the bike upright.
And if your feet can't reach the ground easily...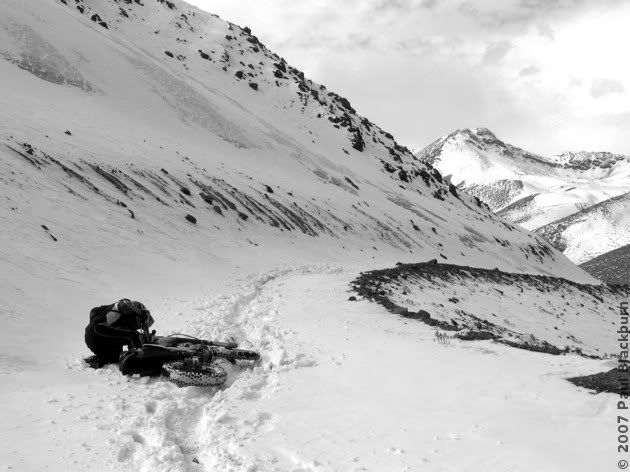 This little slope gave me trouble. I stared and stared at it. I walked the bike down, with Chico and Run's help.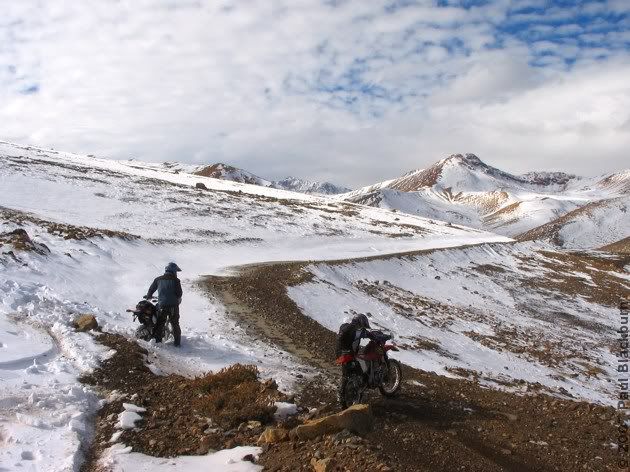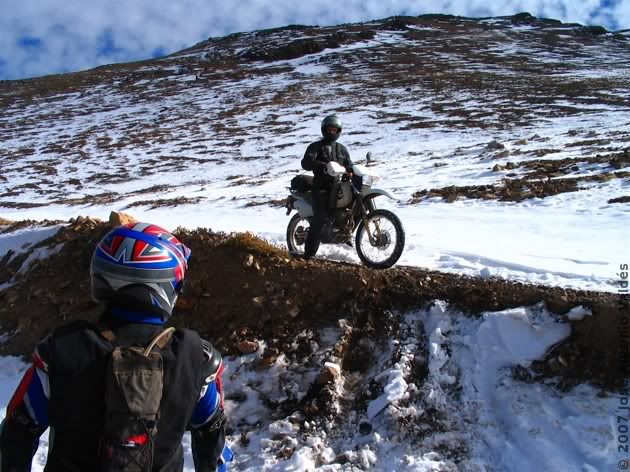 The son had no problem at all.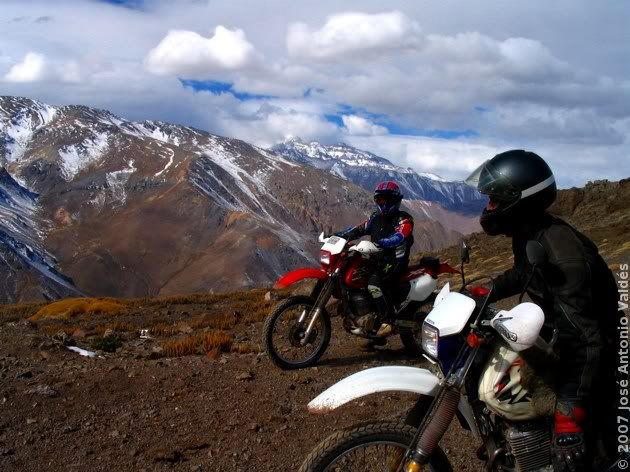 Riding on snow is tiring. Despite my anti-fog faceplate, there were times when I had to open it, since I could hardly see a thing. Panting from the altitude and the effort of wrestling the handlebars, we crossed snow drift after snow drift, until we reached the first frozen lagoon.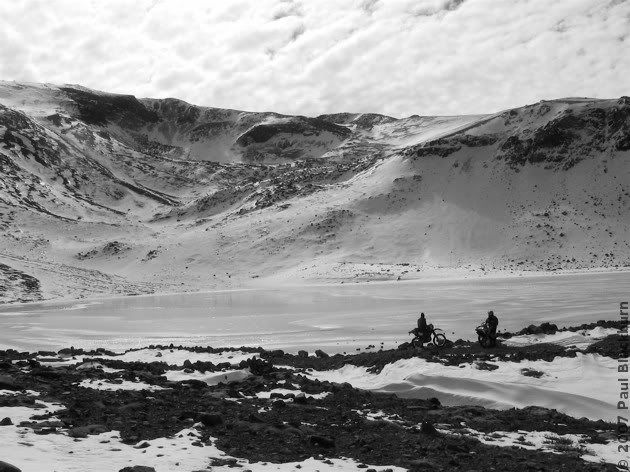 On the ice, stones, surely launched by curious riders.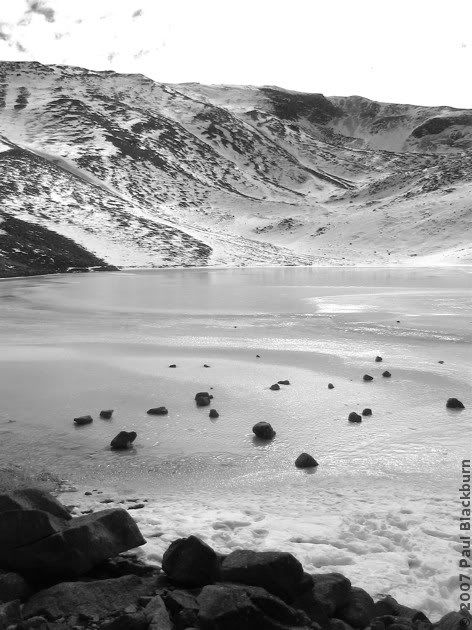 Father and son decided to stay, and we carried on up.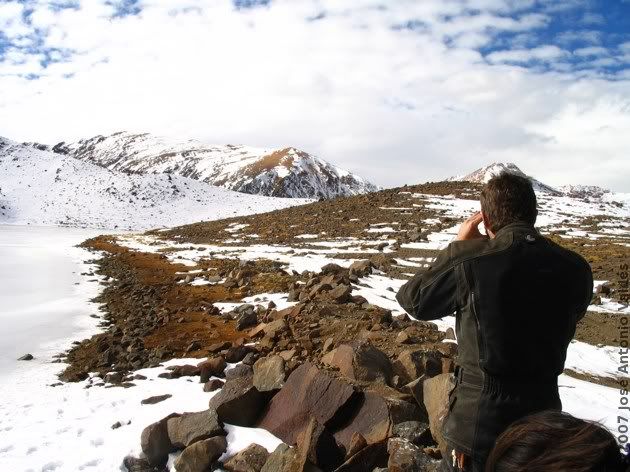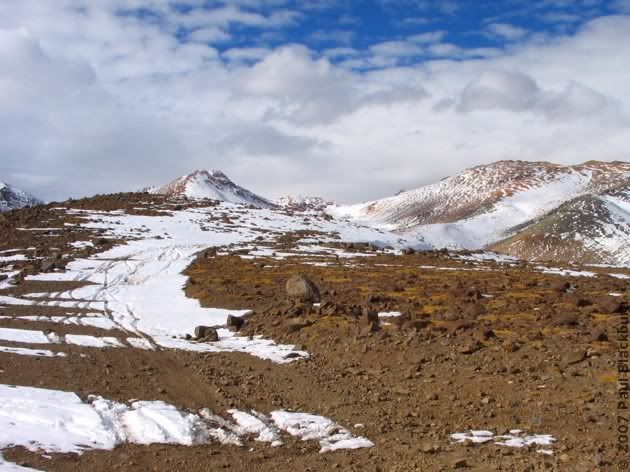 More snow, deeper, harder.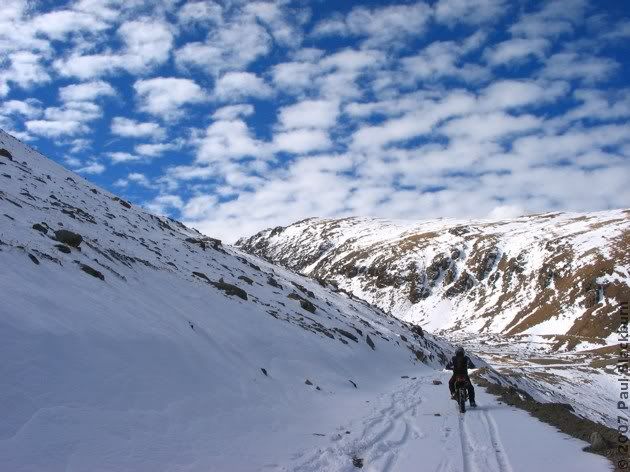 After a while Run decided to go back to the first lagoon. He was tired of the snow.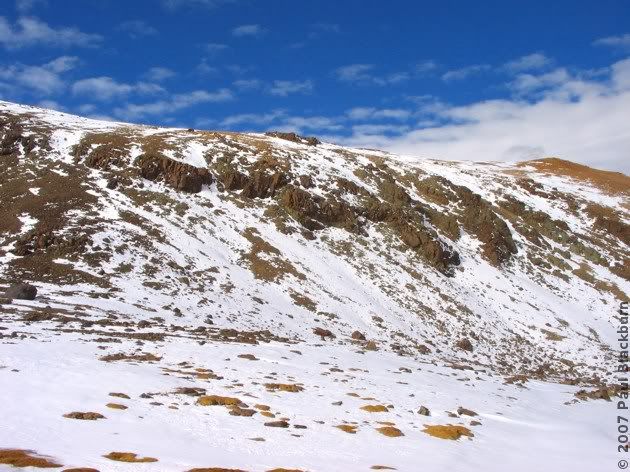 And we eventually reached the second one.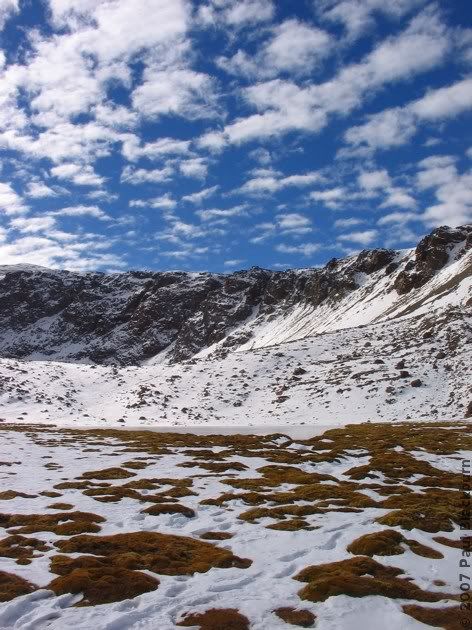 It was the end of the track in the snow, and we could go no further. It was also time to go back. The clouds were rolling in, and the patches of sunlight were ever more infrequent.
An incredible quiet. Chico's goggles knocked his gas tank rhythmically in the breeze. That, and the crunch of snow under my boots, were the only sounds in that stillness that high mountain scenes have.
We walked towards he lagoon. I stepped on snow between the
llaretas
, and my boot became instantly filled with icy water: under the snow, there were deep puddles. Fantastic.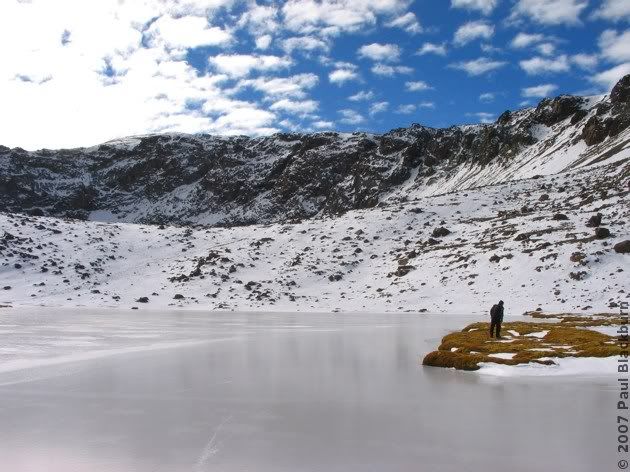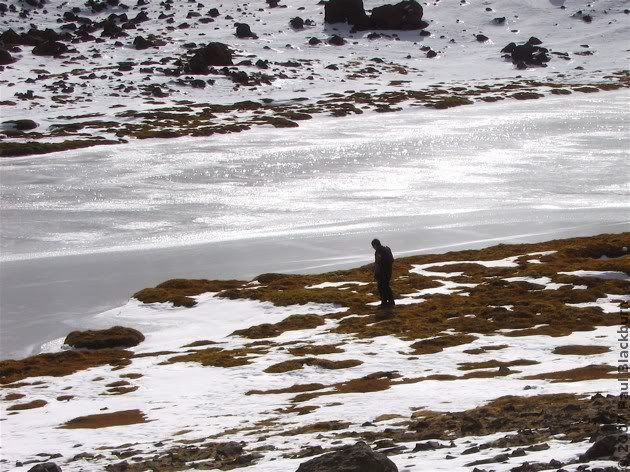 Chico was eager to walk on the ice, but it would have been unwise for many reasons. So he had to content himself with a little island.


And how thick is the ice here, anyway?


Cold, after having had some large cookies, we walked back to the bikes.

Back to the first lagoon, and there was Run, huddled against a rock. He assured us that he was not that cold, and not that bored. We started our descent.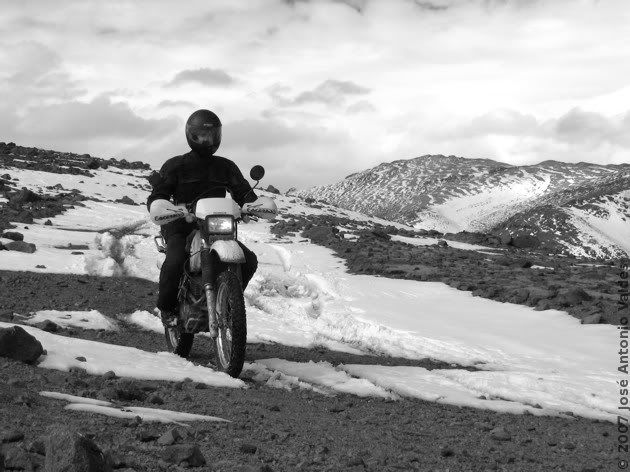 A few kilometres from the antennas, Chico and Run went on ahead. I had stopped for a picture, or something similar. I started after them, and was going at a good lick of speed, coming down a relatively wide trail, with angular rocks and mud and snow in parts. As these things usually go, I crossed the centerline, to go from the right track to the left one. I must have been doing about 30 km/h, perhaps less, perhaps more. Honestly, I have no clue. The front wheel went out suddenly. I stuck with the bike, and used it as a sled until it stopped. This is confirmed by a 30 cm ditch dug by the left handguard. Acerbis Multiplo T, I love you.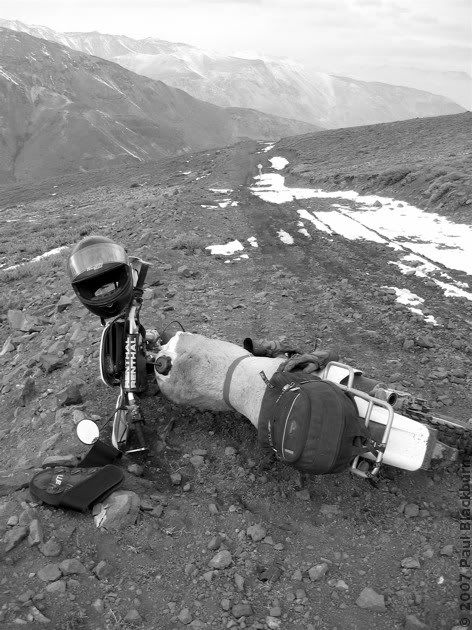 My right leg, however, was not as lucky. My trouser leg was pushed up, and when the bike and I came to rest, I realised that my calf was resting on the exhaust header pipe. It hurt, though not badly. The top layer of skin came off instantly; it looked like a large graze more than a burn. The burned are was pink, but didn't look too bad.
I took the time to remove the detached skin, take out my first aid kit (first time I had one with me, and I'll never leave home without it again) and applied burn cream that I miraculously found in there, I joined up with the others at the antennas, and we rode down.
It was a good long time before we reached the first rest stop. I put some more burn cream on, and covered it with gauze. It wasn't looking so nice any more.
After having a drink of water, eating a sandwich and tending to my burn, I felt much better. We came down fast, though it was surely slow and relaxed for Chico.
When there was no more than half an hour left 'till the Santuario's entrance, I hit a large rock head on. The front wheel came up, I flew up into the air, the bike bucked and skidded all over the place, and I just assumed I was going down. For a few wild seconds, I saw myself on a straight trajectory towards a tree, but as more and more wild seconds ticked by, I still found myself on the bike, and not on the ground. When I realised I had managed to stay in control, I was immensely happy. I looked into the wing mirror, but Run hadn't seen me, and neither had Chico. Damn it! I'm sure it looked fantastic.
We reached the YPF at the top of Av Las Condes after dark; all of us tired and dusty, me with a soaked boot and a nice big burn on my calf.
Labels: rides