Enduro in Lagunillas
Originally posted to El Cantar de la Lluvia on Sunday, May 06, 2007
A few days after the
previous ride
to Termas del Plomo I went back, this time with DanielR on his beautiful '96 XR250R, my bike's twin. He had taken the whole thing to pieces, carefully restoring anything that needed attention, and painted it a striking bright red. It really did look very nice. On that ride, I didn't take many pics. In fact, I only took one.
There I met Chico, riding an XR400R, an enduro rider who had been a part of the Chilean pro enduro circuit for years. We chatted, and after the ride, we agreed on the possibility of going out for a spin somewhere.
And that's what we did last Saturday. The day started out ugly but improved gradually. We went up the road towards Lagunillas, and then made our way up the hillside.
After a short climb in and out of
espinos
, rocks and tight, tight grooved trails, we came across a dirt road. We stopped, and I took some pics.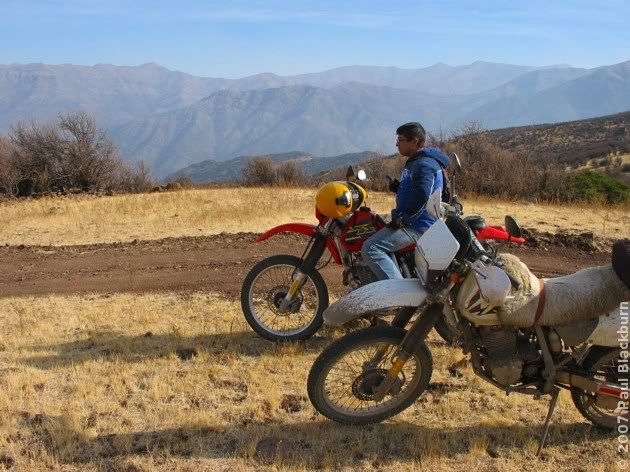 We pushed on, following the road. It led to the first local hilltop, the first of many, many more. In the distance you can see our goal, Lagunillas Ski Centre.
There were cellphone antennas on the top of the hill. That would explain why I had great reception that
other time
I went to Lagunillas.
Most of the pics are of Chico on the XR400R, resting, or doing something. Besides the mountains and the hills in the distance, there wasn't much to photograph.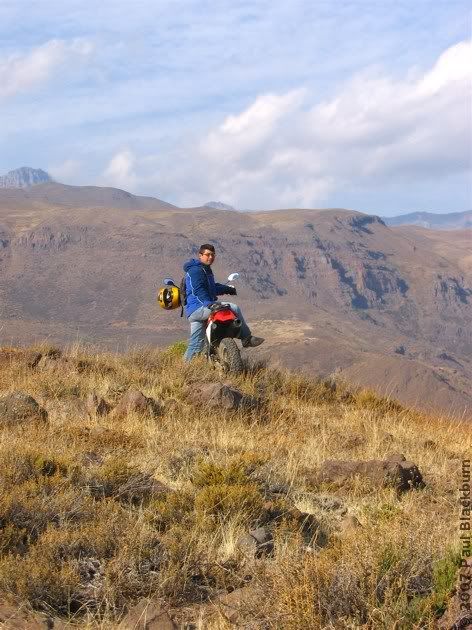 The route we were following would take us more or less from the low hilltops, near the antennas, to the higher ones, and eventually, to the Ski Centre.
There were flat areas, where we followed animal tracks or motorbike trails, always narrow, mostly covered with loose stones, but nothing too unpleasant. Every now and then we'd pass by large areas beside the trail that looked like they had been attacked by a horde of gophers on speed. The holes and mounds were so numerous that the ground just gave way under the bike. Luckily I only got stuck once in one of those zones.
The other predominant terrain feature were, naturally, hills and slopes. Riding up a hill on a bike is a no-brainer if you're on a nice, hard trail. Even if the surface is relatively loose, it's not too bad. But when you're above the snowline, and the whole hillside is covered in vegetation-induced ondulations (hiding rocks, loose earth and other nasties), riding gets quite hard, particularly for the off-road novice like myself.
Chico sitting on a rock, and in the distance, the trees and houses of Lagunillas.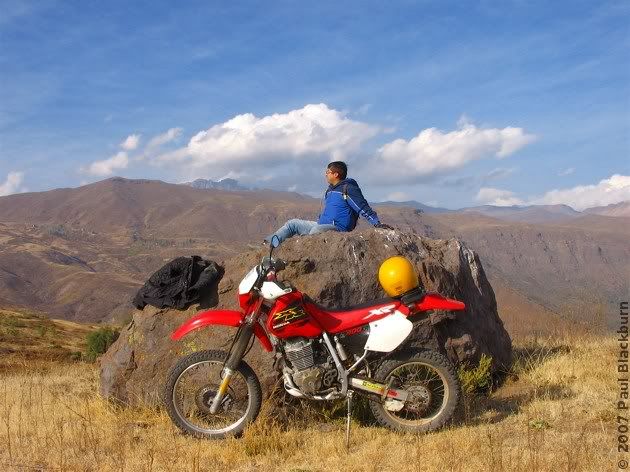 Sometimes it was just a matter of holding on tight, and you could ride up sitting down. Most of the time, however, sitting down meant a guaranteed fall. Given the slope, the correct posture was not just to stand on the pegs, but to be positively hanging off the handlebars, since the bars were almos directly above the pegs.
In the distance, the cellphone antennas.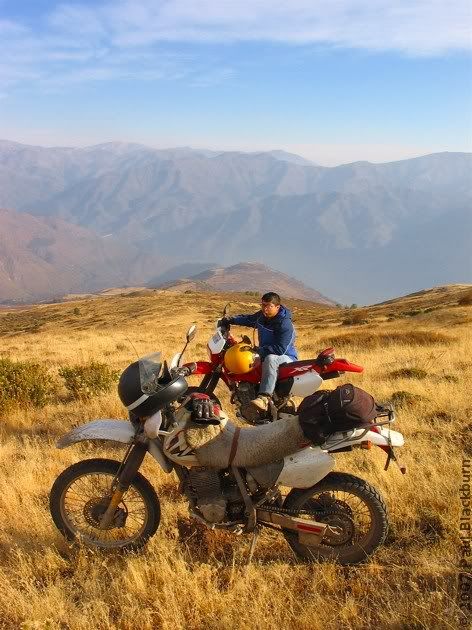 And if I did manage to keep my body against the fuel tank and my chest as far forward as prudent, I then had to contend with the extremely irregular terrain, what they call the
calamina–
transverse ripples every metre or less created by plants and endless weather cycles–and the constant tendency of the front wheel to be knocked off course, or plain launched into the air. After each uphill run I'd be left exhausted and sweating, not just from the effort, but also from the concentration and preoccupation brought on by having to face a giant and endless slope.
And if I fall? And if the bike falls with its wheels uphill, and the oil starts pouring out, like
last time
? What if, what if?
Chico naturally had no problems going up. I was comforted by the idea that we were riding similar bikes. His, though more powerful, had the same cycle dynamics as mine, and we were both on dual sport tyres. These similarities made clearer the differences between his experience and my inexperience. At every rest stop he'd give me tips, suggestions and comments on what was coming up.
On one of those long, long uphill runs, I dropped the bike. I lost speed. If you don't have speed, you don't have control. Some 20, 30 metres from the crest, in the steepest section, Chico got on my bike and took it the remaining distance.
It is really quite difficult to describe what it feels like to be bumping and lurching along the last few metres of flat terrain before the steep slope starts. It looks enormous, imposing; vertigo ensues. Your head becomes filled with visual calculations of "I'll make it to the top" versus "I'm going to fall over backwards". Several times I thought of turning back, considering withdrawal, defeated at the hands of a steep hill. But what the hell, that's how things are. If I fall, I fall. And so I tried. On the flats there is no shortage of bushes, ondulations, big stones; and it is quite hard to get up to the right speed needed for the climb. And even if you do make the right speed, there is no rest, there is no moment during which you are not struggling to keep the bike on course, not to be catapulted off, not to put it down, not to hit an obstacle.
After many near-falls and near-dismountings, and a few final stretches done by Chico, we came to the point where we would start following a horizontal route, winding in and out of the hill's folds.
Here, a short video of one of the tamer climbs. From a distance, and in the hands of an experto, it doesn't seem like much, but believe me that when the hill towers over you, you sweat, and not because you're hot.
And we went on.
We were now almost at the same height as Lagunillas Ski Centre. Just one more gully to cross, and we'd be well on our way.
I didn't think I could do it, and if I did fall, it would be down onto a rocky stream bed, several metres below. I gave Chico my bike.
In the hazy distance, way down there, lay the cellular antennas, our starting point.
When I saw the ski lifts, I felt happy. It was that strange mixture of feelings: wanting the hard climbs to be over, those steep ones that make that make you think twice, those obstacles that one comes across sometimes that might well convince you not to go on, and at the same time, wanting it never to end, hoping for more.
We finally reached our destination. Two legendary XRs, both of them kitted out with street tyres and mirrors, one with a rack, backpack, sheepskin and one tired novice on it, we made it.
I took a left at the fence, trying to find a high point from which to photograph the sunset.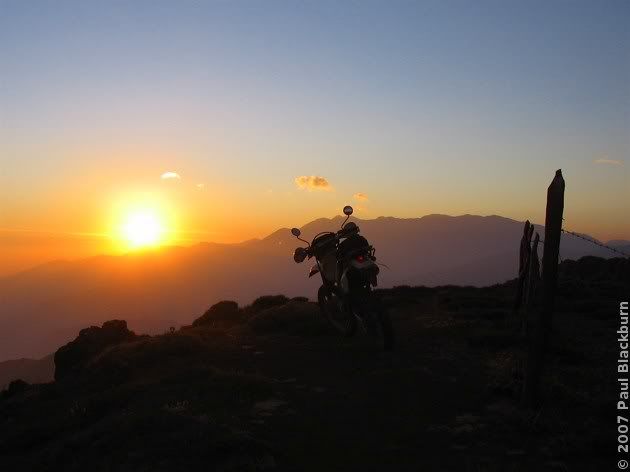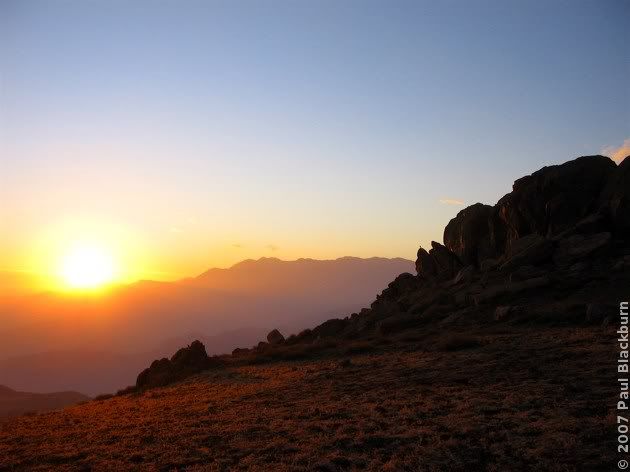 It was very cold, and I was tired. My arms felt like lead.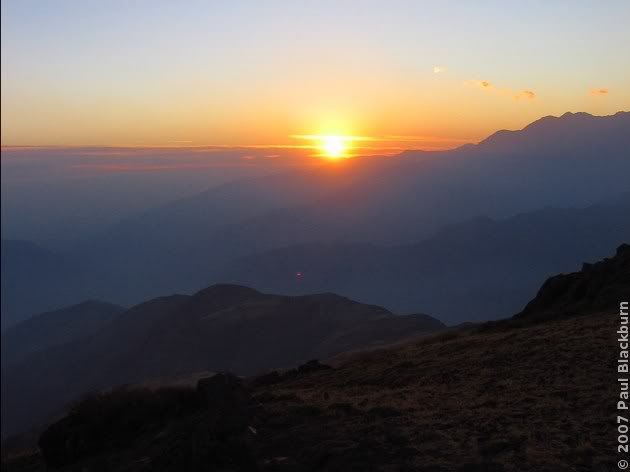 And to think that down there, in that haze, that hilltop barely peeking out from behind all others, that's where the antennas are, and that we did all that cross-country, using our bikes as intended, as designed.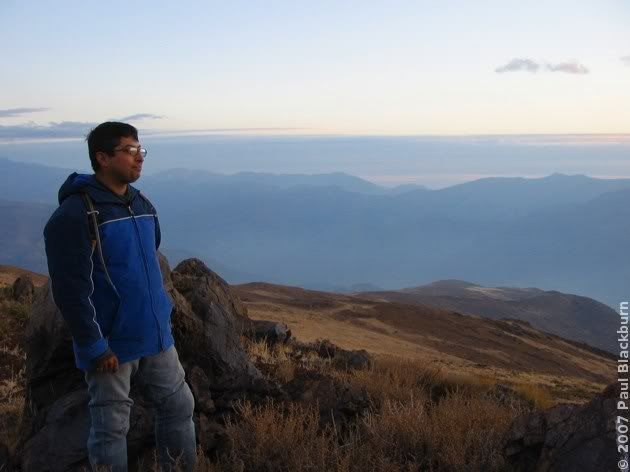 And with the last of the day's light, we returned to Santiago.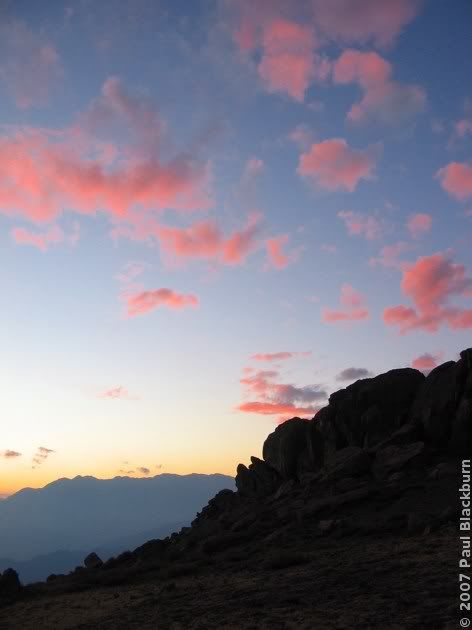 Labels: cajondelmaipo, rides