Carretera Austral Part 14: Epilogue
Originally posted to El Cantar de la Lluvia on Wednesday, March 21, 2007

Post-trip

: Spending time with Tom and Christine, and Will and James.



Previous Chapter





A few days after returning to Santiago I got a message from
Karl Heinz
, a friend from Buenos Aires. He told me that
Tom and Christine
, whom I met at a petrol station in Coyhaique, were in Santiago, looking for a place to stay. All four of us entered into a chat session, and coordinated things.
They were staying in Las Condes, my district, a place on the road up to the Farellones ski centers. Posada del Inglés or something like that. I suggested a beer, and we set it for the next day.
I confess that I completely forgot about it, and when arrived, both bikes fully loaded, I was on my way to a ride somewhere in the mountains.
They weren't too sure where they would stay, and it was getting late, so they stayed at my place, on the living room floor.
The next day, the plan was to take one of the Africas somewhere for a rear tyre change, and to have its steering bearings looked at. Tom had been feeling a slight swaying when turning on asphalt.
The placed the bike on the centre stand, and he pulled the front shocks forward. "Look, it moves," he said, as a grind/squeak sounded with every pull.
That struck me as strange. Bearings shouldn't make that noise. I knelt down to see where the noise was coming from, and I found this: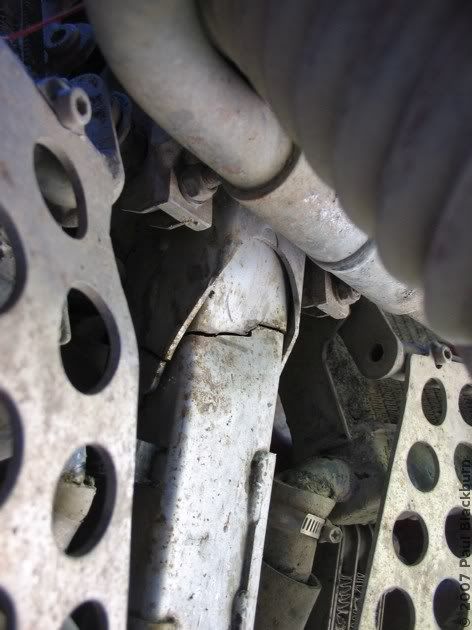 Gulp. That is something no motorcyclist ever wants to see: the frame was split clean from one side to the other, right between the radiator panels.
The bike is a '96, and Tom bought it as a crashed bike. From there he built it up again, and it had had no serious problems until now. In the pic you can see a dent left over from the crash; clearly the frame had been left in some tensed state.
I called DíasDePlaya, and he recommended I take the bike to
Bimota
, and so we did.
I think it was that day that Camilo called, saying that the English lads, Will and James, had arrived in Santiago the day before. Tom and Christina decided to stay where they were, in
Casa Condell
, in Providencia, a great place.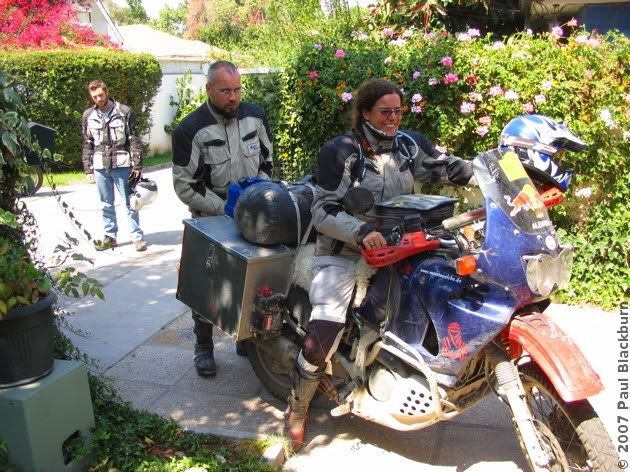 In the following days, we did a bit of everything. One day we went up to Valle Nevado with Will and James.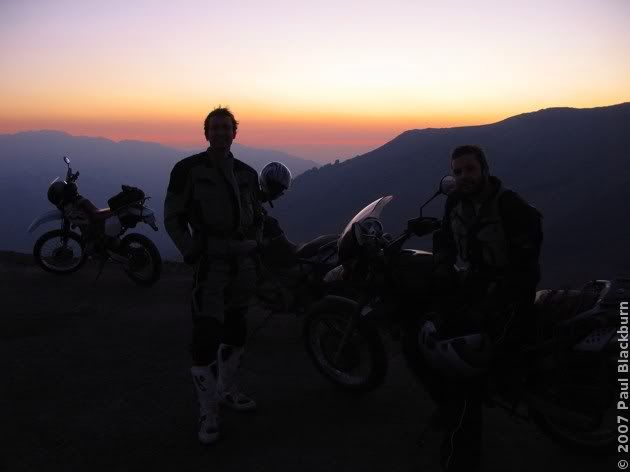 Another day we went up Cerro San Cristóbal.
No one told me Will had vertigo.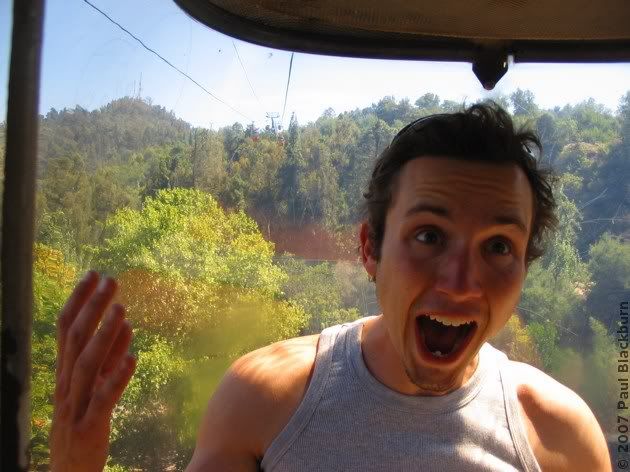 I took a mind-numbingly standard picture of the virgin at the top of the hill, so I had to do something to it before publishing it.
Another day we went to Leyda, to see the races, and to see KarlitosGP (
The Man
) race. He came first in his category.
Later, off to Cristi's (Camilo's wife) house at Santo Domingo.
Another day everyone came to my house, along with Andrés, to do various maintenance tasks (oil, chain, that kind of thing). I love having people over for maintenance gatherings.
Before we left, we had to take Will and James to a
café con piernas
(a must if you're in Santiago), and later, we took them to a sleazy nightclub on Av. Suecia. Lively and colourful, that's all I'm going to say about that night.
Much as they wanted to stay, they had to go on their way; James now sporting some fancy new Touratech panniers.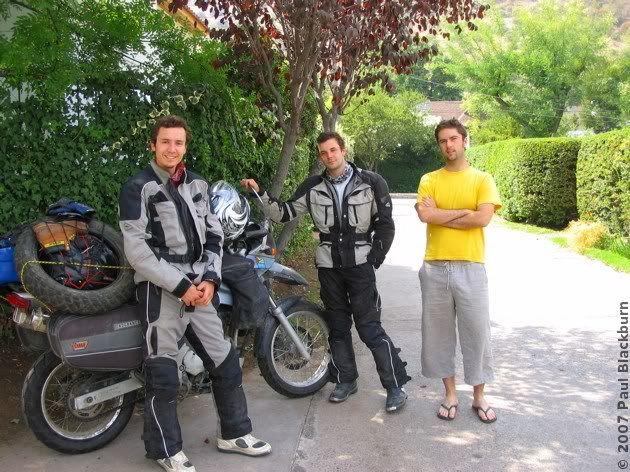 Tom's bike was still in the shop, so they worked on Christine's bike; oil, rear and front sprockets, chain, valve adjustment.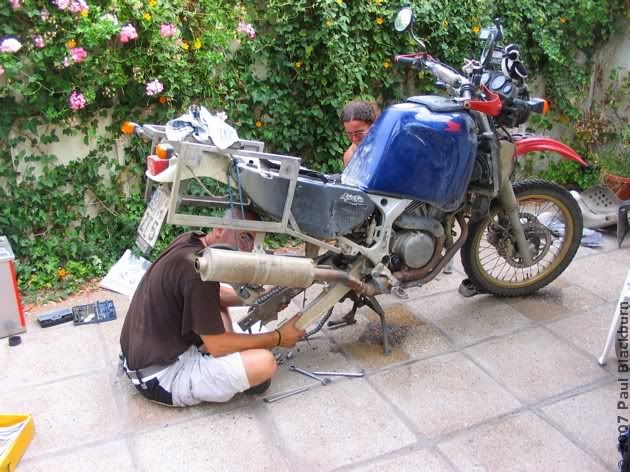 Camilo turned up on a scooter to the delight of all. His eighty-something grandmother had won it in a prize draw at the SalcoBrand pharmacy. Brand: X-Peed.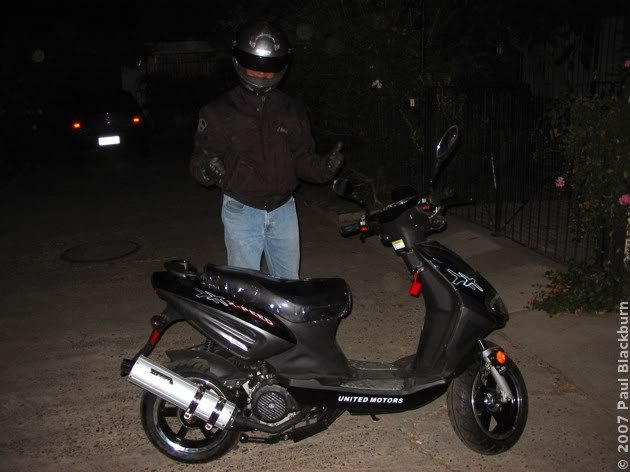 Getting to an Africa's valves is not easy.
The next day I called Bimota. They had found that the frame was not only broken in one place, but in two more. Also, the clutch cable was three wires thick, and the back wheel's bearings had to be replaced. These are the pics of the repairs that they sent me.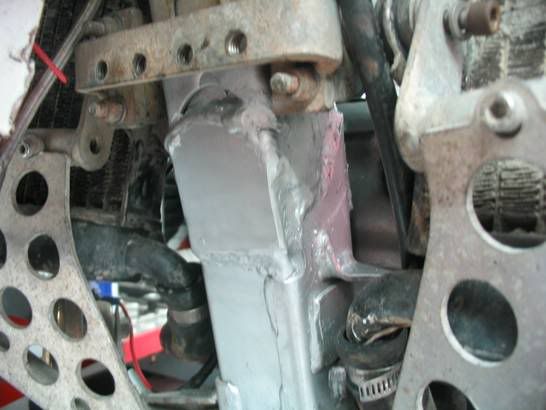 The last night in town, they took me out to dinner at the Salaam Bombay, and it was incredible. Thank you Tom, Christina, Will and James for a wonderful extension to the trip.
Labels: carreteraaustral, rides, trips