Race Day At Leyda 2
Originally posted to El Cantar de la Lluvia on Friday, December 15, 2006

Comrades, readers and various creatures: it is time to move on and leave behind the
previous post
. What follows is a tad unorthodox, as well as one of the photographically heavier posts on the blog. Get set, and I hope you don't get overloaded.
Here's the thing: a few months ago, KarlitosGP raced at Leyda, and I went as his personal photographer. I've published the pics
from that event
, but I was not at all satisfied with the quality of the pics, possibly because of the ISO index of the film I used, possibly because I had a Sky A1 filter over the lens and didn't notice it (hence the magenta tint in all photos), possibly also because the negatives were scanned poorly.
On that occasion, Karlitos wrote an on-board narration, what goes through a motorcycle racing pilot. There's a short narrative by Karlitos in this post also, but...
The Saturday after the
conference in Pucón
I gave the Physics GRE. On sunday I did nothing at all, and I was unable to shake the feeling that I had forgotten something. And Indeed I had: I missed the tenth and last 2006 400 cc Championship race this year at Leyda.
To top it all, KarlitosGP wrote about this event, in which he was awarded the 2006 Champion's cup, but there are no pics to go with it since I was not there. Crap.
So without further ado, I present an unconventional article, where the pics don't match up strictly with the text. Take it as a general illustration of the sights of a race. I'm sure my gentle readers won't mind. ;-)
* * *

My narration starts at Leyda again, 1st of October, 8th race of the 2006 Championship. Karlitos and I had pegged out the best spots for picture taking.
Everyone arrived on time, ready for he qualifying laps.
The well-known two-stroke Aprilia.
Team Lagos.
San Antonio's mayor showed up in a helicopter.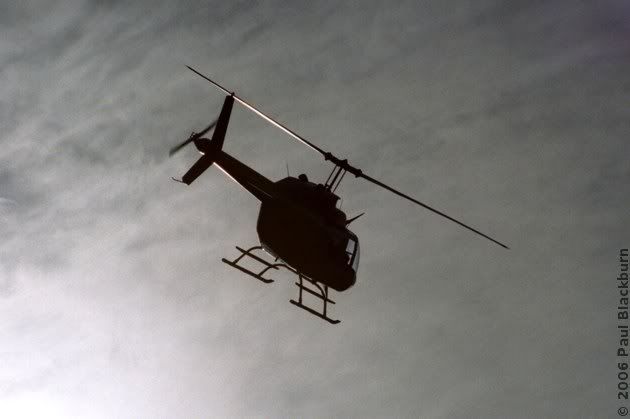 He was carted out onto the track to do a few laps in a fito (Fiat 600).
The bikes lined up on the starting grid and set off to do their warmup laps. Meanwhile I picked good photo locations. I walked the whole way to the Eastern end of the track, but I preferred not to stay there, despite the 180º curve. I came back and stood at one of my usual stations.
And they're off! I though I might not get the same rush, the same feeling of wild enthusiasm that takes you by surprise when all the engines whine into the high RPM range... but it was just as good as the first time. I concentrated on the pictures: The tripod was installed on the camera, a Canon EOS 1000 F, just as a stabilizing weight. The tripod adaptor had a quick release mechanism which allowed me to quickly drop the tripod and get right down to grass height.
Antonio D'Angelo, Experts, number 90.
The colours, the smells, the sounds... amazing.
That was Oscar Tarragó, Experts, riding 77, who would play an important role in the development of the race.
Alejandro Lagos, Experts, riding 54.
Juan Torres, Experts, riding 35, just 30 points below Oscar Tarragó, and shadowing him throughout the whole race.
Gustavo Arellano, Experts, riding 8.
Alejandro Lagos.
Antonio Carrasco, Experts, riding 26.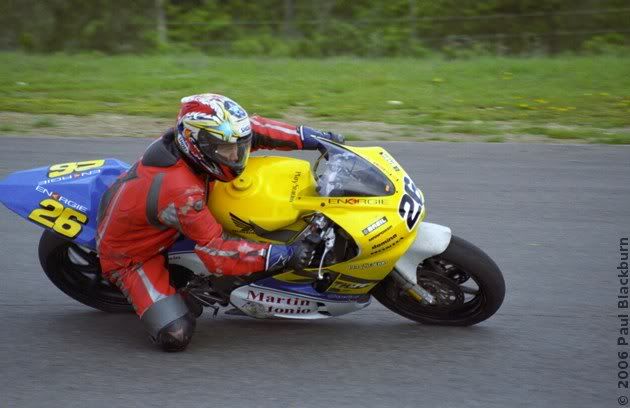 D'Angelo again.
Jorge Moya, Promo, riding 17.
I was taking pics when I noticed a bike coming from the 180º switchback with blue smoke pouring out the back. Blue smoke, unless it's the Aprilia that's making it, means something bad is up. Generally speaking, someone has just bust their engine. The smoke is produced when oil gets into the cylinder and is burned. This can happen because the rings are shot, the valve guides started leaking, etc. It's always a bad thing. And the guy making the blue smoke was Oscar Tarragó.
According to what Karlitos says, you don't realise you're smoking. You couldn't: you're concentrated on a thousand other things, and if that weren't enough, you lack mirrors. You rely on flagmen to point it out to you.
Burning oil can also mean that you're spilling oil into the track. Thus, the pilot is usually instructed to leave the race as soon as possible. I'm not sure when he got the black flag, but it wasn't soon enough.
Sliding on his own oil, 77 went down.
35 just manages to avoid him.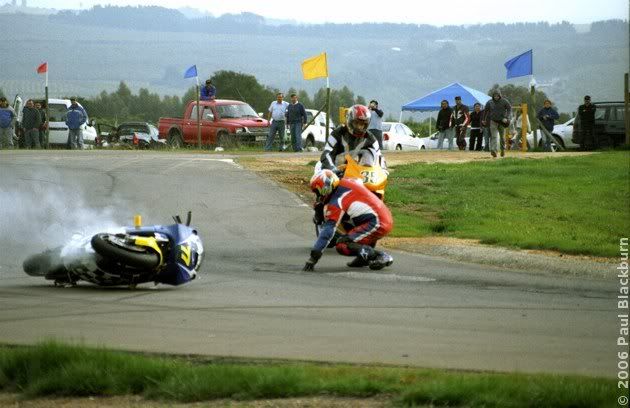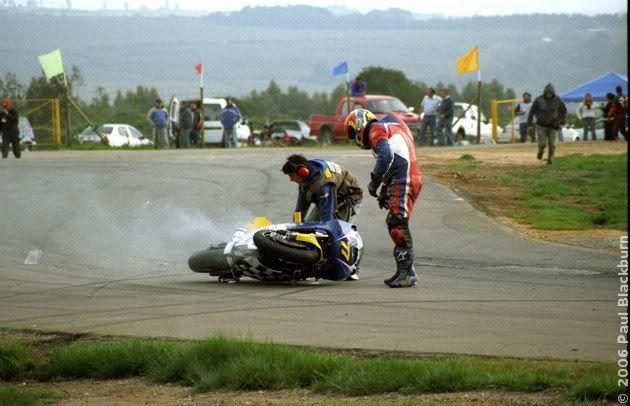 The flagman helmped him lift the bike, and 77 continued to my great surprise, pouring amazing amounts of blue smoke out the back. I feared for the other riders, though the exact point where he spilled most of his oil was not precisely on the precise trajectory through the curve.
Meanwhile, the other riders were waging short battles of their own. This sequence shows Alejandro Lagos passing Jorge Moya, though due to the vast difference in their experience level, one might not be fully entitled to call this a "battle".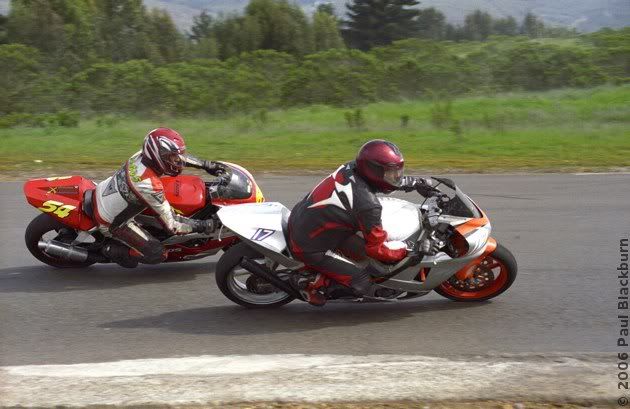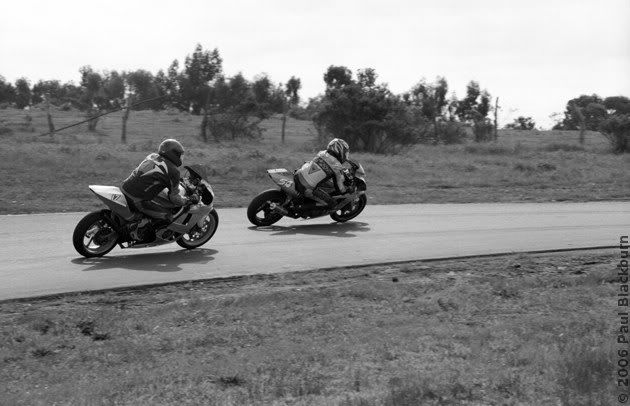 I'm always surprised when I see pairs of bikers stay together throughout the whole race, lap after lap.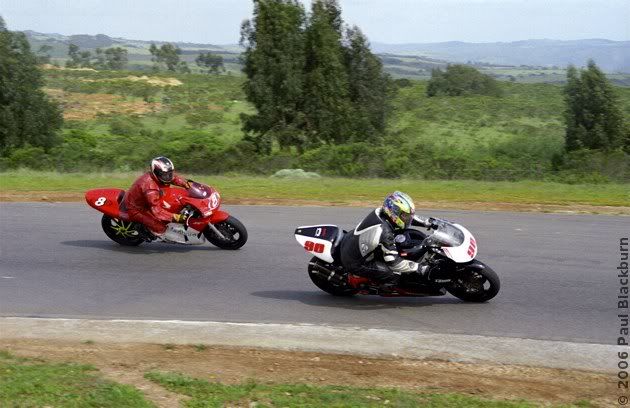 Back to the curve where Oscar went down a couple of laps ago, I could hardly believe it when I saw him go down a second time, with Juan Torres on his heels.
This time he picked the bike up alone, his boots slipping and sliding in the mud. Karlitos rides by in the background.
And he carried on, smoking away and with his gear pedal dangling by the thin connecting rod... I have no idea how he got back to the pits, but he did, as you can see in the distance.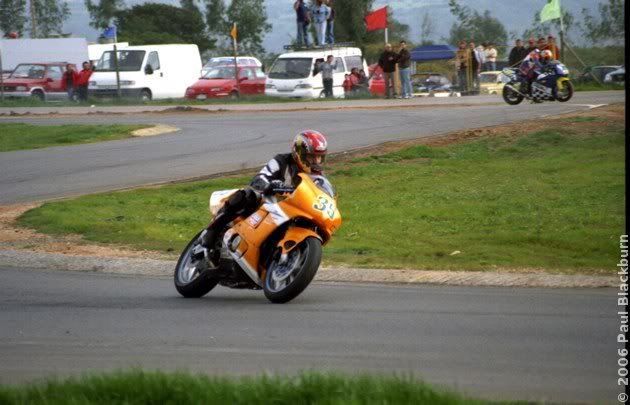 And that was the end of the first set of laps. I picked up his faceplate and bits of his bike's cowling, and handed them to Christian Ureña, the nice argentine mechanic that works at Yuhmak, the place that sold me my XR125L about a year and a half ago.
The second set of laps was canceled due to the amount of oil on the track; as a matter of fact, the Fiat 600s were skidding all over the place, despite the chalk thrown down by the cleanup crews.
And so it goes. At the end of the 8th race, Karlitos was in first place in the Promo category.
And here's the man, with yet another cup to put on his shelf.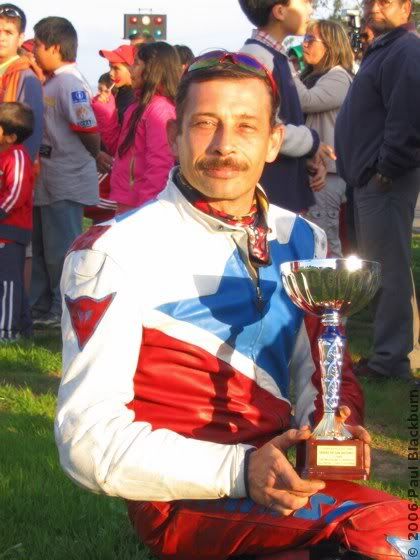 * * *

And now, Karlitos' narrative about the 10th and last race of the 2006 Championship.
First, this is the guy narrating.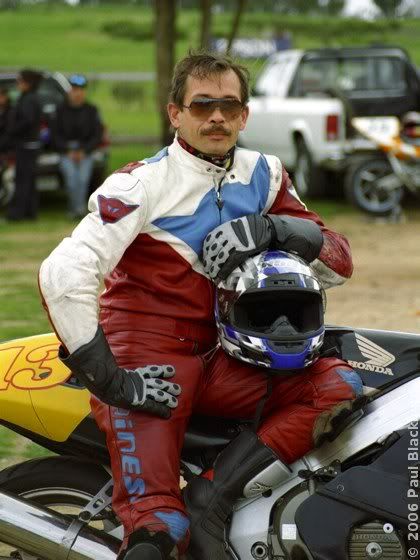 And he has this to say:
Now, a week later and finally rested, I've been able to gather my thoughts from before and after the race.

This day was different from other races: I was anxious; I knew what was coming, but I had to keep my concentration.

Though it is true that they are the same curves, the same track, every time you have a go at them they're different, strange as that may sound.

This race was slightly different. Even my psychological and strategic preparation was different. It wasn't easy to get things in order, particularly since it would be the first time that my son came to see me race.

I had to contain my emotion. He got quite nervous during the morning warmup session, and this distracted me immensely. I only told him part of my strategy; the rest would be a surprise.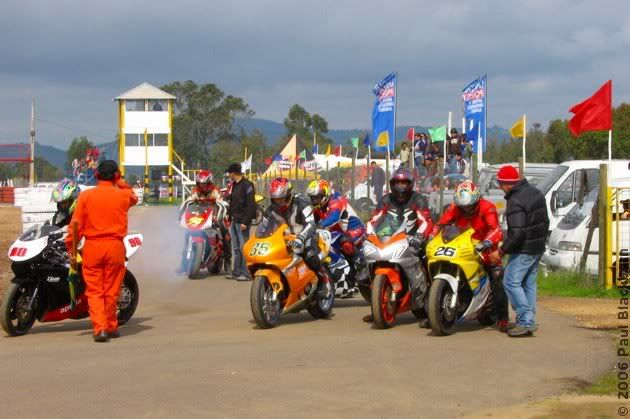 So here we are, gridded and ready to do the first reconnaissance lap behind the safety car. These moments kill me; my adrenalin and anxiety soar.

Ready for the Chilean flag that marks the start of the race. Up to 6000 RPM and we're off, I'm up three places and that's before the first curve, a place where we're all jittery and nervous.

There's no time or space to think. All your senses are being used entirely to keep your trajectory under control, shift down a gear, maintain your RPMs, the gap between you and the guy next to you. Alert and ready for anything unexpected with a finger on the front brake, searching for a gap to drive it to 12000 and 13000 RPMs before the next curve.

The first set of laps went fine, until the final 3 laps, when I was struck by a disconcerting thought just before diving into a curve, and with three riders on my tail. That fraction of a second lost resulted in an error in my downshift and trajectory, and I ended up losing three places and nearly running off the track. Come on! There's only 3 laps left!
Ok, let's change the strategy. Think fast Karlitos... it's enough to keep this place, you don't need to run unnecessary risks... but it's within your reach, you just need to hold off the brakes until the last minute in the hairiest section. It's dangerous, but what other alternative do I have? Wait till the long 180º turn and take advantage of the inner side? I'll do it: I come in fast, but come out slow and off-kilter.



Think, think. Right, no time to think. Down from 4th at 13000 to 2nd at 8500, take the inner side, since the guy in front opened up, and bring 'er around to face the long 180. Too fast and misaligned, and a bump on the track right where I have to throw the bike down. Whatever– I'm on top of it already, knee scraping the ground, I open the throttle and just as I feared, my back wheel starts sweeping out. Nothing to do other than hold that throttle open and wait.



We're entering into the blind curve, tight and uphill, and I just need to pass one to regain my position. Let's see: he's opening up for an easier entry, and now's the time. Down to 3rd and I twist that throttle, since I don't have as much power as the other guys. We're on to the straight, where I'm likely to be passed, but I'm not worried, since I can regain my position in the curves.

And so it goes: at the end of the straight I was passed by riders stretching the braking to the last minute, but I came in healthy and powered and recovered my place. Back to the chicane, a place for easy passing, which is somewhat reassuring, but I have to keep this up, since they're on my heels.

One lap to go, and my son pops into my head again, my fears, the curves... and what about my strategy?
I can't let up slack, because it will mean a sure fall. I'm out of this curve at last, and there it is, the checkered flag.

Now it's time to relax and rest, and above all get a change of clean underwear: this leather track suit is not nice in the sun and under pressure.
Between the motorcycle's sets of laps we get the Fiat 600s. Yawn.
Karlitos chats with some kids.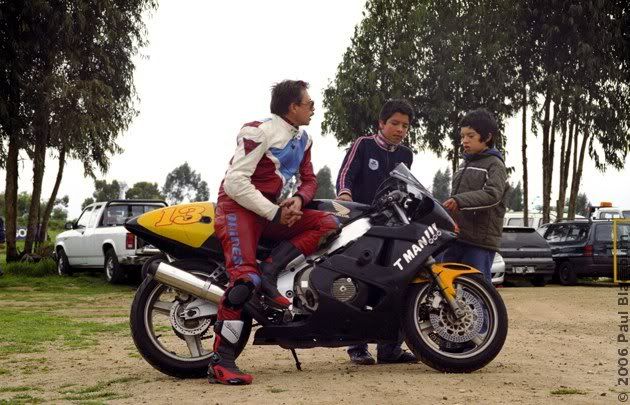 Second set of laps.

The second set is even more stressful than the first, because there are more points at stake.

We're waiting to roll onto the track, and this is where you start to do the mental work associated with the race. A time also to leave behind all non-sporting worries and hope that all goes well.

This pic by Martín Valderrama, done up a bit by me.
Ready for the start, another pass over the strategy, and the last muscle stretch before the race.

So what is my strategy? It's enough to obtain the second place in my category, which would give me the first place for the race. It wouldn't be easy, but it wasn't impossible. Any errors in this part would be costly!

We set off and everything went more or less like the first half, but with an extra load of tiredness and anxiety, both taking their toll.

A strange feeling came over me. I knew what was coming at the end of the race. I tried to get back into things, but I couldn't. I loosen my grip on the accelerator and just tootle along.
Blue flag: the leaders are coming up behind me, and I must let them pass, but I need to know where they're coming from so as not to screw up. That's Freddy Valderrama, first yet again, then Oscar Tarragó and Alejandro Lagos. As he passes, he signals a greeting and a "hurry up". I stick to him and try to keep up.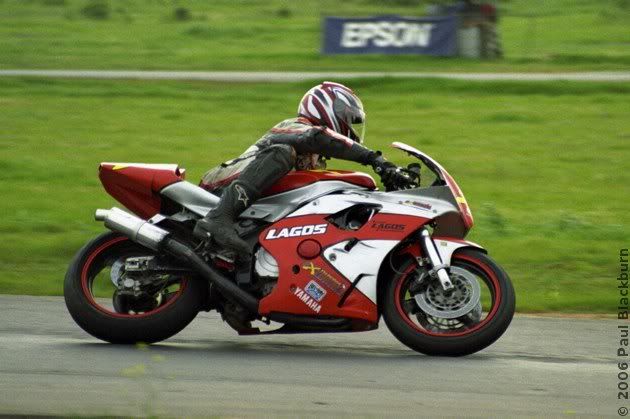 From then on, I was out of my daze and fully enjoyed the rest of it, until the checkered flag.

I must confess that I just let myself be led by my bike: she handled everything, she knew what to do. I just enjoyed the ride. In my mind there was only room for two emotions: satisfaction and thankfulness. First towards my faithful bike, my great friend and teacher Freddy Valderrama; Martín Valderrama, without whose advice, teachings and challenges I couldn't have come so far. And for my friends, who encourage me to carry on (and drive all the way out to see me at Leyda).

The big surprise I had in store for my son was to have him receive the first place on the podium. Ha! Took him by surprise, and he didn't want to at first, but he ended up getting showered in champagne.

And now, the second surprise for him. He's constantly asking me what my score is, what my ranking is now that the Championship is over.

First comes the Experts prizegiving. My good friend Alejandro Lagos, number 54, took the first place, dethroning the eternal champion Freddy Valderrama, who lost ground through having missed a few races.


And now, now's the time. My legs are shaking, my heart is beating. Up the steps I go.

How many times I saw the MotoGP pilots enjoy this moment at the end of each race. I thought and thought and tried to imagine how it felt. But hearing your name, receiving the trophy, hearing the applause...

It's my turn, my vision's gone watery. Flashbacks from the race, disembodied voices of friends giving advice, the scary bits...

And now I can't see shit: I'm being showered in champagne, cool and refreshing... priceless!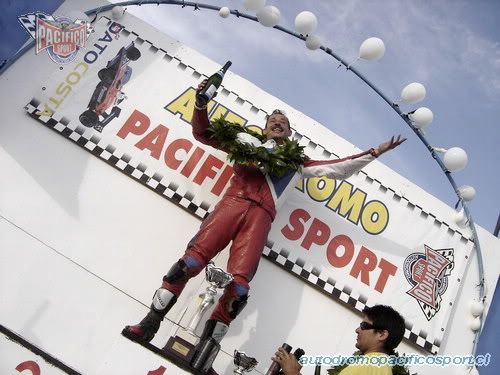 Thanks to all that made this happen. This moment belongs to you, too.
And thus, ladies and gentlemen, ends the 2006 season at the Autódromo Pacífico Sport in Leyda, San Antonio, with a new champ in the Promo 400 cc category. Congratulations, Karlitos!
Labels: rides