Carretera Austral Part 12: Quellón - Puerto Varas
Originally posted to El Cantar de la Lluvia on Tuesday, March 20, 2007

An early rise, for today we would take the ferry to Quellón. This time we booked the trip in advance, after the near-fiasco at Hornopirén. 
On the loading ramp we met with a surprise: the largest gathering of bikes we saw on the whole trip. Mine, Camilo's, a couple from California (complete with Tool and Ministry stickers on their panniers), a dude on a CRF-450 (more on him later) and a Chilean group of two Transalps, one Varadero and one BMW.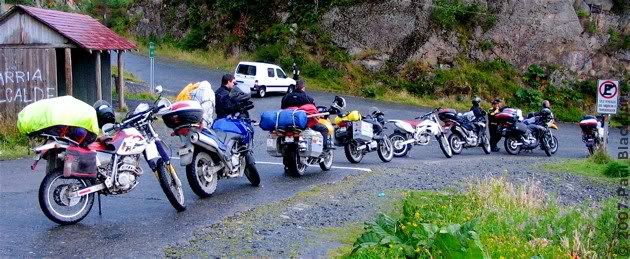 Luckily it wasn't raining. Looking back from the stern, I said goodbye to Chaitén, and to Chile's Deep South. 
On board we chatted to people here and there. The guy on the CRF was american, biochemist, apparently somewhere in the middle of his second postdoc. He spoke perfect argentine spanish, thanks to having lived some five years in Bariloche with his girlfriend, a bit longer than the time she spent in the US. He told us that he had left behind a job at a good research lab, and didn't know if he wanted to go back. 
He showed us his bike. With the help of a friend from the University of Texas they had made a 22 litre gas tank to replace the stock tank, which we learned could only hold 5 litres. He had also bought a giant headlight, and mounted it using a fame he'd made. He told us about the long hours he spent in the lab, poring over website after website of accessories and enhancements for the bike. He spent a year doing this: buying stuff, installing it on the bike, buying more stuff. 
We were not too clear on what his route was, but he was certainly doing it fast, and in long, long stretches. His luggage? A medium-sized backpack. No rack, no panniers, saddlebags, nothing. He had left almost everything, including his tools, in Puerto Montt. His back was a wreck, he told us.
Five minutes after setting sail, I heard him cursing emphatically. He thought he had been sold a ticket to Puerto Montt, not to Quellón. As they say,
se quería cortar un huevo
. He needed to get to Puerto Montt in order to reach Osorno, to get to Moto Aventura. He had a problem with his back wheel, and had heard that they were the best and most complete bike shop in southern Chile, and was certain that he needed their services. 
I asked if I could see the back wheel. He said it was loose, and that this was especially noticeable on asphalt. It might be the bearings, he mused. I asked him to raise the bike on the kickstand. "
Cómo? Que la levante?,
you want me to pick it up?". "No, no: like this". And I showed him how to use the locked front wheel and the kickstand to raise the back wheel off the ground easily. 
And indeed, the back wheel was horribly loose. At the rim, it had about a centimetre of lateral motion. A guy watching all of this said: "
Son los rayos
, it's just the spokes that are loose." So off he went, and came back with an adjustable spanner, and everything was set in ten minutes. 
I wandered around the ship a bit, trying to break the monotony of the long journey. I met a german girl, and we chatted for a while in the passenger cabin, located on one of the uppermost levels of the ship, sitting in reclining soft chairs reminiscent of those of long-distance buses. 
For the first time in my life I began to feel seasick. I closed my eyes, hoping it wouldn't end badly. It was almost impossible to sleep, since the loudspeaker that was surely used for announcements and so on emitted a sanity-melting screech throughout the whole trip, audible and irritating over the hum of the ship's big engines, audible even over the constant loud rattling of some loose wall panel. Such simple things to fix, but that were left as-is, unchanged. Three points off for Naviera Austral, lose a turn, do not pass go.
My seasickness didn't end with a mad rush to the railing, but I did feel the urgent need to get out for fresh air and to stabilize myself with the distant horizon. Ah, the things we'll put up with to talk to a pretty girl. 
We arrived at Quellón. Here's a pic of Julius on his CRF. 
A bike-jam.
A quick look around before getting off the dock.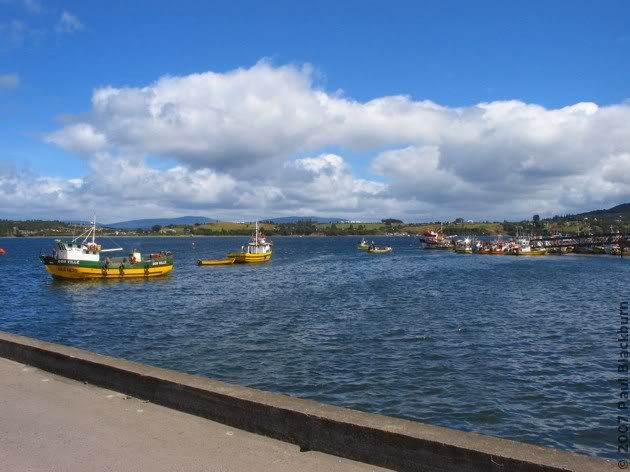 We rode up and down the street a bit, looking for a
cocinería
with Julius and Camilo. He told us he tried to have two guns shipped down with his bike, but when the customs official finally broke open the container full of traveller's bikes, he didn't let him take his guns. He said he felt naked without them.
You've gotta have an edge, you never know
, he said.
We said goodbye, and headed South 5 kilometres. This is where the Ruta 5 ends, and is one of the claimed endings of the Pan-American Highway.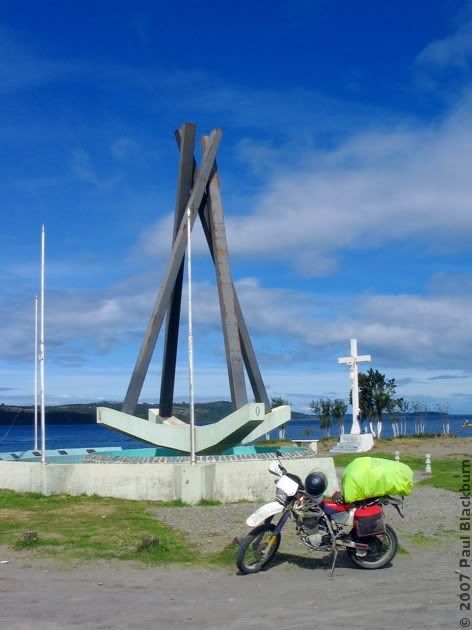 And what about the rest of the pics of Chiloé? What happened?
Simply that we barely stopped at all. After the desolate and majestic scenery down south, now the rolling hills, colourful Chiloé houses, blacktop and traffic jarred with our state of mind. We stopped at Castro, but the plaza was being restored, frustrating any attempt at getting a good shot of the old church. And the traffic, the people, the noise, and a stomach still rolling to the rhythm of the Golfo Corcovado; all of that dissolved any desire to stop and get to know the area. As a concession, if you want to see a motorbike trip up and down Chiloé, I leave you with 
La Ruta de Casi
. 
We reached Chacao at sunset, having travelled the whole length of the island of Chiloé practically nonstop. We buzzed straight to the head of the long column of cars, buses and trucks waiting to board a ferry. This works amazingly well: the vehicles near the loading ramp won't be left off the ferry because, as a motorbike, you skipped the line. The vehicles further back are too far off to be able to manifest their displeasure. When you board, everyone that did manage to get on is happy, and leaves it at that. Everyone else (that might possibly be mad at you) is left on the shore. In any case, we were placed in a dead space on the ferry, so we technically didn't influence the queue at all. 

We saw but a couple of
toninas
, in the distance. Some curious seals came closer.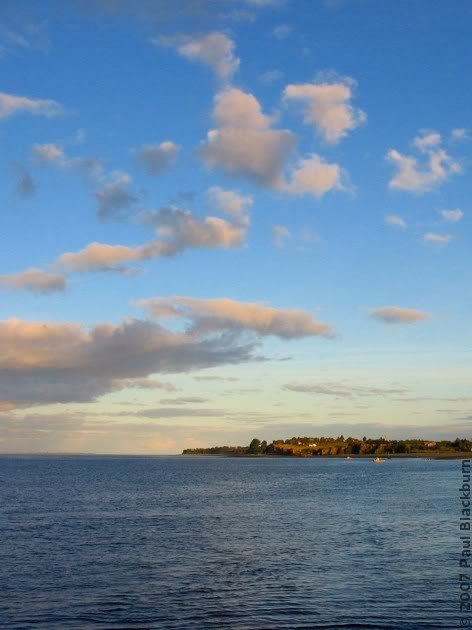 It was strange: we pulled back from one ramp, only to grind to a halt at another, 100 metres to the east of the first. More vehicles were loaded on.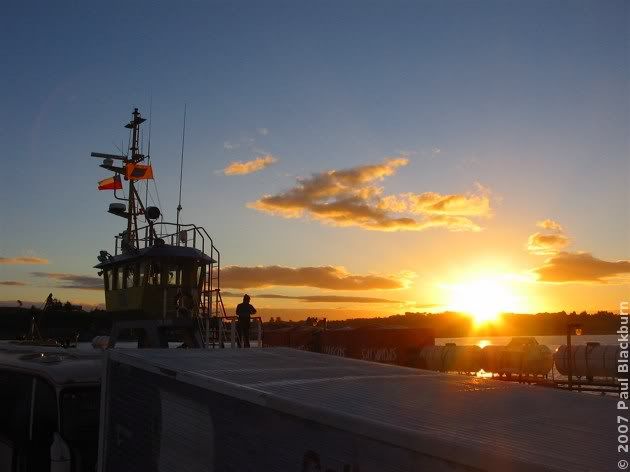 It is amazing to see the constant flow of ferries crossing the Canal de Chacao.
In the distance, something I had been hoping to see: the cable (only one) that provides power to the whole island, according to what I read in the Turistel Sur, waiting in the small shelter at Puerto Yungay. It hangs from those two towers.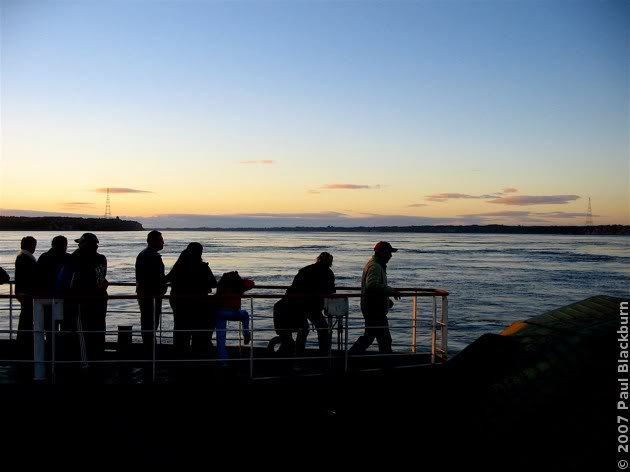 "What if we carry on to Puerto Varas, instead of staying in Puerto Montt again?" I asked Camilo. And so we did. 
We got there quite late, and found a
residencial
in a rather dingy area. That night Camilo went off to the Casino, and I got together with a friend. 
I felt a bit uncomfortable. I had become accustomed to tiny towns, hundreds of kilometres of wilderness, dense, dripping forest, windswept lakes and pampa, glaciers as common as the mountaintops they sat on, or, failing that, cities ensconced in hidden valleys or tucked up against towering rock.  But so it goes, and we had to go back now. And there was still the lake district further north. I might adapt once more to those surroundings, and I might set up camp somewhere. You never know. 
Labels: carreteraaustral, rides, trips