Back On Two Wheels
Originally posted to El Cantar de la Lluvia on Tuesday, January 23, 2007

I've been off the bike for a month and a half, and
not
because I decided to myself.
Christmas came and went, so did New Year's. I missed the nice weather, my friends' rides.
I went up to the Cajón in the car, but it wasn't the same.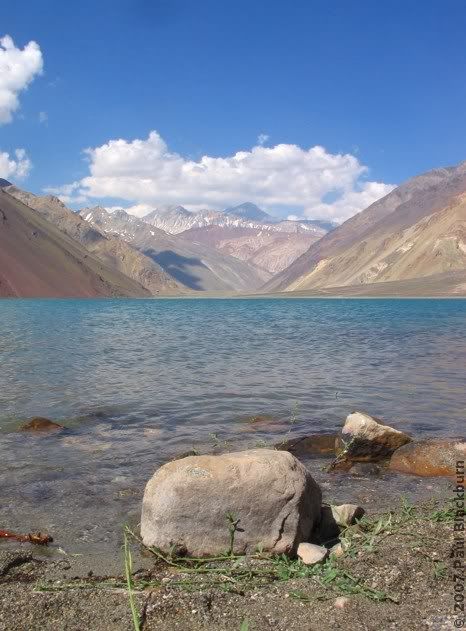 This came and went, among them a very unpleasant crash-resolution process, but in the end she agreed to pay for fixing the bike plus a new helmet. How much the obligatory vehicle insurance will cover of my medical expenses remains to be seen.
On friday they handed me the bike, and I got to work. The first thing I noticed:
This bolt is one of the ones that secures the rack, and it's bent.
I switched the gas tank cover for a new one, since the old one was fuel-stained, and I installed new shock boots, because the old ones were falling to bits. In order to do that I had to remove the front shocks, something I was planning to do anyway, not because I particularly mistrusted the place that did the bike, but as a general safety measure. And, as usual, everything done calmly, gently, with a torque wrench.
Riding again felt strange. I felt the bike had a deeper sound, and I lost touch with the power curve; sometimes I'd find myself sliding back on the seat.
Saturday we went for a ride. The idea was to get up to Melipilla and ride around a bit. When I got to the Shell station at Laguna Carén, there was no-one. I called Jano, and as we were speaking, I saw our small formation pass on the other side of the highway, headed back to Santiago. Rigeki had been hit by a car.
I made it to the Posta Central. A car driver went through a red light, hitting Rigeki and his girlfriend, who was riding pillion. The car drive denied it all, saying it had not been his fault. Given the differing statements, Carabineros took Rigeki off to the police station to take his statement. Finally the car driver admitted it all. Rigeki and his girlfriend were just bruised, luckily, but quite sore.
They went back home, and the ride went on as planned.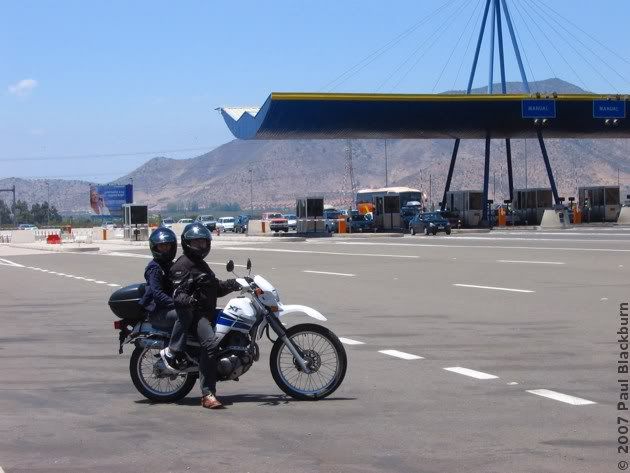 On the way back, we took the cuesta Barriga. Curves! Twisties!
Coming around one of the curves, on our way down, I spotted a dirt track going up the side of the hill. Steep, but doable. Up I went, riding it in first gear and stooped over the handlebars.
Up and up I went.
So nice to be back in the middle of nowhere again.
The usual story: up, up, up, making the transition from a 4x4 track to a cow trail, so narrow that turning around is basically a circus act, 5 perilous minutes of gravelly antics, and back down again in a half-controlled descent.
A fire.
On Monday I defended my Masters thesis and obtained a score of 7.0 out of 7.0.
As a celebration, I went for a ride in Santiago. A photographic ride, but downtown.
The Plaza de la Constitución, by the Palacio de la Moneda, the seat of government.
In times past you could see the bullet holes in surrounding buildings and the moneda itself, from the military coup of 1973. They painted them over a few years ago.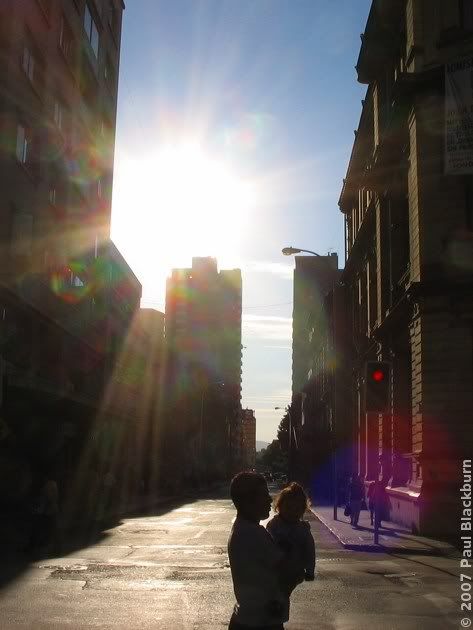 And in some car park downtown, this graffiti:
The caretaker, under his solitary tree.
Matucana Metro station:
Karlitos was able to identify this block of flats, but I've forgotten what they were called.
Av. Pajaritos.
And with that, time to go home, tired and ready to celebrate with friends. But above all, happy to be back on two wheels.
Labels: rides