2006 Photographic Retrospective
Originally posted to El Cantar de la Lluvia on Friday, December 29, 2006

I know, I know. This may be a cheap excuse to generate content at a time when the bike is still in the shop, thanks to the glacial process of obtaining due compensation for the crash.
El Cantar de la Lluvia
is about a year old now, and I think it might be a good time to look back at the best pictures of 2006, according to my not-so-humble criteria.
I'll warn you, however, that I will be cheating: I'll include a few from 2005, so as not to leave them out.
* * *

e

.

l

..

c

.

a

.

n

.

t

.

a

.

r

.

.

d

.

e

.

.

l

.

a

.

.

l

.

l

.

u

.

v

.

i

.

a


&


f

.

l

.

i

.

g

.

h

.

t

.

.

o

.

f

.

.

t

.

h

.

e

.

.

p

.

l

.

a

.

t

.

y

.

p

.

u

.

s

.
a first year in pictures
Prologue: The end of 2005


2005 was the year I bought my first motorbike. I've told the story a few times, but never on the blog I think. I had gone to Buenos Aires, like so many other times, to see Julián, live the wonderful Buenos Aires life, to see my cousins, Oli and Tommy, whom I discovered only in 2004. Things come and go, and Oli invites me to spend some time at Jacinta, the old O'Dwyer
estancia
in Entre Ríos, just a few km from General Galarza, a tiny town in the middle of the
Pampa Húmeda
.
Upon arrival, I found out that Oli has a motorbike. I used to see them as something alien, dangerous, a suicidal vehicle. I had never looked upon the positively, perhaps so as not to be ensnared in the temptation of riding one. I remember I had very harsh things to say about motorcycle riders, things that were not good at all. So in a spirit of complete consequence and rationality, perhaps over lunch, perhaps over a banana and
dulce de leche
, I asked Oli:
Che Oli, me enseñás a andar en moto?
Why, of course, she answered, as if it were the most natural and simple thing in the world.
Ah, by the way, this is Oli: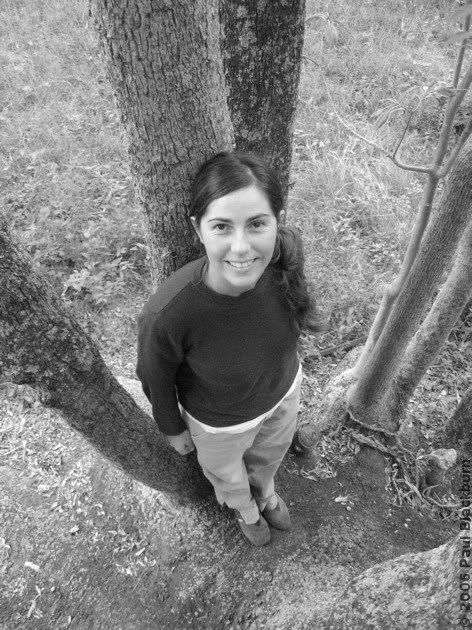 We went out in front of the main house, under the enormous trees that surround it, and she told me about the clutch, the gears, careful you don't open the throttle when you kickstart it because you'll have it kick back at you, and so on. The usual drill. I started the bike and a few moments later I was rolling over the grass, the feeling of sub-damped shocks rocking me into a happy daze. I liked it. I liked it a lot.
I practiced riding around near the house, and then on the long two-track up to the front gate, under a double row of giant poplars, avoiding roots sticking out of the ground, the cool breeze, the first breeze I had felt since... possibly since some air-conditioned shop in
La Capital
. I don't think I went beyond third gear. After a while I went inside, got the helmet and went out for a ride. Just like that. In retrospective, it made perfect sense. I recognize myself in this act; considering what I now know about my rides and travels, but at that moment, I just did what felt most natural. So I set off.
Dirt roads lined by huge fields of the
pampa húmeda
, the wet pampa; bugs, a damp breeze, incredible clouds. The smile I had on my face was one I cannot remember ever having. It just wouldn't go away. I wondered if one could get cramp from smiling so much. I guess not.
Riding, riding, riding. Taking the 90º corners slowly, practicing braking, changing gears. I stopped a couple of times to practice the starting routine, as a precaution.
Half an hour went by, then one hour, then an hour and a half. The sun, almost horizontal. A field full of cows by the side of the road, and I stopped, and killed the engine. At that precise instant, as soon as the engine stopped, every single cow in the field turned and stared. Do you know what it's like to have hundreds of black and white cows stare straight at you all of a sudden? I mooed out of courtesy, and all hell broke loose. They all started mooing in chrous.
And so on. That sort of thing happened all the time on that ride.
That night, I got lost. I was able to get back to the single-lane paved highway, but I hadn't calculated how far I was from the estancia. Luckily a pickup truck stopped on one of the secondary roads when I flagged him down, and it turns out he knew the O'Dwyers. Of course: everyone knew each other out here. He recognized the bike, and knew Oli well. He told me how to get back, so I set off down the highway, at night, at 80 km/h, the bugs hitting my faceplate with a loud whack every now and then. I made it back to the estancia, and luckily people weren't so worried by my absence.
In the days that followed, I went out several times, but almost always with Oli, to go and have some
mates
down by the river, or following their truck on the way to some errand or outing, as an excuse to spend more time on the bike.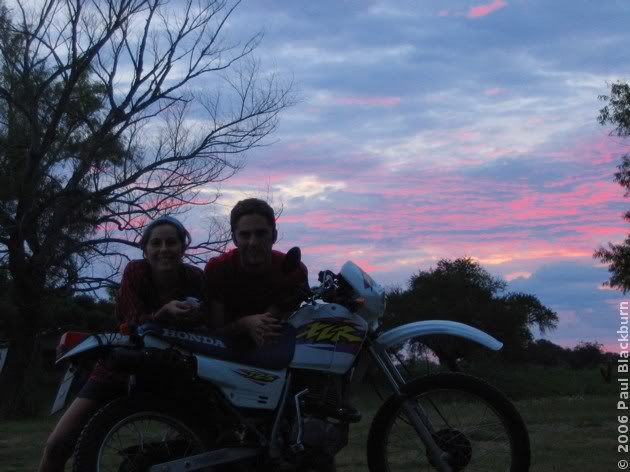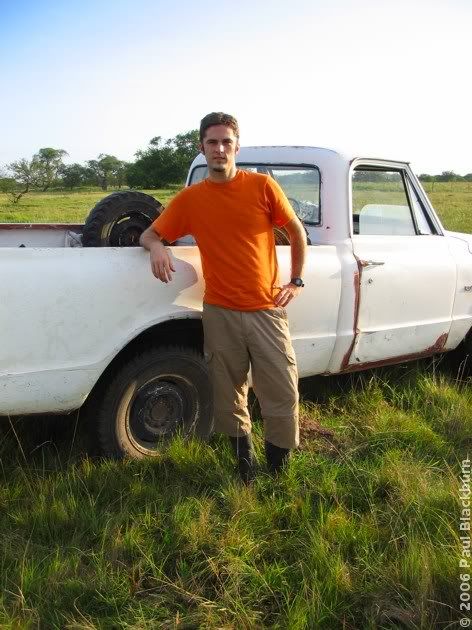 This little dog fell in love with me. Every time I looked at her, she'd roll over, completely surrendered. She would also "defend" me from the other dogs, all quiet and laid back.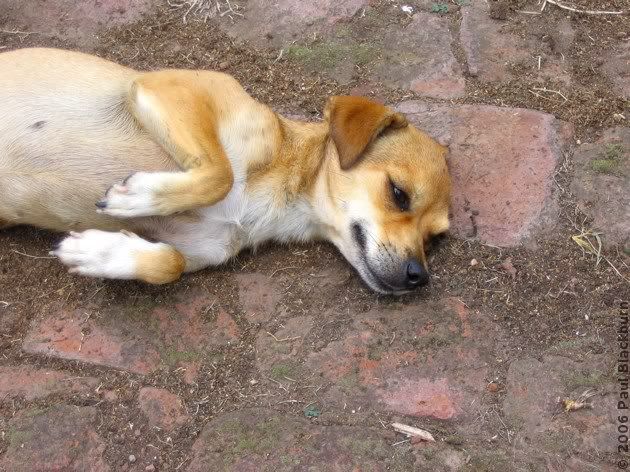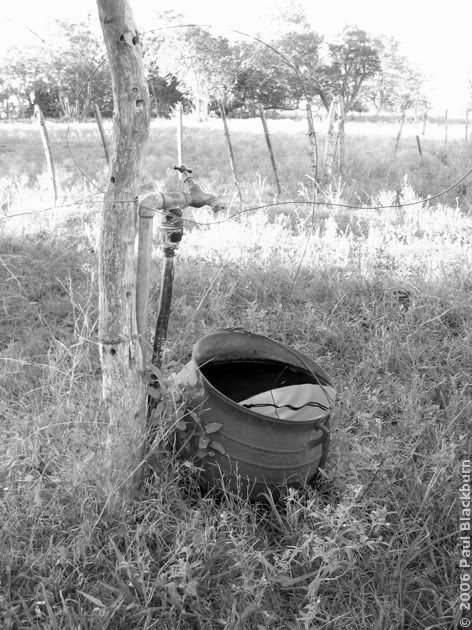 Here's one from one of those outings with Oli and her mum. We went to the local store, which was several kilometres away from the highway, marked by a single bare lightbulb outside. Warm night air, dusty night roads, the deafening sound of crickets and frogs, and fireflies everywhere. Below the single lightbulb, a rickety wooden chair, a
Quilmes
beer poster, faded and rain-washed. Inside, a kind yet reserved owner, friend of the family, with whom we shared
galleta
,
mortadela
and Quilmes.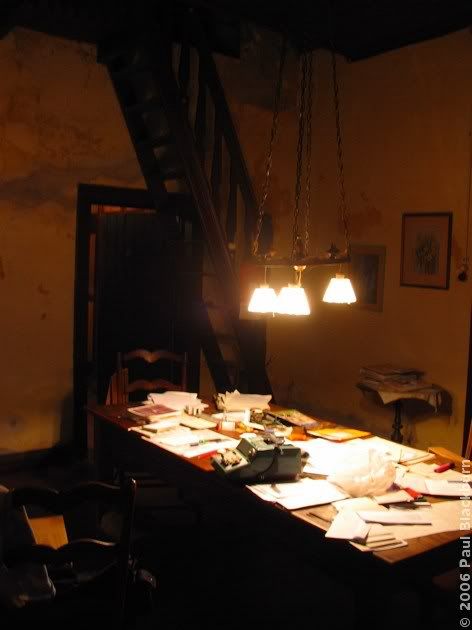 Eventually it was time to go back to Buenos Aires, and so I did, firmly intending to ride a bike again as soon as possible. And you know how that turned out.
I returned to Julián's apartment, where I was staying, and a few days later, he arrived from Brazil. He was tired. Many parties.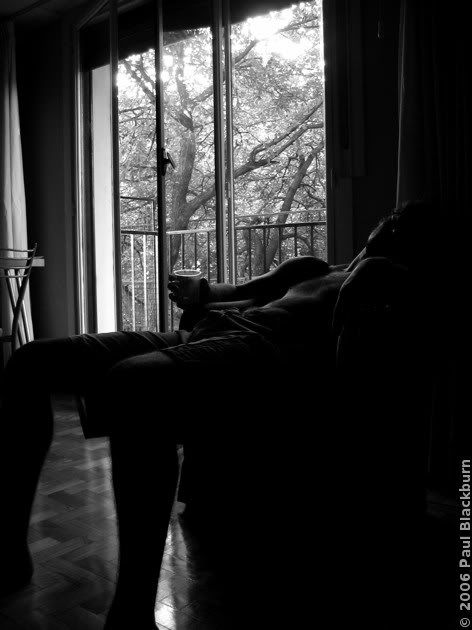 I spent my time just wandering, wandering, wandering. This pic, taken as I ate pizza in a restaurant downtown, perhaps Av Córdoba. As I ate, I took hundreds of pictures out the windows. This is the only one that I liked.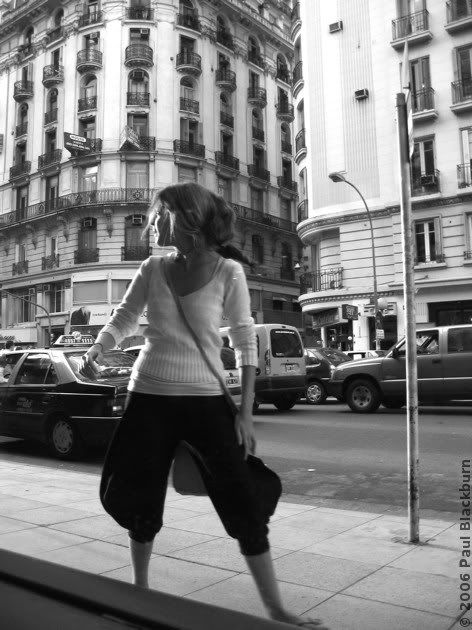 And then, back to Chile. On my right, Tommy, my cousin, and then Sergio, a classmate from the physics grad program.
There's more to go from 2005, don't think we're done yet.
Happy with my new bike, I set off to see how far I could get. One of those rides, "
Me and my Carb
" took me all the way up to Valle Nevado in autumn, 3200 m above sea level, at sunset.
Terribly cold, in particular given the my inadequate clothing.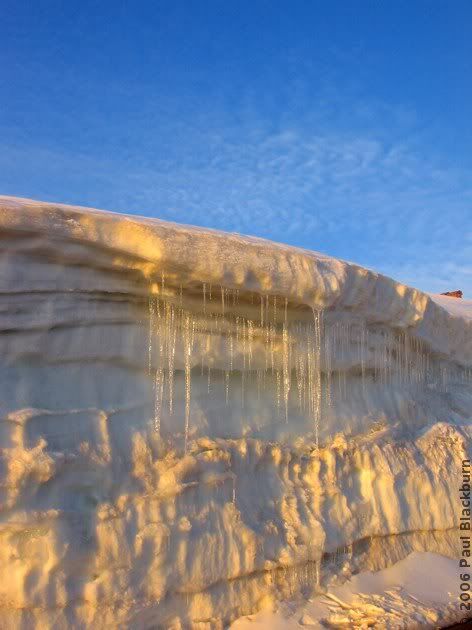 2005 also saw me go on
several rides
with Ben Kenobi (Rodrigo). I got to know his NC30, as he affectionately calls his Honda VFR 400 R, I even rode it a few times, and to this day I sometimes dream about that bike.
Rodrigo and I explored Laguna Verde and other places with even worse roads.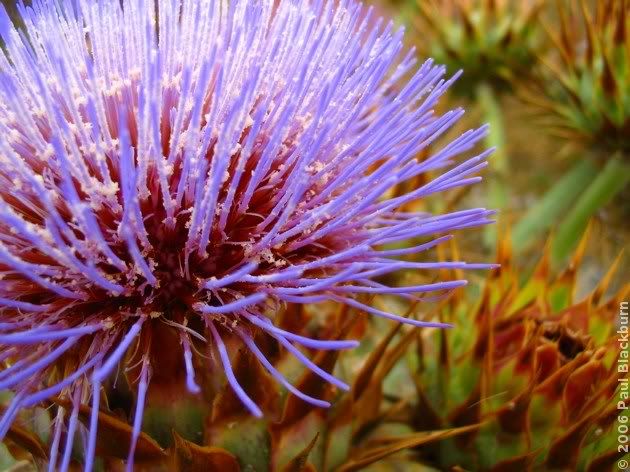 In fact, those rides would turn out to be an omen of what was to come. Rodrigo would go on to get a Transalp, and I would progress to an XR 250 R.
I also rode around the hills behind
San Carlos de Apoquindo
.
In November '05 I rode the bike all the way down to
Las Trancas
for a conference on Quantum Information, a spectacular ride.
Summer 2006
The new year rolled in, and a
trip to Talca
was planned. The trip was good; while some were recovering from a bachelor's party-induced hangover, others like myself had to deal with an unpleasant cold and he fact that we'd left our sleeping bag in Santiago.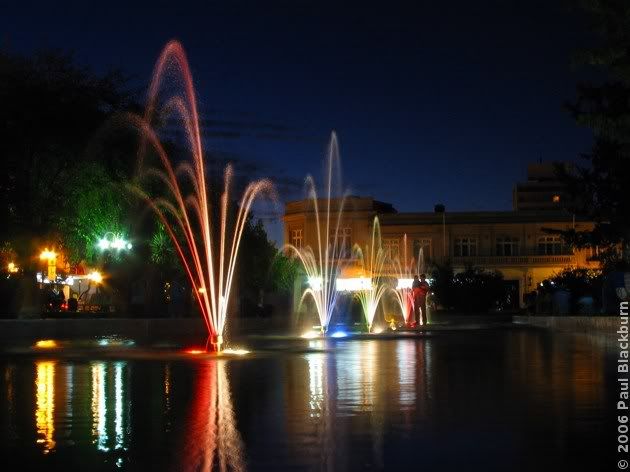 Down in Talca we met with a strange mixture of good and bad luck, presented to us in the form of one whole block of oil-covered road.
Disappointment: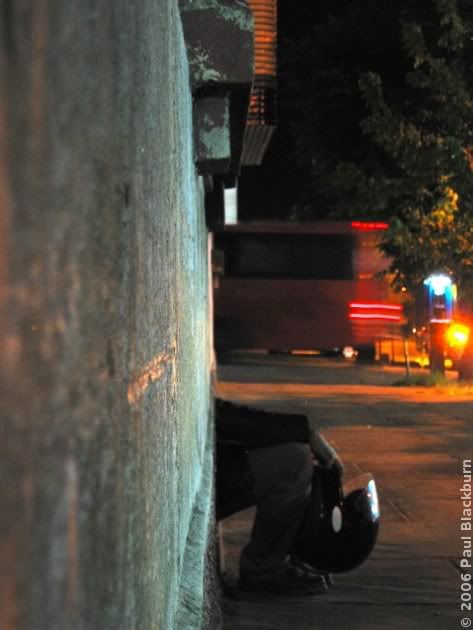 Nothing terribly bad happened, and on the whole, it was a great ride.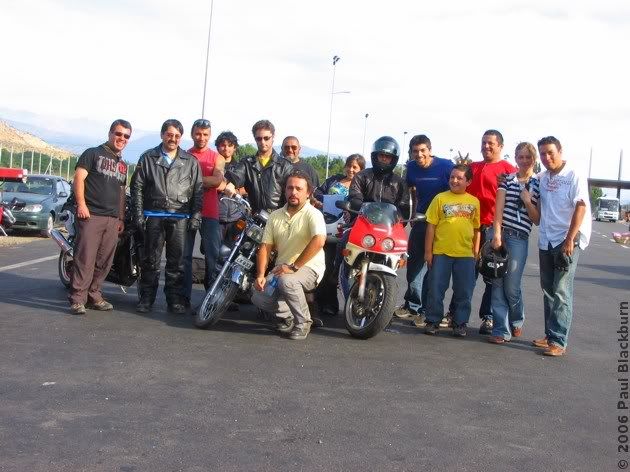 In February many things happened; perhaps I'll write about them some day on this blog. Perhaps not. I have a metric assload of pictures from that period... but for now, I feel they're out of context, and too emotionally charged still.
I came back to Chile, and launched myself headfirst into the purchase of another motorbike. It had its
inaugural ride
in Valle Nevado.


Autumn 2006
Autumn arrived, in that imperceptible and subtle way, just as it always does in Santiago. I put my new rack to the test, and set off to
Siete Tazas
with Rodrigo.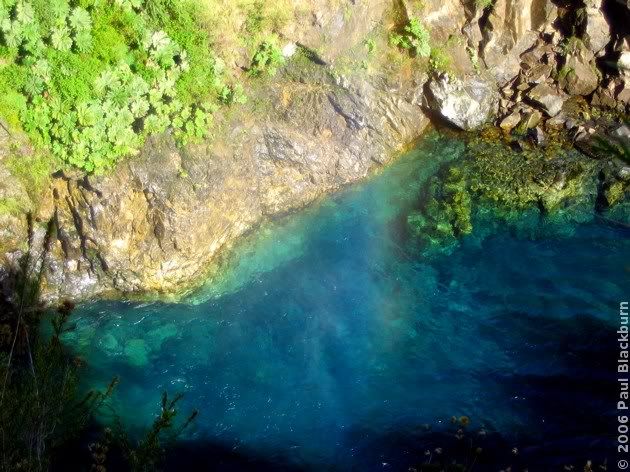 In Autumn we also did a group ride to
Olmué and Con Con
, and I had my first mechanical issue with the bike (a clogged slow jet in the carb, nothing serious). This incredible pic by Camilo.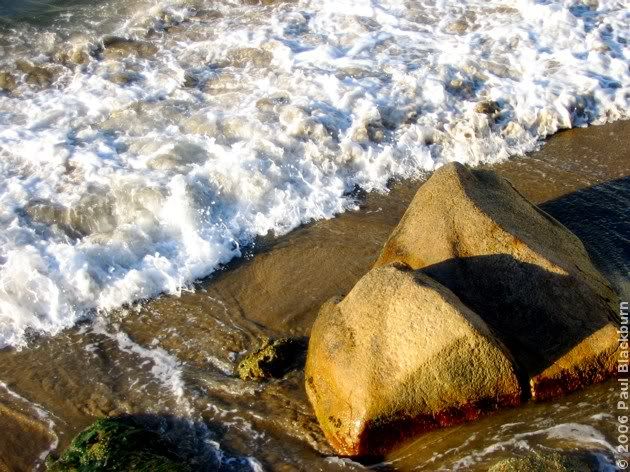 We also did a group ride to
Portillo
.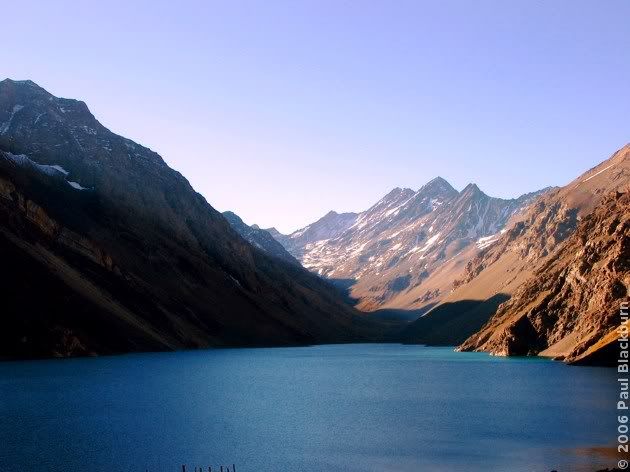 Rodrigo and I found that we liked the idea of loading up the bike and setting off camping somewhere, so we did it again, this time to
Colliguay
.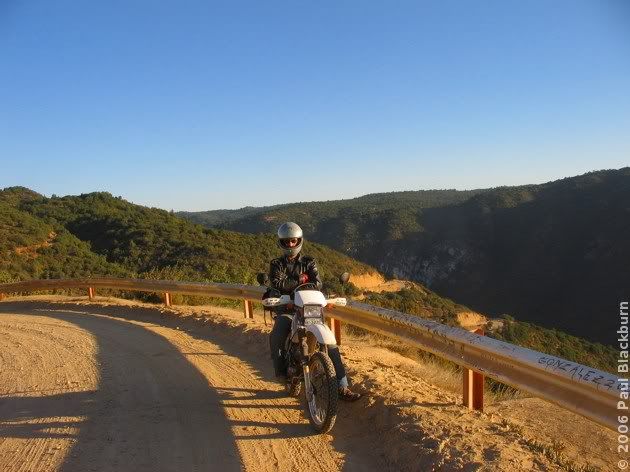 And after that, in the last days of Autumn, I went on a ride that marked a before and an after. My first ride to the Cajón del Maipo, to
Termas del Plomo
. No ride would be the same again.
Winter 2006
Just a short while after going up to the Termas, I went back to the Cajón, this time to
The Mine
. Winter was not shy in making its presence felt.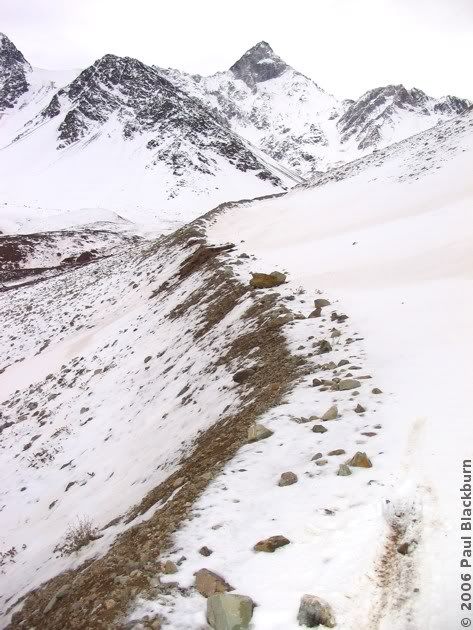 Making the best of a few days of good weather I escaped to
Laguna Verde
with Francisco, on what would be the first of many rides, sometimes with him, sometimes
alone
.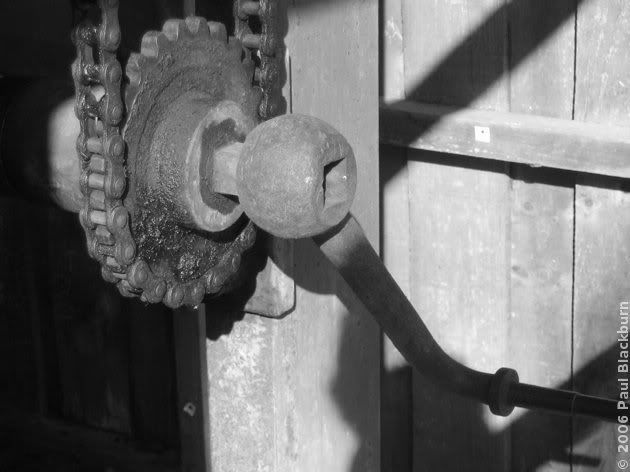 In June we all buggered off to
Coquimbo
,
La Serena
and
Valle del Elqui
for a few days, and that was a lot of fun. The
way back
was good too.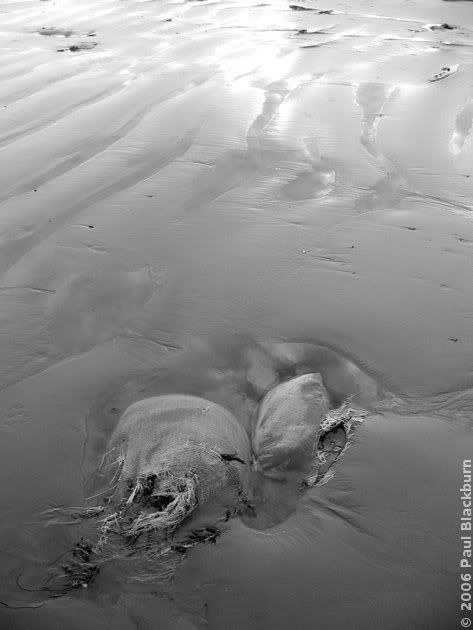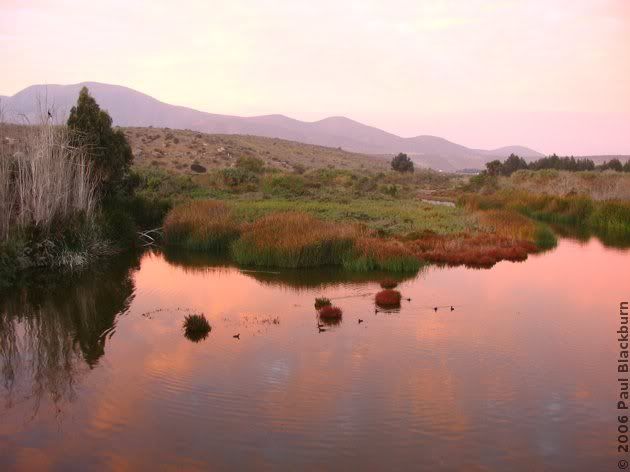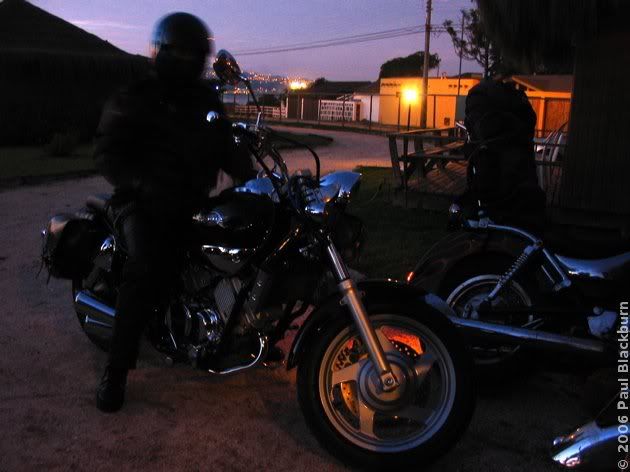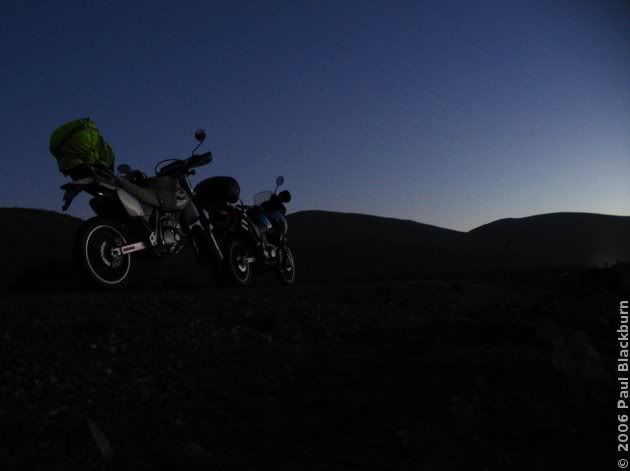 Sometime around then I found I had a thing for the
Cuesta La Dormida
, after having ridden over it a few times in search of empanadas from Olmué.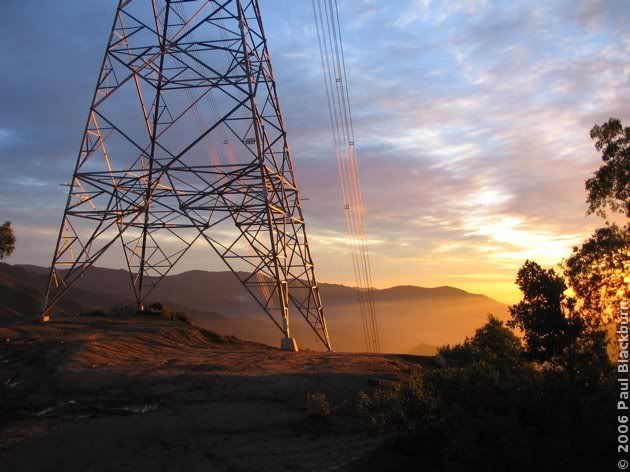 And it was also sometime around then that I discovered Google Earth: I was now able to spot hidden paths and trails. I returned
many times
to the Cuesta to see where those trails led.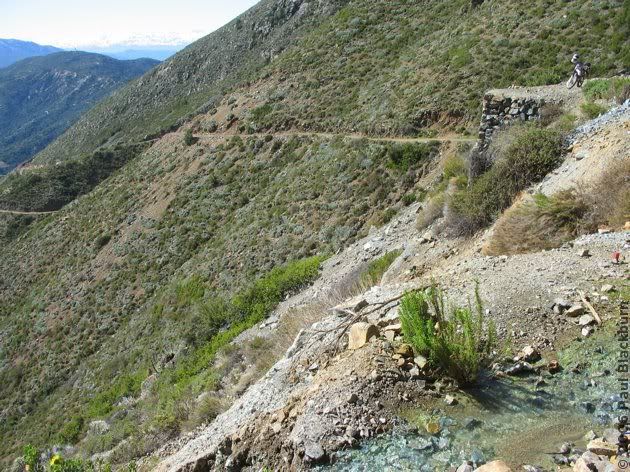 Some time after that, Andrés had just started building his house in
Curacaví
, and he invited me out to tour the area.
From Google Earth, and from the Cuesta La Dormida, I had noticed large hill, called El Roble, which apparently had a road up to the top. I tried to reach the summit, but I
wasn't able
to.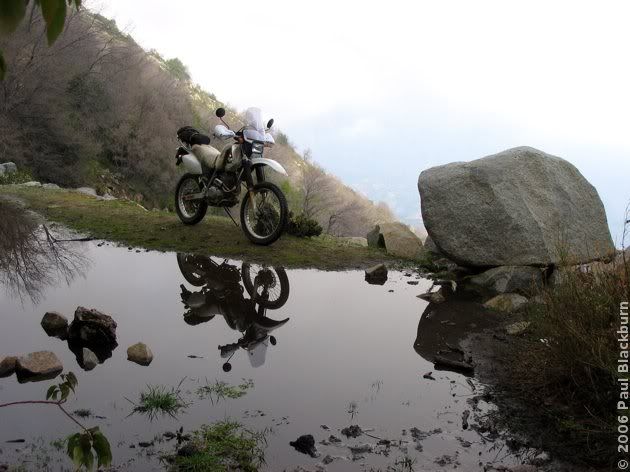 And as a last winter outing, I set off for Leyda, to see what the
400 cc races
were like. Amazing! I was thrilled for days.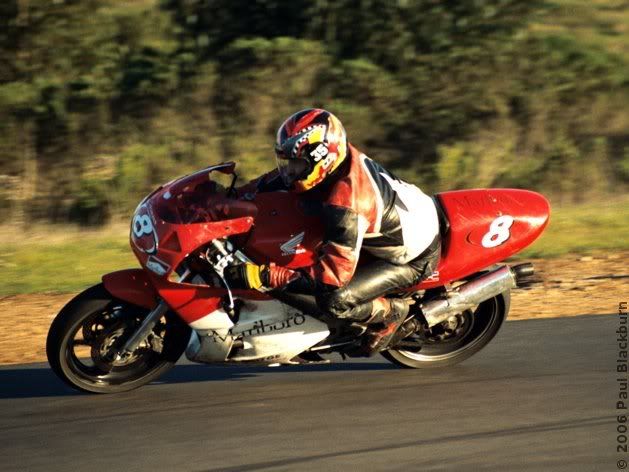 And all thanks to this gentleman.
Spring 2006

Spring's arrived! And we're off to the
cordillera
, because of course, obviously mother nature respects dates and stuff, right? Right?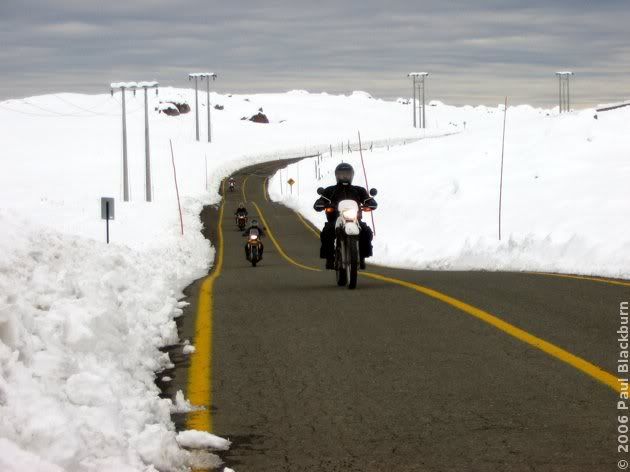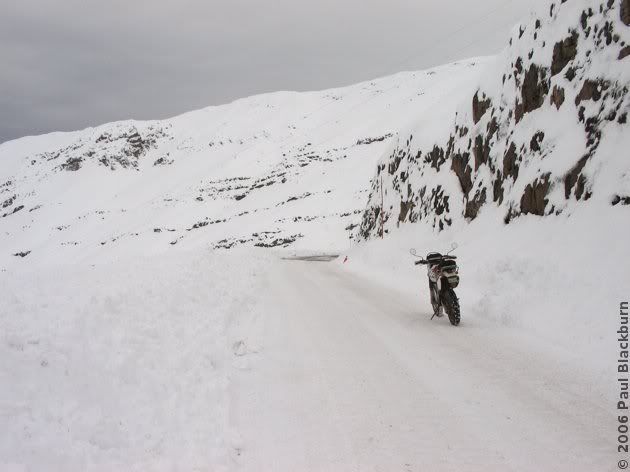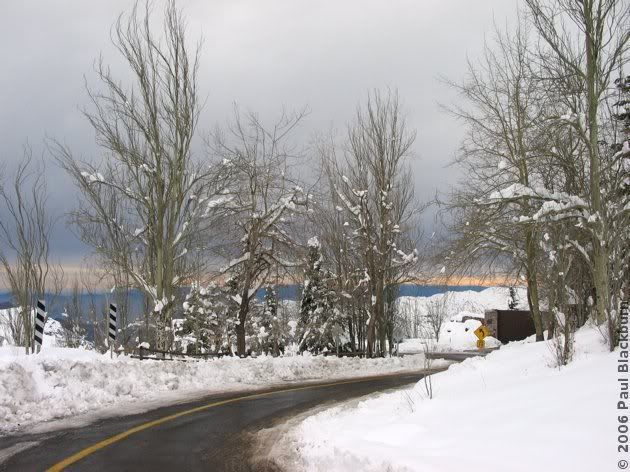 Wrong. Anyway, after a few weeks, I went back to the Cajón, but this time to
Baños de Colina
.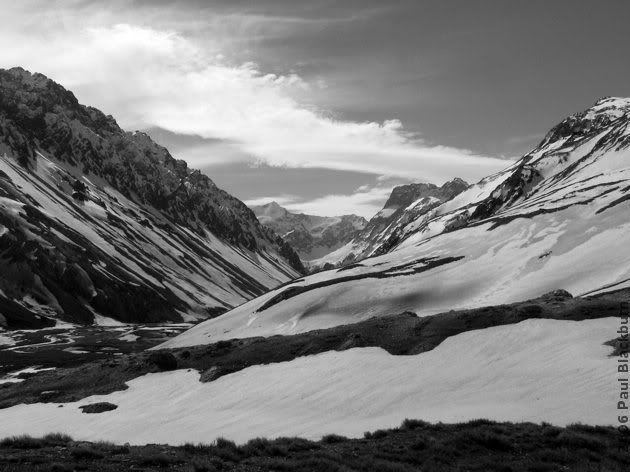 Again these landscapes, these views...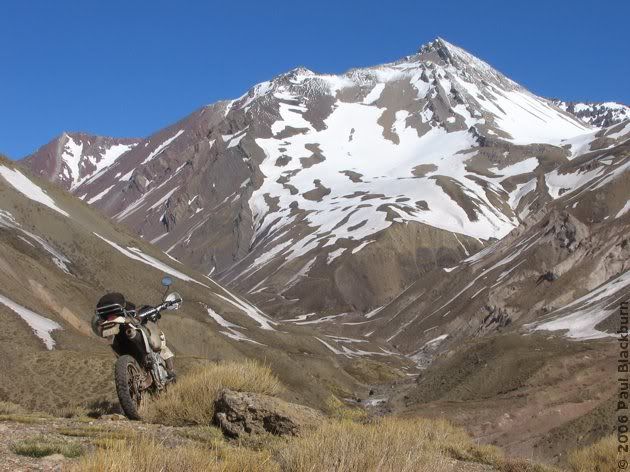 And to top it all, an unplanned dip in the hot springs!
Another go
at Cerro El Roble, and this time, success! And crooked sunglasses.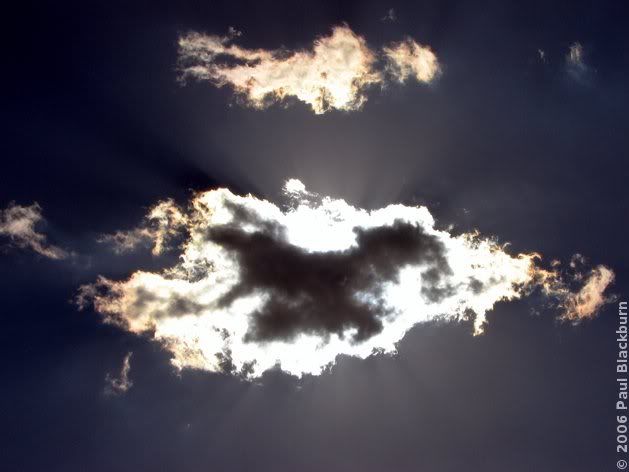 During the
next visit
to Laguna Verde, Francisco's utter supremacy in this type of terrain was made evident, as was my lack thereof.
Rodrigo and I went back to the
Laguna de Aculeo
, trying to retrace the route we took last year, but we weren't able to get across a certain river. Instead, we discovered the ruins of a mine or refinery.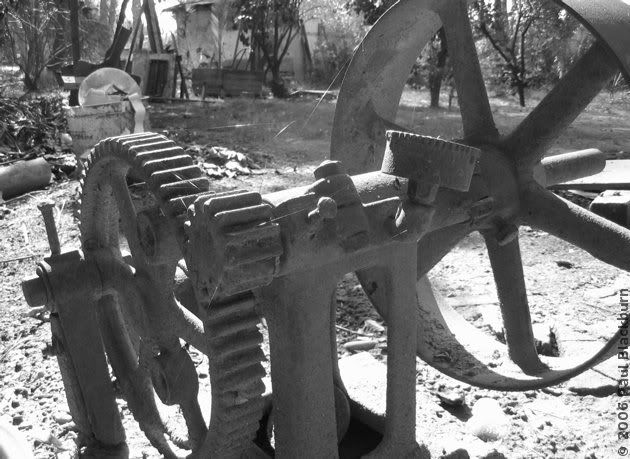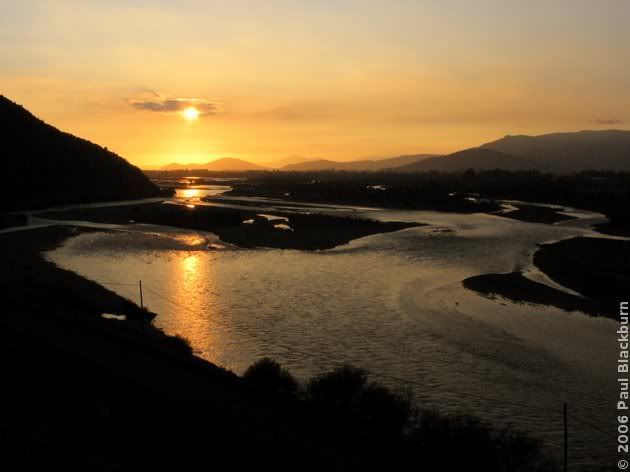 In Spring I returned to
Lagunillas
, a place I had not been to for years and years, to recover for myself what others once took for themselves.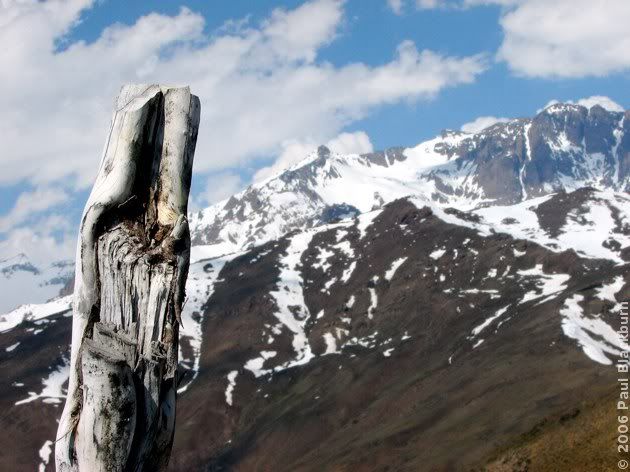 All these rides were just killing time, waiting for the road up to Termas del Plomo to clear of snow. When I thought the time was right, I had a go, but
I was wrong
.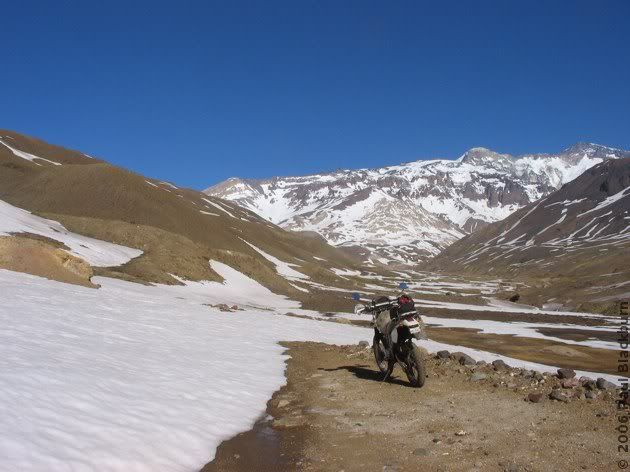 Jano and I went off to explore the
hills around Lampa
, behind the airport.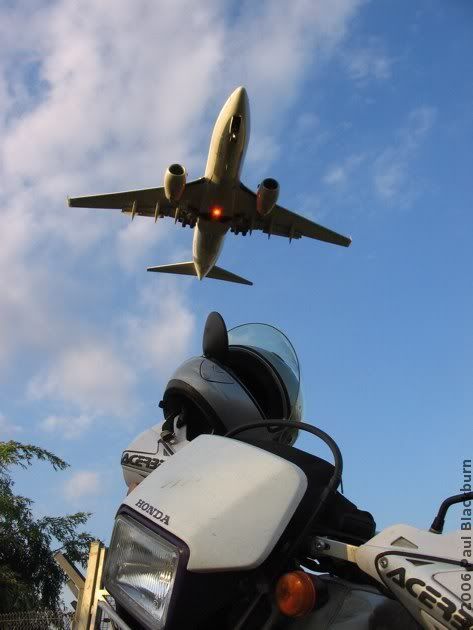 Another ride to the Cajón, and this time I met a
strange beast
: an element of the Santiago fauna, rarely seen around here, far from his natural habitat. On this trip I also learned that horses lie down to sleep.
To clear my mind after that unpleasant ride, I went off to
Chicureo
with Andrés.
November came around, and the
Quantum Optics III
conference in Pucón. I had planned to take the bike, but it wasn't possible.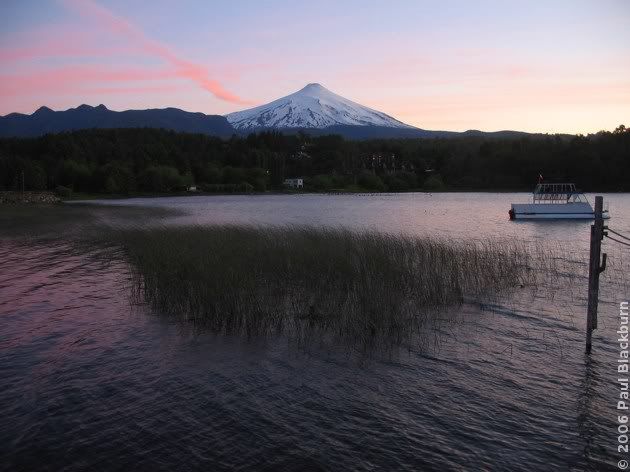 And... so why is there no "Summer 2006" heading?
Thanks to a female driver that did not check whether it was safe to turn left
. Thank her for the lack of updates to the blog and my general ill-temper. What I can say about all this is that XRs are built like soviet tanks.
But so as not to end on such a sour note, I still have to mention my
second outing to the races at Leyda
, even better than the first.
And with that ladies, gentlemen, misses and miscellaneous creatures, 2006 comes to a close. A year of changes, trips that were near and far, dustier, more beautiful. And my first accident.
To all of you, thanks for reading, for posting comments, and for the congratulations that I get from here and there, which always surprise me.
Feliz año nuevo
!
Labels: cajondelmaipo