Pick Up Your Beer Bottle And Fuck Off
Originally posted to El Cantar de la Lluvia on Saturday, November 18, 2006

Let's do this in order. You'll understand why I chose the title once you've read this post.
I set off to the Cajón del Maipo. Nice day, cold air. Everything was melting, dripping, thawing. Streams and springs burbling with clear water.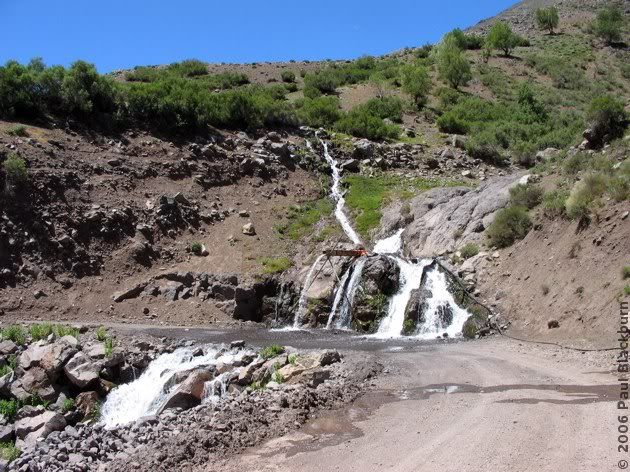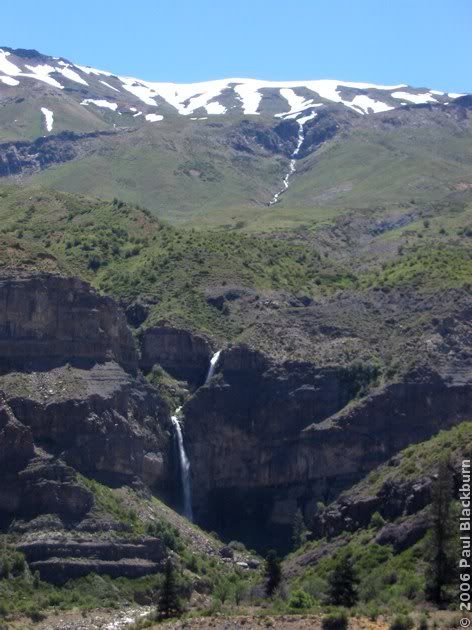 And green, everything was green. The first half of the Cajón, before San José de Maipo, was decorated by thousands upon thousands of yellow flowers, California Poppies.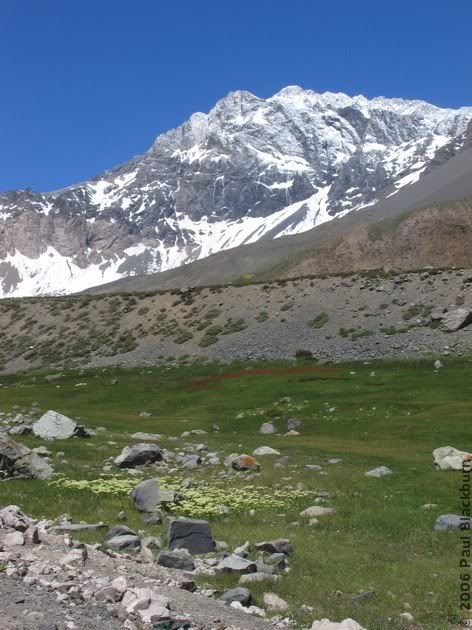 I reached the Embalse El Yeso. The rock that had
blocked the road
was gone.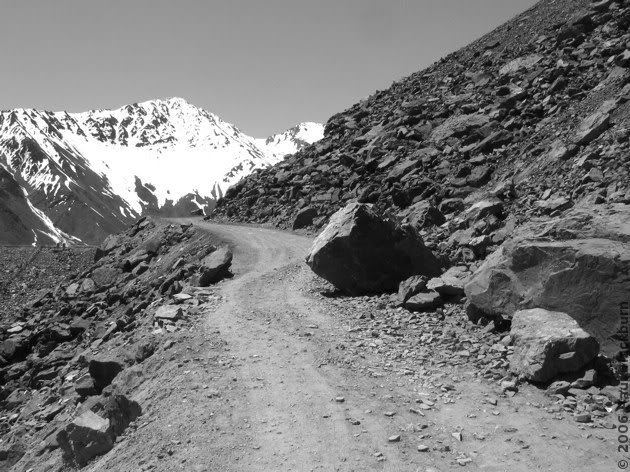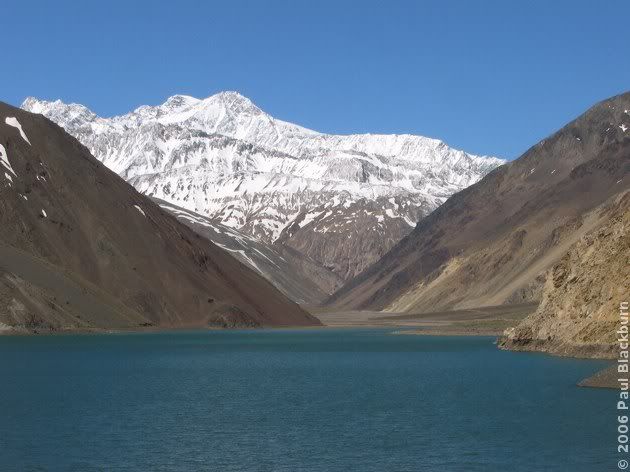 I'm not feeling very communicative on this post. I'm still pissed off.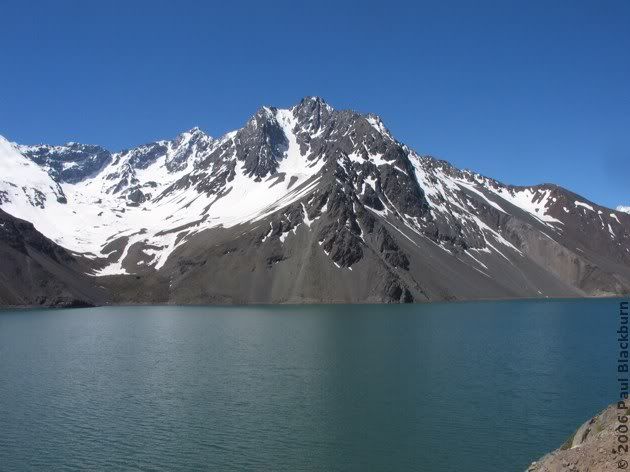 Would I reach the Termas del Plomo this time? The answer after this pic.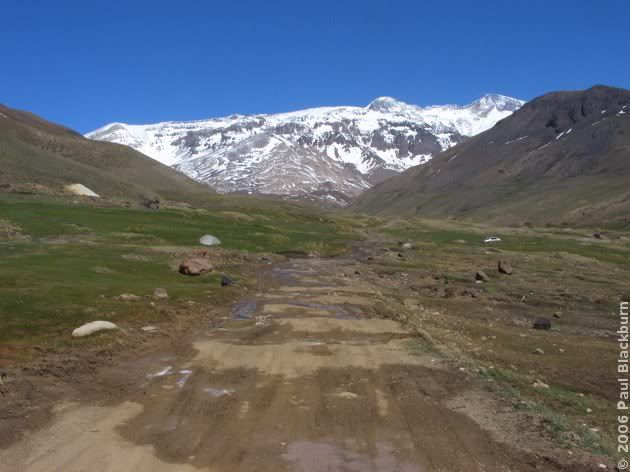 No. As usual, I got no further than the snow would allow. Pfff. But that's not why I'm pissed off.
I turned back and started down the valley again and turned off at the same point I took on the
Ride to La Mina
. The path was just as had as it was last time.
All covered in ball-breaking rocks. There was no alternative: stick your feet out to the sides, and plow ahead in first gear, like the tractor that is the XR. I love that bike.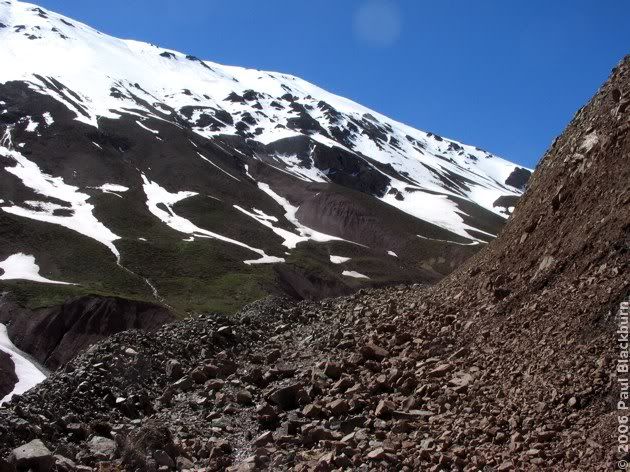 After a while, I turned around and came down. This is almost the same pic that I took
some time ago
.
It doesn't look that hard.
Allow me to zoom in: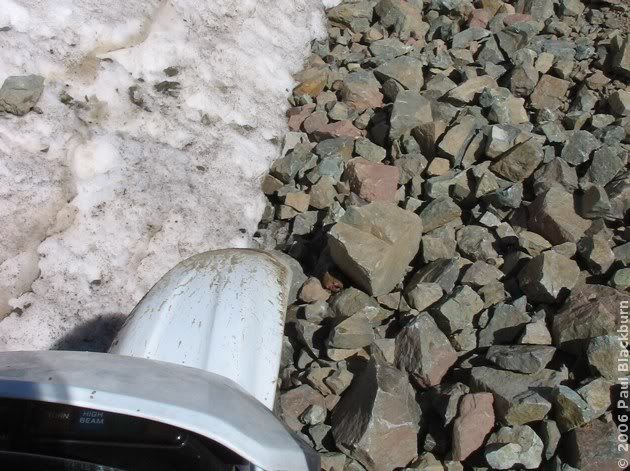 That innocent rock right beside the mud guard is larger than your head.
This post could have just as easily been called "I Had No Idea That Horses Lie Down". Well, yes, they lie down, when they're not pissed off.
I rode around on the mud plains that the river forms, just before the Embalse. It reminds me of the huaicos in Perú, giant dry riverbeds of once-flowing mud.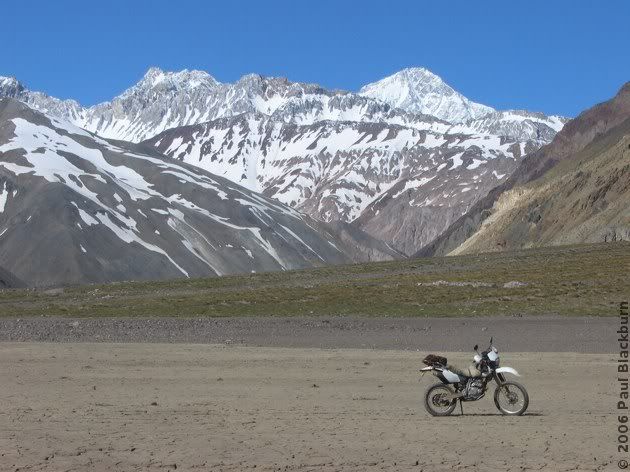 I know, I know. I'm not being very talkative.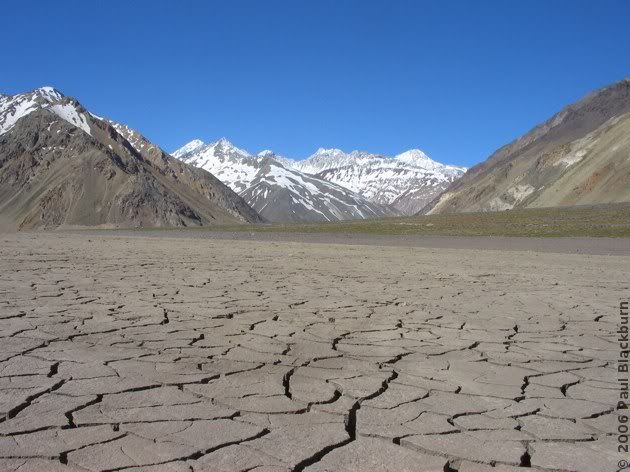 Gravel here, and I wasn't able to get to the top. So I left the bike as it was, and rested a while.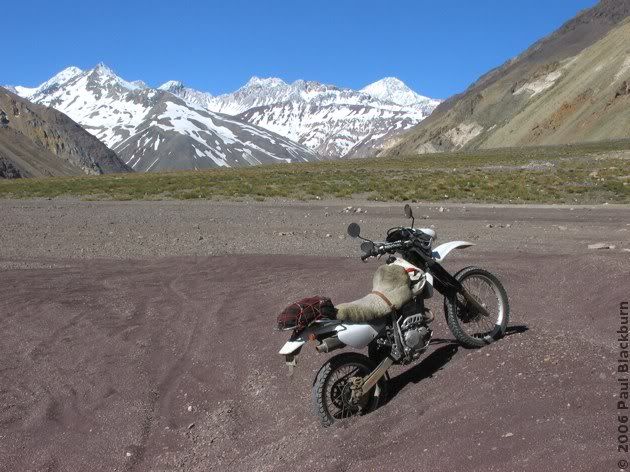 On my way back, I came across my
zen path
. See it there, on the right? Made that with my own hands, I did.
And now I can tell you why I'm pissed off.
I was riding along the narrow part of the road that borders the Embalse, with the bare rock on one side, and a 30 m drop down to the water on the other. In front, a small utility van, probably a Daihatsu or something similar. Several people inside, and it's going slow, slow. 20 km/h or less. Ok, I understand: it's a bad road and I'll just have to be patient. In order to be polite, I kept about 10 m back, waiting for an opportunity to pass.
I was looking at the view, the multicolour water, the white snow, enjoying the fact that the only mark man had made on this place, apart from the Embalse itself, was the road, nothing but bulldozed dirt and dynamited rock, and how (as we saw in "
Cut-Off Road
"), this trail means nothing to nature, it's not even a comma, a pause for breath on a geological time scale.
I am startled by a beer bottle appearing out the passenger's window. It is upturned, drained of the last beer it contains, and hurled down onto the rocks near the water's edge. Without thinking, I honk my horn, and did not take my thumb off the button until I was riding parallel to the van. It stopped. The guy who threw the bottle had on cheap plastic sunglasses, that sort of sporty/I-bought-these-on-the-side-of-the-road look. The dirver, older, looked surprised. "That bottle you threw. You shouldn't have done that". "But we were just listening to music" said the driver, or the bottle-thrower, as a wonderful
non sequitur
. "Ok, sorry. I apologize, never again, ok buddy?" said Mr Sunglasses. "Don't apologize to me, that's not what it's about". To which he replied: "So what am I supposed to do about it? Crawl down there and get it?". I looked down at the almost vertical tumble of rocks and gravel that lead down to the water. "It's not that far from the road, you know", I pointed out. "I apologized, what else do you want from me? I apologized".
And I rode on.
And it was true, what else was he going to do?
I was angry, very angry. I rode on for several kilometres. On one of the many curves and twists in the road, I lost traction on my front wheel. I just remember having thought
wow, despite the fact that my front wheel is sliding along the gravel, I'm still not on the ground
. Since I was going relatively slowly, because of the curve and the long skid, I hit the ground at a jogging pace, no faster. With my glove and knee pads, it was like kneeling on a sofa.
The bike landed on its left side.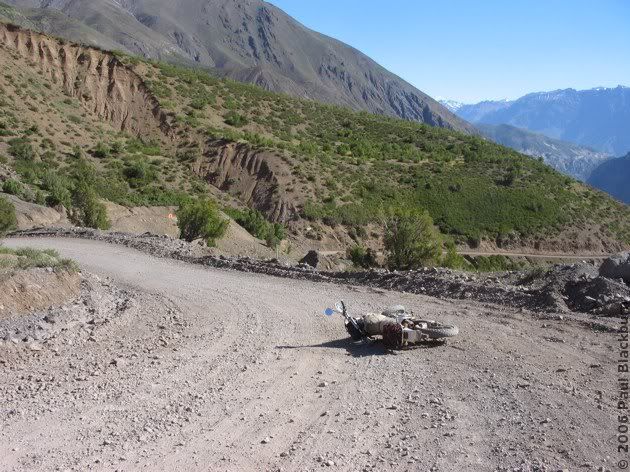 I turned the fuel off and whipped out the camera, and took a few pics. Might as well make the most of it.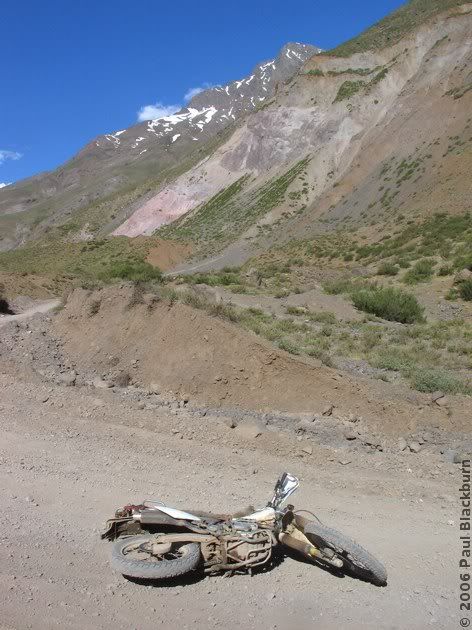 Damage: scratched handguards.
Later on, I realised that the handlebar was bent. It isn't a problem when riding, but if you look at the bike head-on, you can tell. :-(
And to you, Mr Sunglasses, citizen of little merit, I say to you: Pick up your beer bottle and fuck off back home.
Labels: cajondelmaipo, rides