Ride to Laguna Verde
Originally posted to El Cantar de la Lluvia on Saturday, July 08, 2006
A few days before the 30th of April, Franriverar posted an open invitation on the Adach forum, concerning a ride to Placilla and Laguna Verde in the 5ª Región. Everyone else was busy or not in the mood for a ride, but I decided to go, since I was beginning to get quite fond of dirt riding, and the pics he had posted as an incentive looked quite interesting.
He split the ride into two parts, separated by a stop for empanadas. Every time I go out for a ride, I try to find somewhere to have an empanada and a coke. It's almost a moral obligation to find the most remote and rustic place possible, complete with a mud oven and rickety wooden tables out front. It's a pilgrimage.
Towards luchtime, Francisco started dropping subtle hints that perhaps Placilla was not the best place to go for that particular food item, but I had an imaginary empanada wedged between my brain's hemispheres, and empanadas were what we were going to eat. But let's not get ahead of ourselves.
The first circuit took us to the tranques El Peral, Las Cenizas and Damasco, and also past Lago Peñuelas. This is a map that Francisco made (by hand):
The second leg of the ride took us past an aqueduct, built by ESVAL in 1900; a waterfall, part of the machinery belonging to Hidroeléctrica El Sauce, the Tranque La Luz, a cross in the middle of the forest, the Morro de Quintay, El Encanto and Las Docas beaches, and finally Laguna Verde.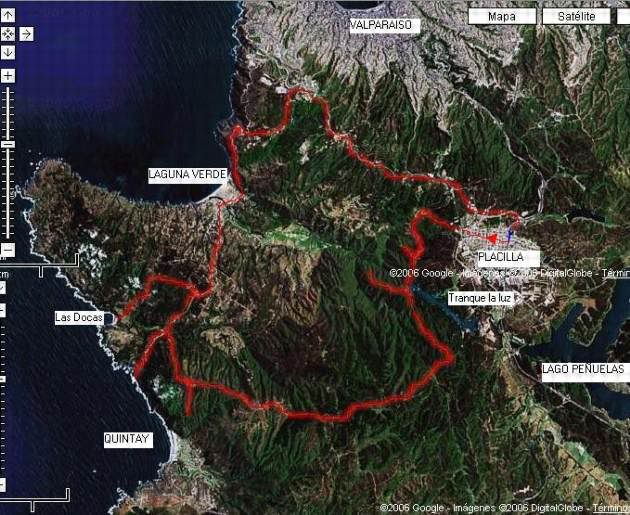 Fran says:
The Tranque La Luz was built by the state in 1907 to provide electricity for the trams and city of Valparaíso. It was the second hydroelectric center built in Chile, and the first one to use alternators. It ran until 1996, and currently the Tranque La Luz is property of the Inmobiliaria Curauma"

I'm not sure who owns the land where the central El Sauce is; last year I went to explore it, and took some pics and video, but it is guarded by a solitary old man, and he doesn't like visitors. The machinery appears to be in excellent condition.

On this occasion we didn't go down to the central, only to the little hut that regulates the flow of water coming down the hill.
When I arrived at the Placilla turnoff of the Ruta 68, it was sunny, luckily. It would probably turn out to be a nice day. Francisco arrived shortly afterwards. I was intrigued by his Honda AX-1. You don't see many in Chile. Our bikes have a 250 cc displacement and long suspension, but that's where the similarities stop. The
AX-1
is water-cooled, has a tachometer, electric start, and rims that are two and three inches smaller than the XR. Also, its gear ratios are adequate for cruising long distances above 100 km/h.
We set off down Placillas back roads, taking shortcuts that surely only Francisco and mounted Carabineros on their XRs would take. Ah, before I forget, this is Fran:
As Stavor said in the forum, after having done that same trip with Francisco and others a month or so after this one:
Legend has it that Francisco was left at birth in the forest with nothing but an enduro bike...





He survived by eating spark plugs and before he could walk, he was doing hillclimbs in third gear. He was found wandering around, looking for gas for his bike, and a Placilla family adopted him.





He can be seen riding his bike in areas where even mountain goats fear to tread. Many believe he is a ghost that is paying for his sins, guiding riders along unfamiliar forest tracks so as to redeem himself and be allowed into heaven (I don't buy that last bit, but that this guy can ride these hills blindfolded, there's no doubt about it).



What Stavor says is not an exaggeration; I was genuinely surprised at how this quiet gentleman --dressed in leather shoes, office socks and a casual parka-- managed to do whatever he wanted to with the AX-1. Later on he told me that one of the rear brake pads had fallen off, and that he was just using the front brake (on dirt, and me having trouble keeping up).
The scenery was just as I remembered it from the years I spent in Reñaca: that dusty earth, perfumed by generation upon generation of pine trees; the patches of eucaliptus and the memory of the boneheaded insistence of my primary school teachers in their shitty english that boling eucaliptus leaves in coffee tins on top of the paraffin heaters was great for the airways (infallibly leaving me on the edge of an asthma attack). Ah, the memories.
We got to Tranque El Damasco, and it was time for the obligatory photo.
We carried on, and I won't pretend that I can identify every location in the pics.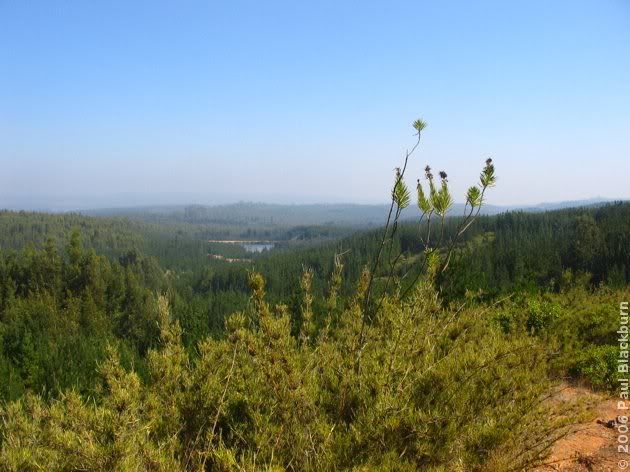 At one point we decided to take a shortcut, and Francisco led me to a patch of recently felld eucaliptus. There were branches and leaves all over the place. Just advancing 15 metres uphill took us a good few minutes, mainly because the branches were very springy and raised off the ground. We turned around to go back, and since my tyres are not knobbly, I got stuck on a large branche. The one in the pic is being held against the ground, but it would normally have been a good 15 cm off the ground, and because of its stiffness, was hard to get over.
Francisco patiently watched. He eventually came over and stepped on a troublesome branch.
Lago Peñuelas!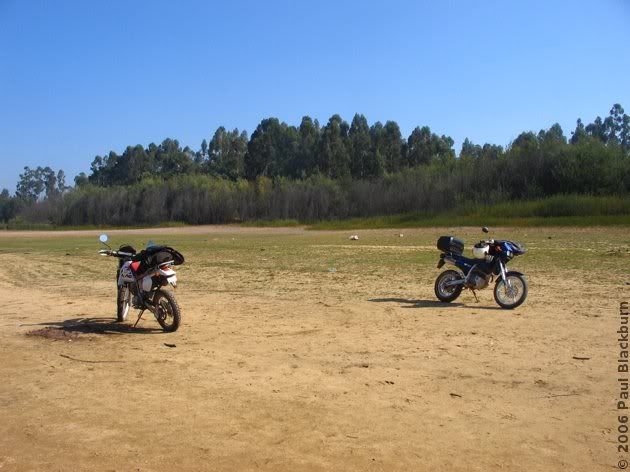 After Lago Peñuelas, it was time to go find some empanadas. In his characteristic quiet manner, Francisco agred, and we rode to Placilla. I will only say that the place where we bought them was not at all picturesque: it was a chicken-on-the-spit takeaway, and it was pretty dingy.
We rode back to the aqueduct. Just beyond the houses, and a little way into the forest, we came across a group of people standing beside a small hatchback car. They were looking at us. One of them was in a wheelchair, and filming someone sitting at a complete set of drums in the bushes. It would be hard to have imagined anything more surreal.
We stopped by the aqueduct and ate. To get up to it, Francisco rode up a short but very steep embankment, and it was only when I was at the top did I realise that it was not wider than a foot path, and dropped off just as steeply on the other side. Luckily I managed to turn left in time.
Under the aqueduct ran a stream, and it clearly contained raw sewage.
We carried on, riding through pine and eucaliptus forests, along winding, narrow and dusty roads. Occasionally the forest opened up onto an area that had been logged.
A small waterfall near Valparaíso, who'd have thought.
Some of the roads had giant ruts in them, as is common in this area. There was generally a way of getting around them, but I was worried I'd drop my front wheel in one. As a matter of fact, after the pic, I landed in one, perpendicularly. It wasn't easy to get out again.
And this is the Tranque La Luz. In the distance is the large wall that holds back the water. To the left, a valve tower.
Before heading off to the tower, we took a small detour, and came upon the end of a tunnel. This was the tunnel that brough water from the Tranque, through the hill, and to a small pool, from where it was released down large pipes to the generator at the bottom of the valley.
The flow down the pipes was regulated from this hut.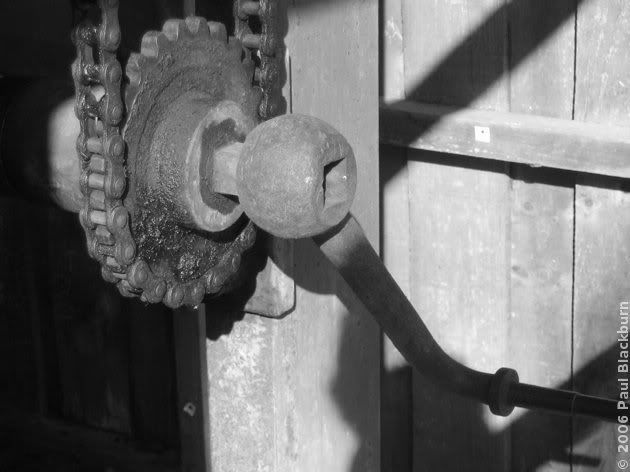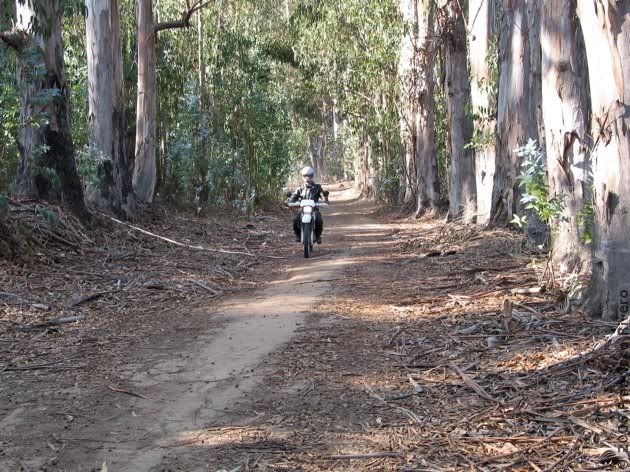 We turned back and went to the Tranque. These valves control the admission of water into the tunnel.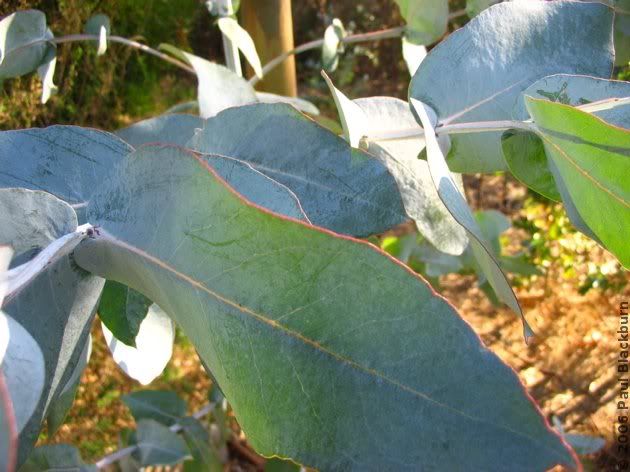 A view from the tower.
This is the left one. The other one is basically just a tube and a latter going all the way down.
The dam was built in 1907 by the Compañía de Tranvías Eléctricos de Valparaíso.
A little further on is the overflow tunnel.
The tunnel stops after about 40 metres, and the overflow causeway continues down a slippery stone slope, flanked by tall eucaliptus trees, all the way to the bottom of a gulley. Everything here is wet and slippery, and the ground is covered in slime and rotting leaves. There were sections of logs here too, that might have floated in from the Tranque and then failed to roll down the slope. There were quite a few strange bugs under the logs. They moved slowly, slowly, and they might have been arachnids, using their two front legs as antennae.
The fog started rolling in.
Right in the middle of the forest, we came across a small statue of the Virgin, old and worn, and a cross. Plastic bottles filled with water were hung from nearby trees. The inscription read:
In this place Gregorio Muñoz died on the 3rd of December 1886

A short while later, we got to the Morro Quintay, from which you can see Quintay and Santa Augusta.
The sun was setting.
We decided to go right down to the coast, even though it meant saying goodbye to the sun and being enveloped in fog.
Fog and a strange light.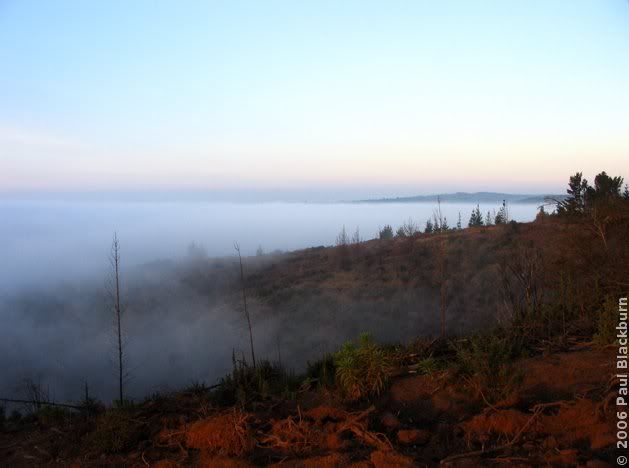 We were surprised at how the sun managed to peek below the clouds.
We left the dirt road, and rode for a bit cross country. We left the bikes at a spot overlooking the Plata El Encanto, and walked about 250 m further on.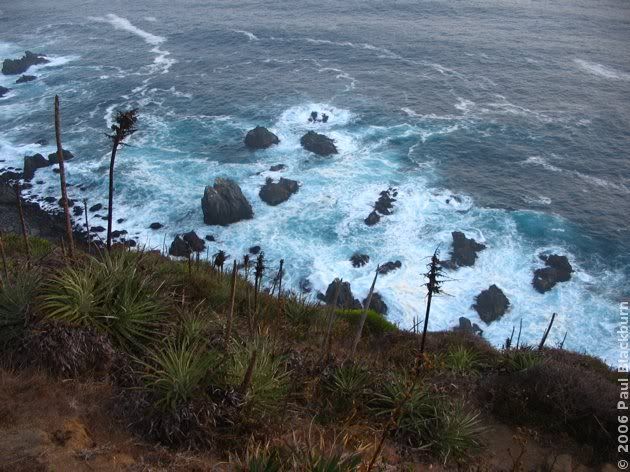 Francisco asked me if I would like to see Playa Las Docas, and I said yes. It's a completely closed-off beach, surrounded by almost vertical hills, and you can only get to it on foot, down a narrow path that clings to the hillside. My headlight beam was mis-aligned, pointing downwards, so the ride down was quite interesting.
Down on the beach, and with what was left of the twilight, Francisco took the past pic.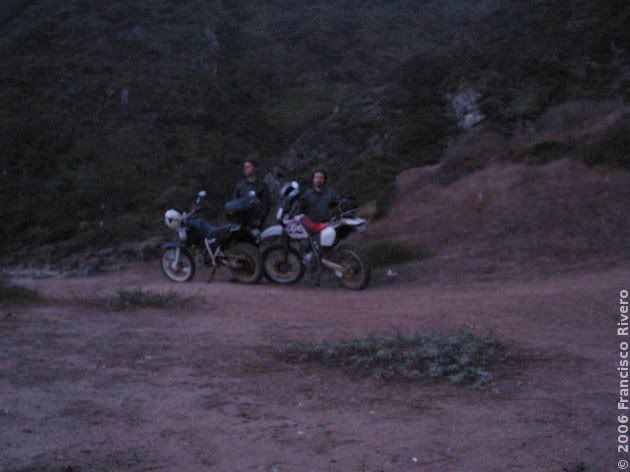 What a ride! My hat comes off for this chap.
Labels: rides