La Serena, Part 2B: Valle Del Elqui
Originally posted to El Cantar de la Lluvia on Monday, August 21, 2006
Second part, section B, of the series of posts about the trip to La Serena. You can read the
previous part, where we visited Coquimbo and La Recova
, or perhaps the
trip from Santiago
.
Time was ticking and I wanted to cover as much terrain as possible before the sun set. The route we took was as follows:
My caution and distrust of implicit speed limits made some parts of the ride extrmely slow and frustrating. The thousands of signposting ambiguities present all over Chile's roads because glaringly obvious when the loss of your license depends on the correct interpretation of the actual speed limit, as is my case.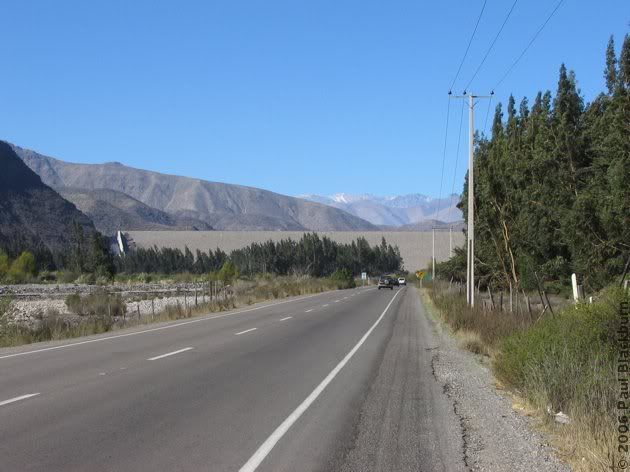 Bit by bit I tried to relax. Sun, warm air. This is what we had come for!
Dryness; a river valley, and those colours, how it reminds me of Perú.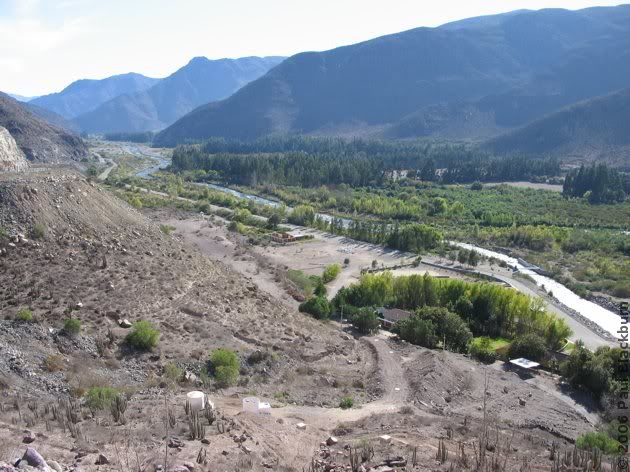 One can stop at the Embalse Puclaro, but I didn't go further than the parking lot. Also, the embalse itself is about 300 m from the car park, and it was hot. Very hot. Rodrigo was on his way; I had gone on ahead and didn't want to lose the advantage I'd gained, not on the paved bit at least. This is the embalse from another angle.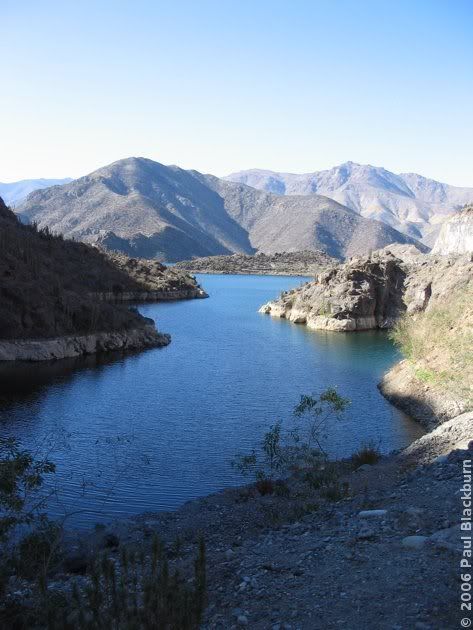 And the tunnel.
I love dry landscapes.
It was windy though. That windsurfer was really flying.
As generally happens with most artificial lakes, land is lost when they fill up. This surreal image of vineyards under water is a good example of this.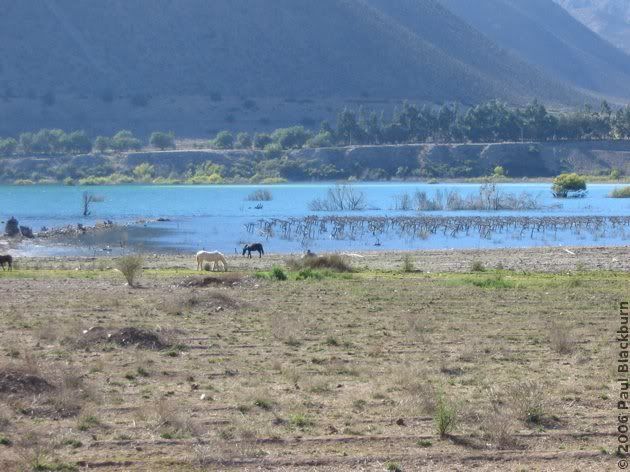 Vineyards and fruit trees everywhere.
In the distance, the hills.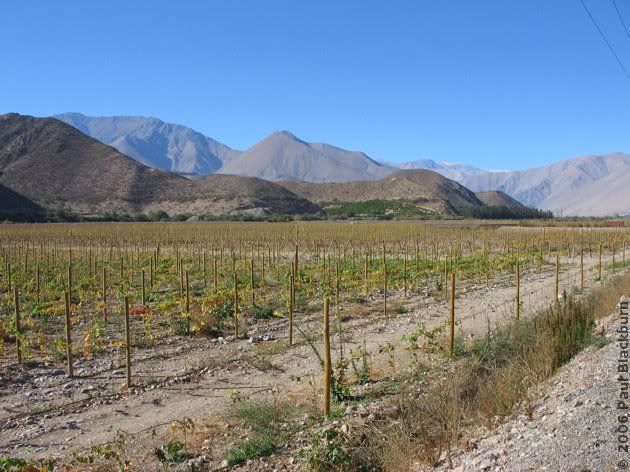 Just before Vicuña, this river.
And to get there, this one-way bridge.
I don't have very good memories of Vicuña. I spent some days there with that ex that I mentioned in another post. We met there with Rodrigo, and carried on inland.
As we rode on, things got drier and drier, and now the vineyards were covered or at least sheltered by large amounts of plastic netting, either to protect against the wind or the sun.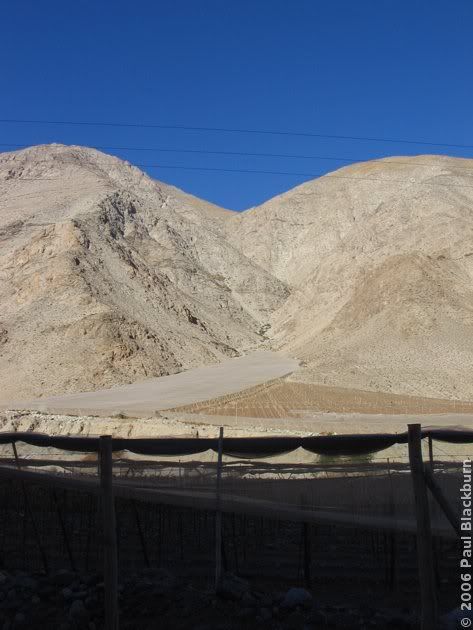 A good paved road, few cars, great views and a nice breeze.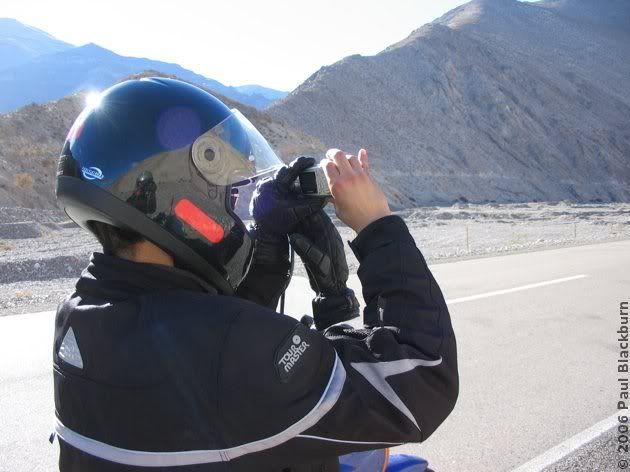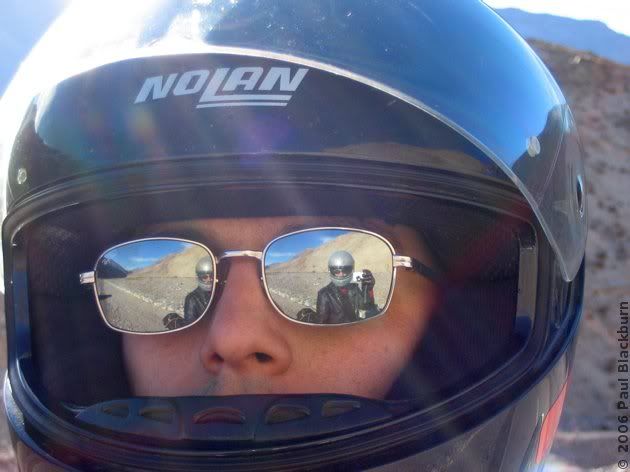 In the distance, the first glimpses of the mountains.
And more vineyards. The valley was so narrow at times, that there was barely enough room for the road and one plot of land.
It was quite windy here, so the netting must be for the wind.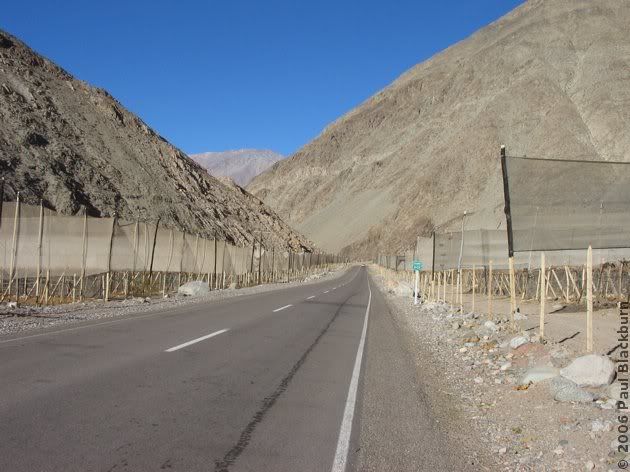 On and on, towards the mountains. One or two small towns, small oases of life and humidity.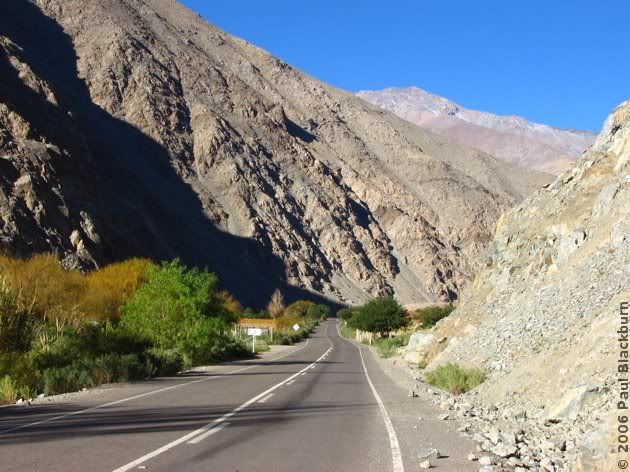 We decided to see how far we could get. The limiting factor was fuel; we hadn't seen a petrol station in a long time.
Soon there wasn't enough space for vineyards, nothing. Just the road.
And then the paved road ended, and the dirt road started. I lost Rodrigo at some point; he must have stopped to take a picture, and I must have passed him.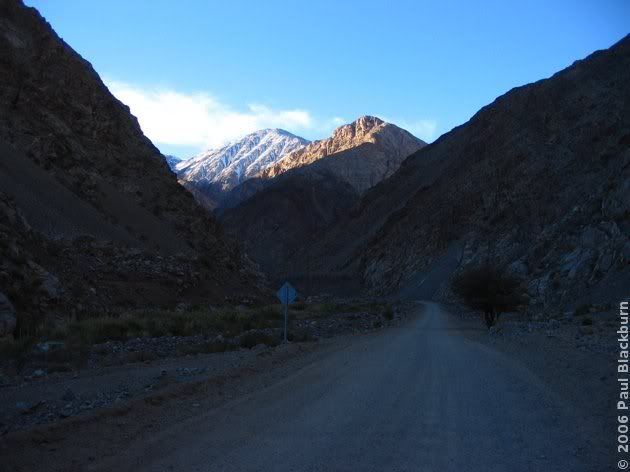 Quite a while later, with the sun almost completely set, I got to the Aduana for the Chilean-Argentine border. 20 minutes later, Rodrigo arrived, and he had indeed been taking a photo when I rode by.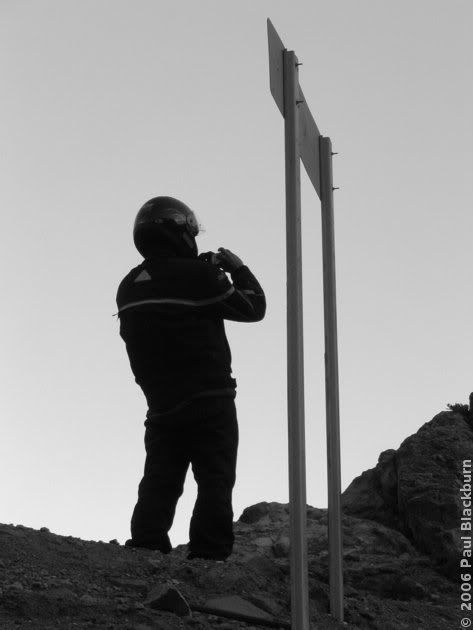 Two rivers meet at the Aduana.
We spoke a while with a nice Carabinero. He told us that for many years he was an official escort, the mounted Carabineros that ride those big BMWs. He was called down from La Serena to Santiago, for a big event (Cumbre Iberoamericana?), because they didn't have enough people for all the escorts required. So he rode the big BMW down to Santiago, and visited every single relative he knew of on the way :-)
He said that further down the road there was snow, but about 30 km away. He asked if we would like to carry on, without having to do all the required paperwork, but we didn't have enough petrol. Oh well, for next time. He also told us about a group of BMW bikers that got to the Aduana some time ago, asking to be let through. They didn't heed the nasty weather, and insisted stubbornly despite the Carabinero not wanting to let them through. In the end, he let them go on, they were so stubborn and insistent. Hours later they came back, some of them on foot I think, because they'd been caught in a blizzard.
We said goodbye, and set off towards La Serena.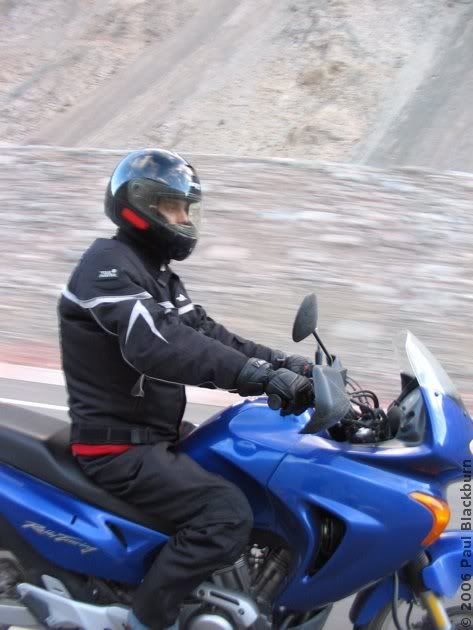 And the sun finally set, brefly tinting the clouds. I think we stopped for a meal in Vicuña, and then rode on back to La Serena.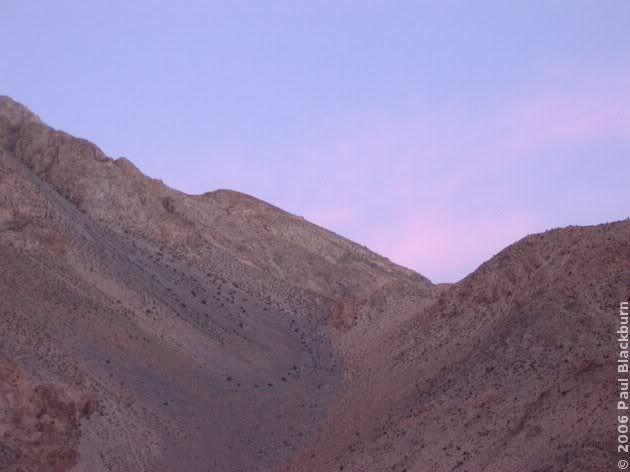 That night I slept better than the previous one, because no one partied. Nonetheless, I did have to use one of my boots as a pillow. It wasn't that hard...