La Serena, Part 2A: Coquimbo and La Recova
Originally posted to El Cantar de la Lluvia on Sunday, August 06, 2006
Second part, section A of the series of posts about the trip to La Serena from a few months ago. See
first part
if you haven't yet.
The morning after we arrived, some of us emerged from our chrysalis, and crawled towards the light and fresh sea air (some of us also screamed like pterodactyls when the light actually hit us, making us turn around and crawl back into the cabin).
The bit about being in a chrysalis is not a figure of speech; unless the ambient air is relatively warm, I usually close my sleeping bag up tight, until there is just a hole big enough to cover my mouth. As an illustration of this, I offer my gentle readerfolk a photograph of me that a friend took years ago, though in this case the intent was to mimick a giant anus:
Well, more or less like that. When I finally managed to get outside, I noticed a distinct urgency in the groans that my stomach was making. Images of toasted rolls, café au lait, jam, butter and dulce de leche danced in my head, so we set off with Ben to find some local shop that was open. I roused him from his sleeping bag, on the porch outside the cabin, where he spent the night (some rough biker thing he has going on, though he claimed that he felt no cold in his Tour Master trousers and jacket) and wandered off to find food. It was too early, and nothing was open. The pterodactyls were gnawing at my stomach.
I wanted to take full advantage of the available daylight, and since it was winter, the sun would set at 18:00. I wanted to do the Valle del Elqui, and if we didn't set off soon, we wouldn't have the time. When we got back to the cabin, some more people had risen, and we set off to find breakfast on the bikes with FuturoAs, Ben and DreamT.
The search for breakfast turned into a morning ride around Coquimbo, much to my dismay.
In the distance, the Cruz del Milenio:
I'm not sure if it's still there, but a few years ago, on several occasions, I remember having seen a billboard on my way out of Coquimbo. It said: "HOW BIG IS YOUR FAITH? MILLENIUM CROSS DONATIONS HOTLINE". Yes, really. Disgusting.
We didn't go up. Years ago I went up with my then-girlfriend (a wacko druggie, but that was a whole life ago), and it was an interesting experience, but I have never been comfortable around mixtures of religion and money. Or just around religion, as a matter of fact. Unlike many temples that have been built throughout human history, this thing doesn't even look like a temple, its just a giant pissing match against no one in particular. Look at the size of our cross, tee-hee. Now, from the engineering and geeky point of view, it is in fact quite cool to shove a giant
something
on top of a hill in Coquimbo.
We came down, and carried on riding around. The group split up at a Stop sign or something. In the end FuturoAs & son and I stopped and had a look at the view.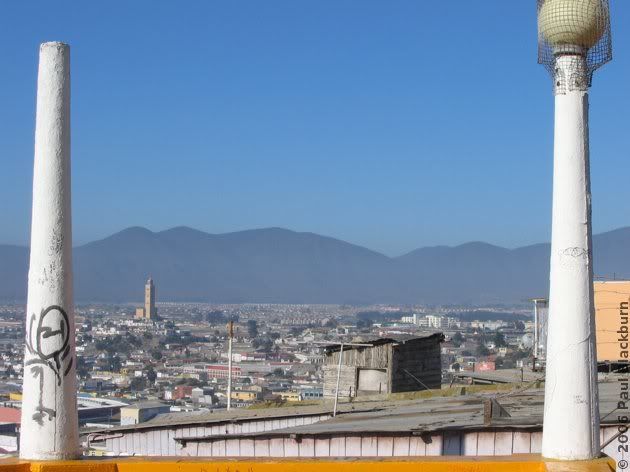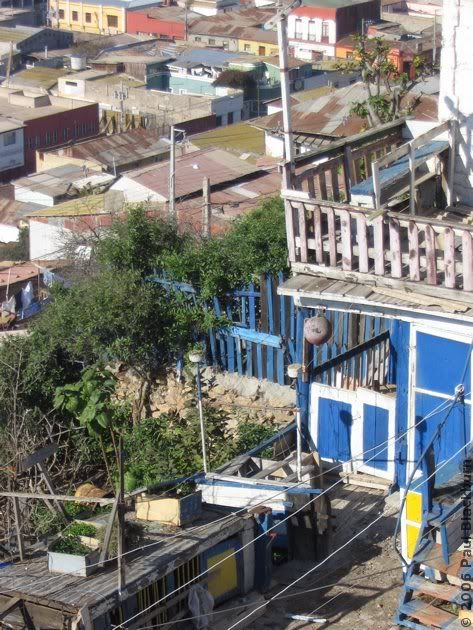 Sooner or later we met up with the rest, and we went to La Recova, in La Serena. It's part tourist-trap, part... no, wait. It's a complete tourist trap. Cheesy artesanía shops on the ground floor (though I must admit the stuff is novel if you don't live in South America) and utterly atrocious restaurants on the second. Which is where everyone decided to have lunch.
I wasn't too swayed by the menu, so I asked for something as innocuous as possible, and that would least be influenced by the general air of
crapulence
that there was. I ordered a toasted cheese sandwich, and finished it quickly. We were on the second floor, sitting on the balcony, and below, the car park and our bikes, in clear view. Ben had ordered a churrasco palta, basically a meat and avocado sandwich. I then felt a sudden movement beside me, and looked over. "
A la mierda con esto! Este es el peor churrasco que he comido en mi vida!
" Ben exclaimed, which would loosely be translated as
fuck this, this is the worst churrasco I've had in my life
, and without further ado, grabbed the piece of meat and launched it into the potted bushes beside us. On its parabolic flight, its many lines of gristle and fat gleamed in the noon sun.
I needed to buy some masking tape, to keep the front flaps of the sheepskin against the tank, so I went over to the supermarket. The cashier was, as best as I can describe her, the Chilean Britney Spears. No, really. I was shocked. I went back to the table, sat down, and gave Ben her coordinates. "Register 12, west side, Chilean Britney Spears. Go! Go! Go!". The tablecloth waved slightly in Ben's slipstream, and he was nowhere to be seen. I went down to the bike, and soon everyone else came down. It was time to set off to the Valle del Elqui.
Don't miss the second part, coming soon: La Serena, Part 2 B: Valle del Elqui!