La Serena, Part 1
Originally posted to El Cantar de la Lluvia on
Thursday, July 27, 2006
It all started with a proposal that DreamT made in the forum:
No way would I miss a trip like that. The days passed by, and the trip date was coming up. I mulled over spending hours and hours on the stone-hard XR's seat. Already the 30 minute ride to university every day was quite uncomfortable. I remembered some pics I had seen of a bike with a sheepskin on the seat. It turns out I saw it on
Karl's blog
.
Now that's a long-haul bike! I asked in the forum about places to buy a sheepskin, and I was told that the place to look was Calle Victoria, around the 800s, and in the end I found one for the low, low price of 8000 pesos. Unfortunately there were not many in the forum that understood the idea; most thought it was some extremely unsavory "pimping" of my bike, and mocked the idea as such. To this day the sheepskin is mentioned occasionally to pull my leg.
Several days went by, that period in which I do nothing about a project, until I have it all set out in my head. Obviously, the XR's saddle is composed of at least three intersecting curved planes, so an inelastic surface like a sheepskin would not fit on it without cutting and sewing. Finding the right pattern proved pretty hard; anything slightly off would produce bunching and kinks. And it all had to be done with the one piece I had. After about 10 attempts with newspaper, I managed to make a pattern. With the pattern, I marked the skin, and placed it on the bike. Yup, it seems like this might just work.
I nervously made the two cuts, and put it on the bike again. It fit perfectly! Now I would have to choose what outline to give it, and what shape I'd make the pieces that would go in the space left by the cuts.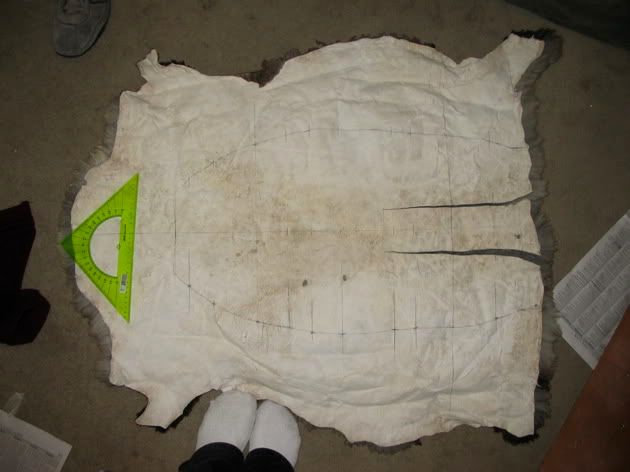 I patiently made a grid, based on the skin's central axis, so as to insure that everything was symmetrical. I also made extra certain that the triangular pieces that would give it the 3D shape could be cut from the leftovers.
I had to learn the basics of sewing leather, using synthetic waxed thread, a dull needle, and a hole punch. So the seams could lie flat, I shaved the edges that were to be sewn together with my electric shaver (it worked perfectly!). Finally, after hours and hours of work, my saddle cover was read. And none too soon, because I'd be setting off for La Serena in about 6 hours!
We gathered at the Shell station, just past the Lampa toll. This would certainly be a good trip! In the gloomy dawn light, all bikes were loaded up and ready to go. After a mini breakfast, we set off.
FuturoAs brought his son, wearing a flip-up helmet, and riding in the back seat of the NV750, safely held in place by pivoting armrests, added by none other than Ajelandro Muñoz, the same genius that made my rack. They allowed the kid to fall asleep safely, but also if the armrests were flipped up, an adult could ride pillion comfortably.
A grey day, not too cold.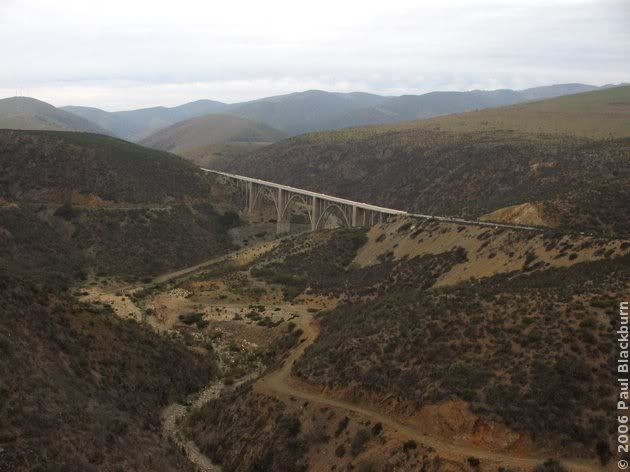 From where the previous photo was taken, a bridge, apparently usually windy, but not today.
The bit between Los Vilos and Socos has no petrol station, and it's about 164 km from one to the other. There was also a strong headwind blowing, and my normal highway fuel consumption went from 24 km/l to 19 km/l! DreamT's bike was running way too rich, and its fuel tank is quite small, so he ran out of fuel. We had to siphon some out of Camilo's V-Strom's giant tank.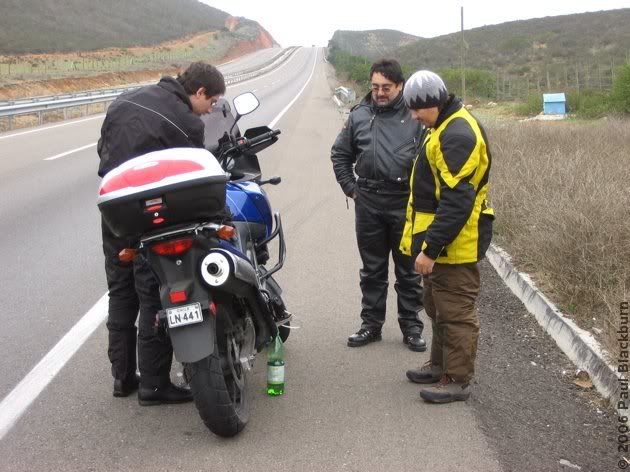 I got to Socos with 390 cc of fuel left. Another factor that surely contributed to my fuel consumption was that for a long time I kept up a speed of 100, 105 km/h. Never again!
I had a few scares, because my tank is in the shape of an inverted U, and the fuel petcock is on the left side only, so it is possible to run out of fuel on the left side, and if you're not riding over bumpy terrain, the fuel on the right will not come over the middle hump. A few wild seconds of sweving and pumping on the handlebars did the trick.
We stopped at Tongoy to have empanadas! We ate, rested, took pictures.
Mmmm... frozen beer!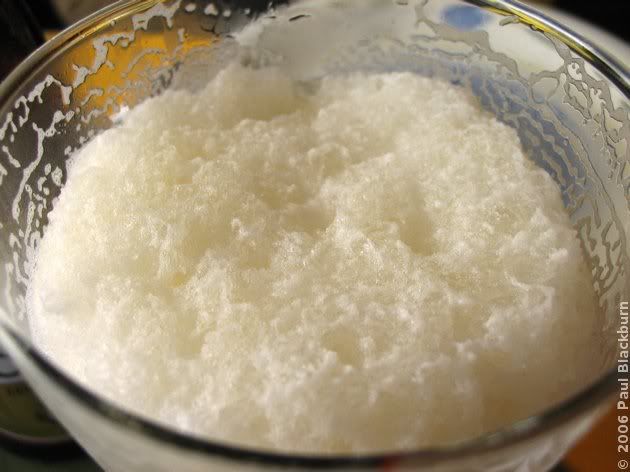 Sacks in the sand.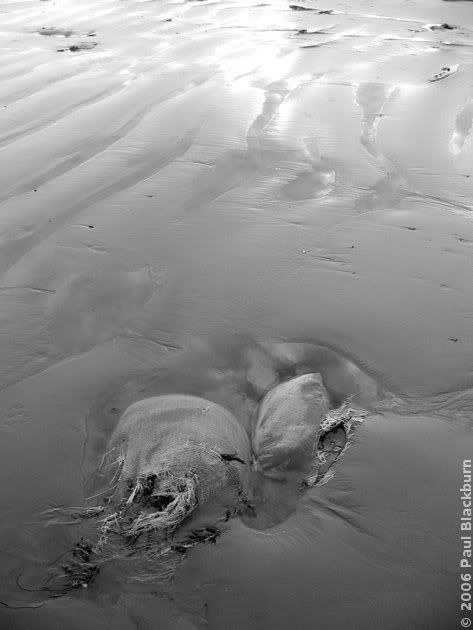 While the others watched the World Cup on TV, I wandered around, eager to set off.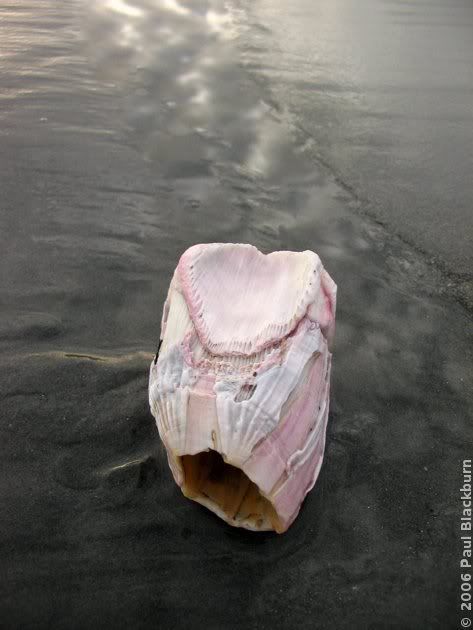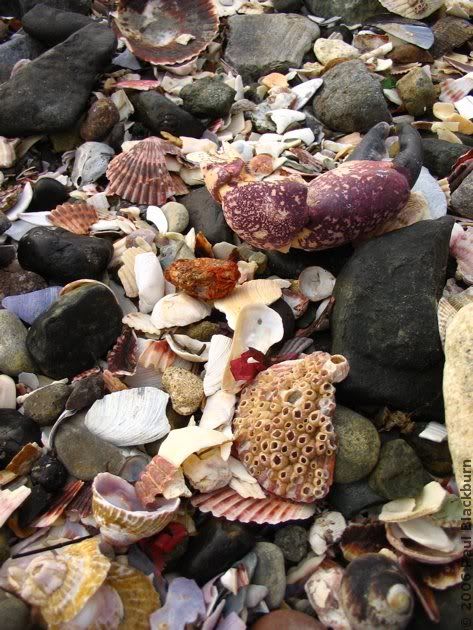 A few of us rode around Tongoy's peninsula.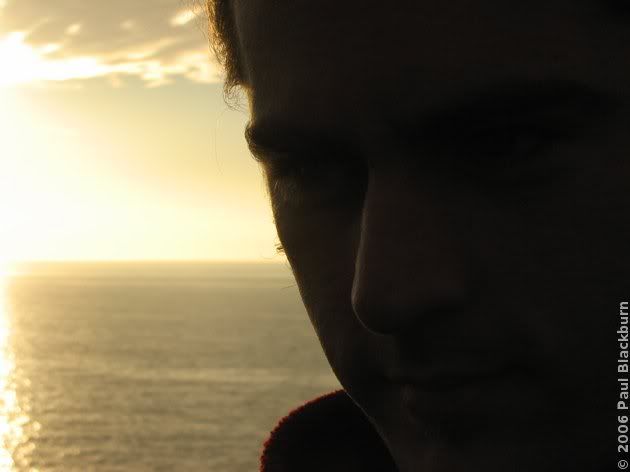 FuturoAs and son, and Dusan.
And that's me in the helmet's reflection.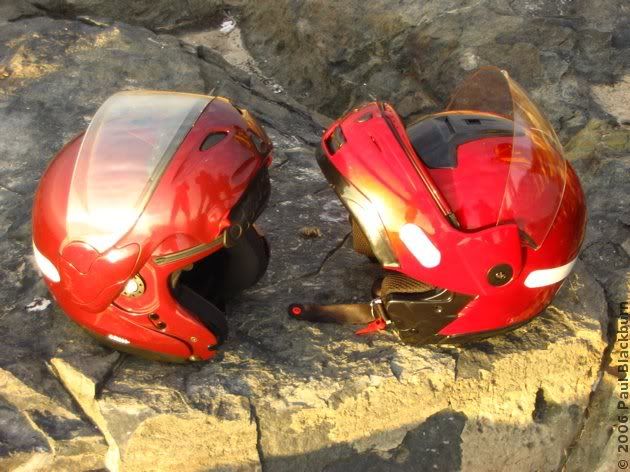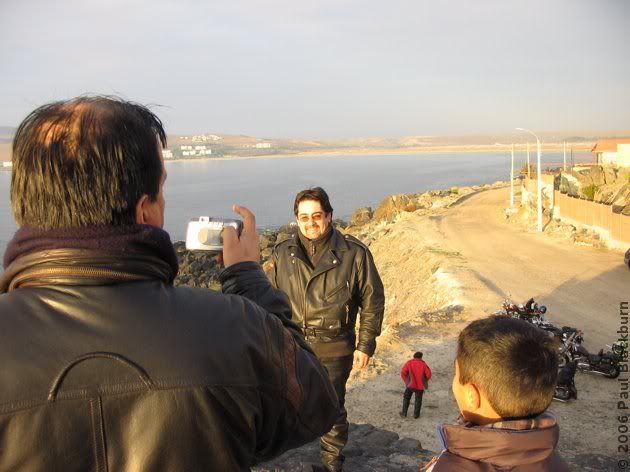 Happy with my bike; it behaved well on the highway, and the sheepskin was like a sofa. In the distance, I think that's Puerto Velero. I remember that time I went to Tongoy, to stay at Pia's house, and I was in the mood to go out to party, probably to Puerto Velero. Pía & Co. obviously didn't feel like quitting their routine of crossword puzzles, bridge and basically everything that is contrary to going out partying. The damp had my nose running constantly from allergy, and I walked down to Tongoy's pharmacy to buy some antihistamine pills. The old fart behind the counter gave me Nastizol (Clorfenamina), instead of something that
didn't
screw with your head, like Loratadina. That night Pía & Co. and I went down to the small town fair, and that's just about when the pills kicked in, and all colours buzzed, my tongue buzzed, my throat was dry, my arms were light and happy... in the end I think I had a much better time like that.
We carried on; I was left behind, and I decided to take things slow. This is Guanaqueros.
The light that sunset was quite special.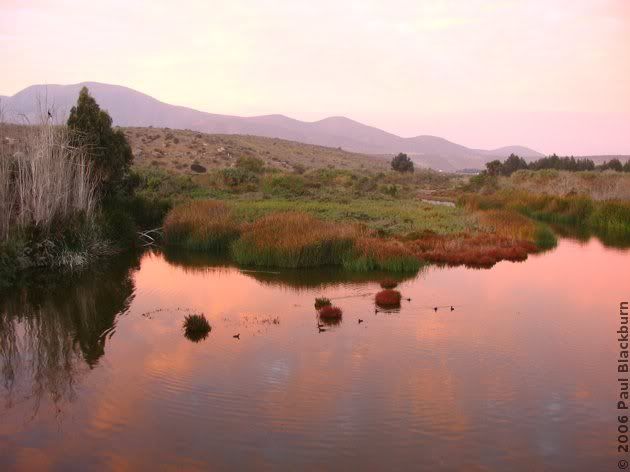 And finally we arrived at the cabins, in Coquimbo!
That night, Richytoo, who is from La Serena, very generously brought a small goat for the asado. There was happiness and glee, and I can't deny that alcohol was imbibed by some. The episodes of "Bruce Lee vs Camilo's Testicles" shall remain forever sealed in the historical annals of the Adach group.