Brake Pads
Originally posted to El Cantar de la Lluvia on Friday, August 04, 2006
And continuing with our series of articles called "Posts that are interesting to a grand total of three people, two of which found them via a Google Search for "Britney Spears", we offer you the following pictures of my brake pads. Be still my beating heart.
Brake pads are what press against the brake disc, and through friction eventually stop the bike.
Right, now that we've got that crappy definition out of the way, let's have a look.
I wanted to see what state they were in. I bought the bike (XR 250 R) with 4000 km on it in April, and I then changed the front pads, and not the rear ones, which had a lot left on them (and, at the time of translation, in November, way past the 20000 km mark, they still do). It would appear that these are the original pads that came with the bike.
These are the parts. The two upper rows are from the back brake pads. From left to right, the pads themselves, then a metallic protector, and then a piece of synthetic insulation/backing (?), which sort of felt like plastic. It goes between the pads and the metal bit. The bottom row: the front brake pads. The front ones are AP Racing, and cost about 16000 pesos. The rear ones are Nisin pads.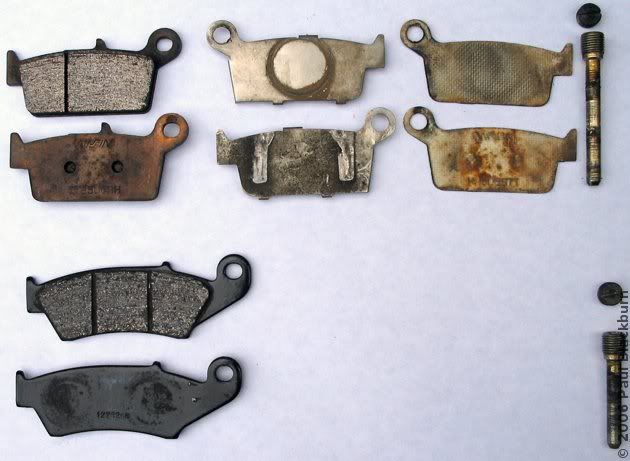 You can see clearly that the front brake caliper uses two pistons, and the rear one uses one.
This is a pic of one of the rear pads. The slot indicates the wear on the pad. When they are worn all the way down to the slot, you should change them.
And this is one of the front ones. Note the "pasty" texture, and how they are darker. What does this mean? I haven't the faintest clue, but this article sounds a lot more "pro" if I say things like that.
And that's that.
Labels: mechanics