Acerbis Multiplo T Handguards
Originally posted to El Cantar de la Lluvia on Tuesday, August 01, 2006
On
yesterday's ride
I broke the right handguard.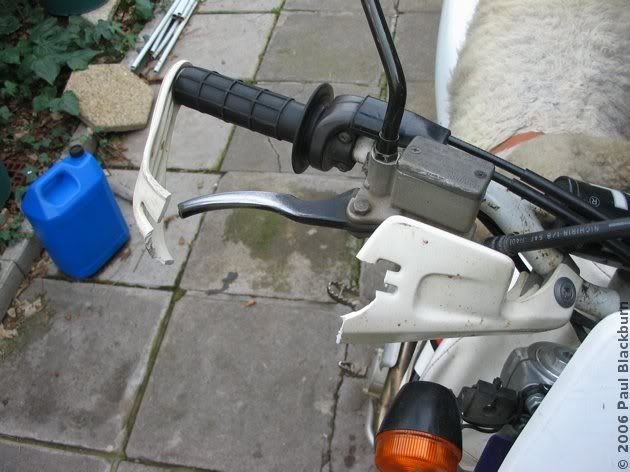 I wanted to buy something metal-reinforced and that had a large wind shield. I'm sick of having my hands freeze on the highway.
I shopped around, and found nothing that I liked. Until I found the
Acerbis Multiplo T
handguards at iMoto. Large, good brand, aluminium bar, did I mention they are large? I also had to buy a mounting kit.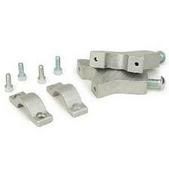 I also bought a new rear brake disco protector, becase I hadn't realised it was broken. With a full backpack, I set off home.
The mounting kit came with no instructions, and though I consider myself a person of reasonable intelligence, I sat like a confused monkey looking at the misterious pieces: two pieces of rubber tube, haphazardly cut, and two aluminium rings. The rest made sense, more or less. To cut a long story short, everything fell into place when I actually started putting things together. The rubber tube goes around the expansion plug, and the ring goes on the plug before you put the rubber on.
It was hard to line everything up, and to get the plastic shields in line with the holes in the aluminium crash bars. It was necessary to use 3, 4, 5 and 6 mm allen keys (the 5 mm one was for removing the old handguards).
And I finished! I like the look, though I must admit that they look rather breast-like.
I'll try them on the road and see what they're like.
Update:
Wonderful! At 12 or 13 degrees Celsius, at night, my hands were warm. On the highway, at 100 km/h, they were cold, but not frozen; a tolerable kind of cold. While the old handguards were narrower, these are wide and generous, and admit full-length clutch and brake levers, not like the old ones. I passed by iMoto and bought new levers, and instaled them. They look great, and I have better stopping power on the front wheel. Wohoo!
Labels: mechanics