Camping in Colliguay
Originally posted to El Cantar de la Lluvia on Monday, May 15, 2006
As promised, here are the pics of the ride to Colliguay with Ben Kenobi last month. I confess I hadn't published them yet because I was quite bummed out about a ticket I got for running a stop sign at a booby trap outside Curacaví on our way back.
Colliguay is somewhere in the Cordillera de la Costa, north of Curacaví, where we first stopped for essentials at the local supermarket (chorizos, beer, coal, bread, mayo, cheese, water). The bikes were already pretty loaded down (the pic is before we tried to add another 10 kg of shopping onto them) and finding enough room for the groceries was not easy. A beer can was punctured on a sharp corner of Ben's Givi top case, spraying everything. We ended up tying the coal and some beer cans on top of my pack, and set off.
The earth road was good at first, but it deteriorated progressively. Ben was worried about the Transalp's suspension, but I kept telling him that it would be fine.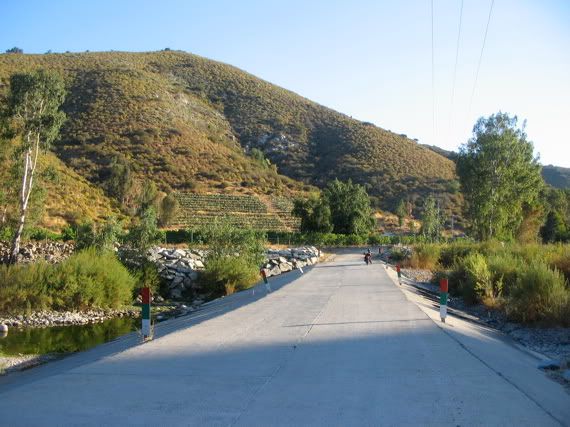 After a long road, and with an hour of daylight left, we started searching for a camp site. We chose the Rancho Alemán. Cheap, nice, we're staying here!
Upon opening Ben's top case, we found that another beer can had exploded. The vibration and friction had worn through a thin part. A t-shirt absorbed the bulk of the beer, and that was hung out to dry.
We put up the tents, started a fire, hooked up the speakers and iPod, put on "Feels Like Home" by Norah Jones, and began enjoying the tranquility.
Next door, some 5 cyclists had arrived shortly after we did, and since we had a few chorizos left over, I took them over, and chatted for an hour or two. After that I hit the sack.
On the
ride to Talca
, I forgot my sleeping bag, and I slept in my biking outfit (leather jacket and all), shivering and miserable with a cold. In
Siete Tazas
, I took a thin sleeping bag but no pijamas, so again I had to sleep fully clothed. Would it be any different this time? No. Even with a thicker sleeping bag and pijamas, I froze. I got up as soon as there was enough light to walk about.
I gathered some twigs and made a fire to toast some bread and boil some water for tea. I had a look at the bike, and it was covered in frost!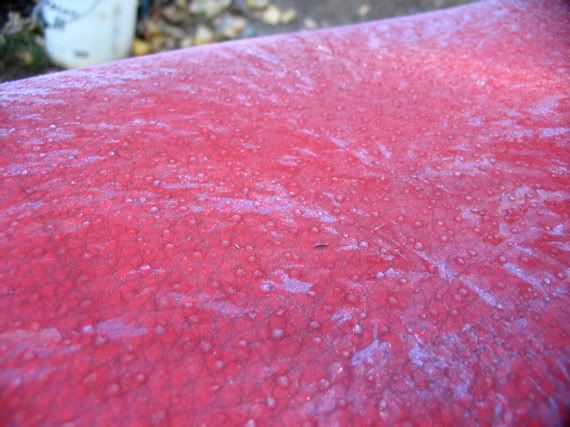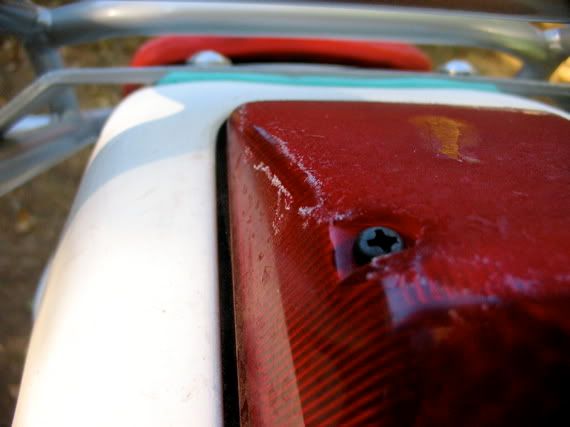 The cold I felt was certainly not imaginary, after all.
After breakfast, we spoke to the owner, and he recommended two rides, both set off from the main road and led to mines, one iron, the other quartz. We were'nt able to get to the quartz mine, since the Transalp wouldn't fit past the gap at the side of the gate.
We carried on up towards the iron mine, and that was good and dusty.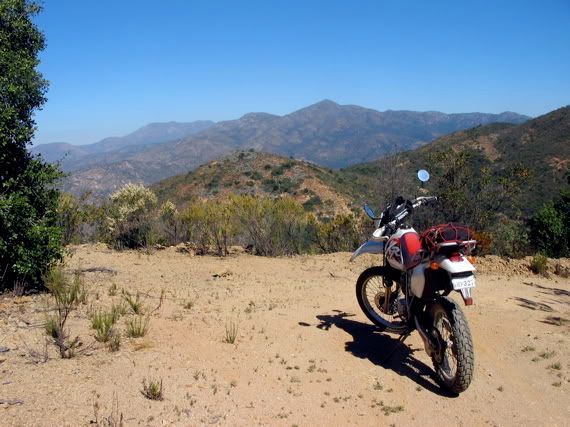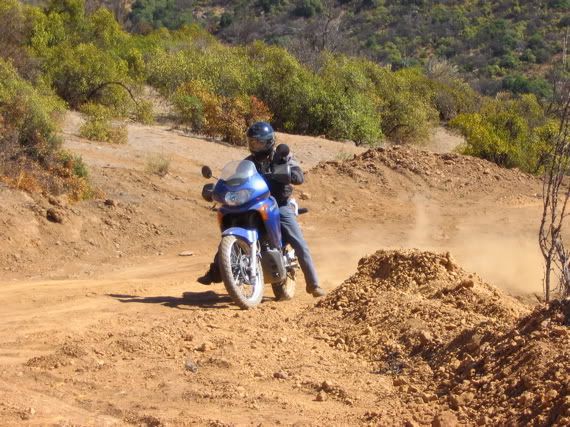 The colours were amazing. Blue sky, red-orange rock...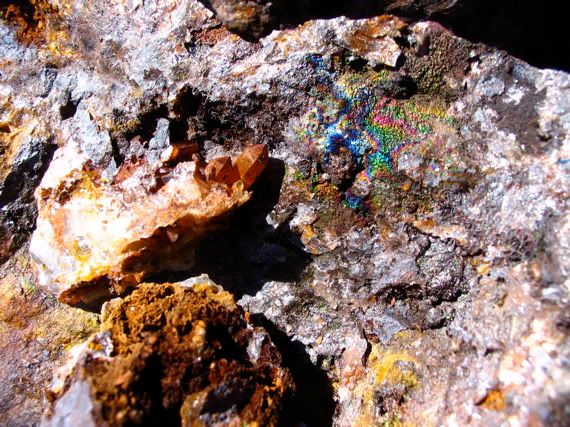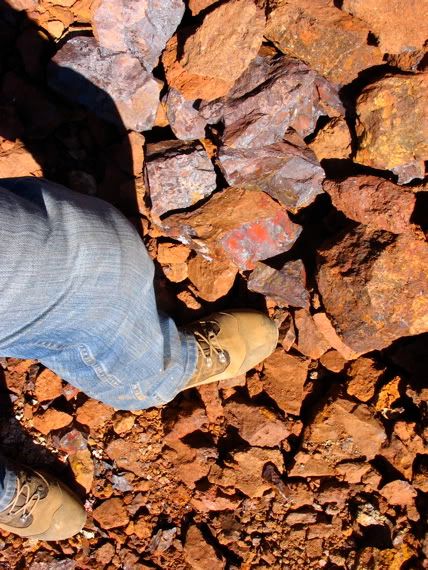 We came down, and found somewhere for lunch, with tables under a grape vine and a tree-climbing chicken. Yes, you read that right.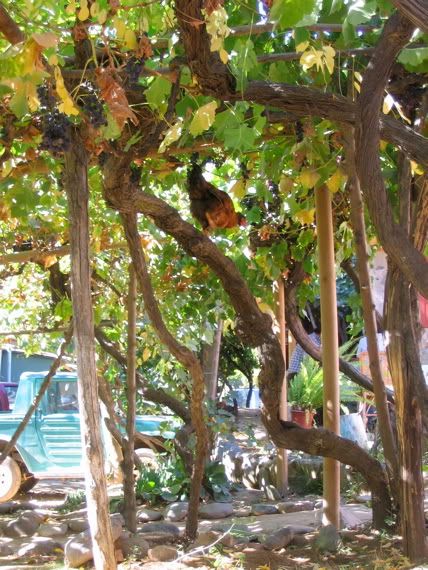 We went back to the camp, and packed the bags. We took a different route back.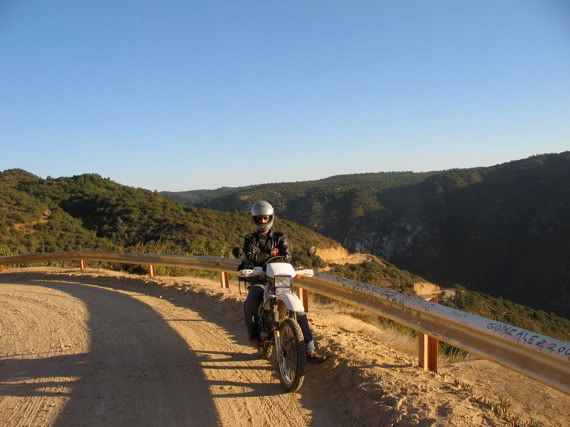 Unfortunately the Transalp was tail-heavy and going a bit too fast, and on one of the curves, the front wheel lost traction, and went down. Ben was unhurt, but the plastic shroud on the right side was cracked. Bummer.
On our way home, leaving a Copec petrol station on the Ruta 68, a cop stopped me for not having come to a complete standstill at a stop sign. Whatever it takes for the visitor to feel at home in Curacaví, right?
The moon rode along with us after dark.